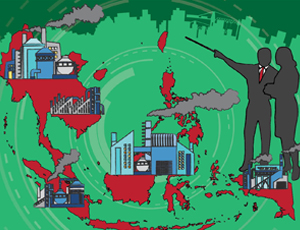 Ab April 2015 wird Malaysia einen Steuersatz von sechs Prozent auf Waren und Dienstleistungen (goods and services tax – GST) einführen – den niedrigsten Satz der gesamten ASEAN-Region. Die neue GST wird die gegenwärtige Umsatz- und Dienstleistungssteuer ersetzen. 2015 wird ferner der neue Landeshaushalt Malaysias veröffentlicht. 
Die Intention des neuen Steuersystems ist die Stärkung der Wettbewerbsfähigkeit von Malaysias Exportwirtschaft, die steuerfrei sein wird. Zusätzlich wird eine Reihe von speziellen Maßnahmen implementiert, um die Kapitalflüsse der Exporteure zu unterstützen – z.B. Unternehmen zu gewähren, die bilanzielle Aktivierung von GST-Positionen für temporär importierte Güter für den Re-Export hinauszuzögern. 
Mehr zum Thema: Rahmenerweiterung der Einkommensteuer für ausländische Unternehmen in Vietnam
Im Rahmen der Erhebung der GST wird es zu einer Reihe von bedeutenden Änderungen im Steuersystem des Landes kommen. Dazu gehören:
Ein Minderung der Einkommensteuerraten um ein bis drei Prozentpunkte?
Haushalte mit einem Monatseinkommen von bis zu MYR 4.000 (ca. EUR 940)  werden von der Einkommensteuer befreit
Der Schwellenwert für den Spitzensatz der Einkommensteuer wird von MYR 100.000 auf MYR 400.000 (ca. EUR 94.000) angehoben
Einkommen überMYR 400.000 werden mit einem verringerten Steuersatz zwischen 25 und 26 Prozent besteuert
Die Körperschaftssteuer wird von 26 auf 25 % verringert.
Der Steuersatz für kleine und mittlere Unternehmen wird um einen Prozentpunkt? auf einen Satz von 19 % verringert
Die GST wurde von Mitgliedern der Regierungsopposition, die die Meinung vertreten, dass die Steuer regressiv sei und den Kapitalabfluss des Landes bestärken würde, scharf kritisiert. Die Oppositionspartei Pakatan Rakyat hat den Vorschlag eingebracht, eine Kapitalertragsteuer und eine Erbschaftsteuer als Alternative zur GST einzuführen. Malaysias Premierminister Datuk Seri Razak hat allerdings angemerkt, dass die GST ein besseres Instrument sei, um die Staatseinnahmen anzuheben und dem Land im Vergleich zu seinen Konkurrenten wie z.B. Singapur zu mehr Wettbewerbsfähigkeit verhelfen würde. Die Implementierung der GST ist zu einem zunehmend normalen Merkmal der ASEAN-Region geworden.
Neben Malaysia haben nur Brunei und Myanmar dieses Steuermodell noch nicht eingeführt.
Bei Fragen zu Wirtschaftsthemen, Steuern, Buchhaltung und Unternehmensgründungen in Asien kontaktieren Sie bitte:

Fabian Knopf, Sr. Associate, Co-Head of German Desk, Dezan Shira & Associates Fabian.Knopf@dezshira.com
Silke Neugebohrn, Sr. Associate, Co-Head of German Desk, Dezan Shira & Associates Silke.Neugebohrn@dezshira.com
Für weitere Information oder um mit Dezan Shira & Associates in Kontakt zu treten, senden bitte Sie eine Email an germandesk@dezshira.com oder besuchen Sie uns auf www.dezshira.com/de, wo Sie unsere Unternehmensbroschüre herunterladen können. Bleiben Sie auf dem Laufenden über die aktuellsten Wirtschafts- und Investitionstrends in Asien durch unseren Newsletter.
Folgen Sie uns auf Twitter!
Weiterführende Lektüre (Kostenlos zum Download):
Umsatzsteuer in Asien
Diese Asia Briefing Ausgabe soll Ihnen die Möglichkeit geben, einen schnellen Überblick über die aktuell wichtigsten Details der Umsatzsteuersysteme in China, Indien und Vietnam zu erhalten.
Das könnte Sie auch interessieren:
Vorbereitung der Jahresabschlussprüfung für Ihr Asiengeschäft
In dieser Ausgabe von Asia Briefing möchten wir Ihnen einen Überblick über die Ziele und Anforderungen der Compliance-Prüfungen in China, Indien und Vietnam bieten, damit Sie vor bösen Überraschungen in Rechts- und Steuerangelegenheiten gefeit sind und einen erfolgreichen Start ins Jahr des Pferdes erleben.