Der Internationale Währungsfond (International Monetary Fund – IMF) hat seine ganze Unterstützung Bangladeschs neuem Umsatzsteuersystem geliehen. Gemäß einer IMF Mission unter der Leitung von Rodrigo Cubero im Land, sagte der IMF, dass die Steuern helfen werden, den Umsatz anzukurbeln und Compliance Kosten für Unternehmen zu verringern.
Die Anmerkungen des IMF kamen zeitgleich zu Sorgen über Auswirklungen der neuen Umsatzsteuer auf die Geschäftstätigkeiten in Bangladesch. Das neue System wird eine einzige, einheitliche Umsatzsteuer von 15 % anstelle mehrerer Sätze haben – ein Ergebnis, welches eine lange Zeit stark abgelehnt wurde.
Die Befürchtung der Geschäftswelt Bangladeschs ist, dass die niedrige Umsatzsteuerrate passend für große, reiche Unternehmen ist, aber schädlich für kleine und mittelständische Unternehmen. Eine nicht einheitliche Umsatzsteuer wird weitestgehend als ein faireres System angesehen.

MEHR ZUM THEMA: Einführung in Indiens Doppelbesteuerungsabkommen
Im Januar hat der Verband der Industrie und Handelskammer von Bangladesch (Federation of Bangladesh Chambers of Commerce and Industries – FBCCI) einen Bericht unterstützt, der zahlreiche Sätze befürwortet. Am 11. März hat der FBCCI Präsident Kazi Akram eine Stellungnahme veröffentlicht, in der er die Regierung dazu auffordert, die niedrige Rate abzulehnen. "Wir hoffen, dass die Regierung sich mit den Unterschieden bzgl. des Umsatzsteuergesetzes in den kommenden zwei Budgets befassen wird", sagte Akram und fügte hinzu, dass der Finanzminister AMA Muhith ihm versichert hat, dass die Belange der Unternehmen berücksichtigt werden. "Wir sind zuversichtlich, dass unseren Anforderungen entgegengekommen wird", sagte er.
Trotzdem schien es nach dem Besuch des IMF so, dass Muhith eine einzelne Umsatzsteuerrate festsetzt. Den lokalen Medien gegenüber äußerte er, dass er bezgl. der möglichen Umsetzung von mehrfachen Sätzen "seine Meinung geändert habe". Die öffentliche Befürwortung der Einheitssteuer kann daher als ein Versuch angesehen werden, die Geschäftsbesorgnisse wegen der neuen Umsatzsteuer zu lindern.
Das Umsatzsteuergesetz in Bangladesch wurde 2012 verabschiedet, um das existierende Umsatzsteuersystem von 1991 zu ersetzen. Ursprünglich sollte es im Juli diesen Jahres in Kraft treten, aber Meinungsverschiedenheiten wie die Steuer strukturiert sein sollte, führen zu einer Verspätung der Umsetzung. Die Einführung der Einheitssteuer ist nun für Juli 2016 festgesetzt.
Bei Fragen zu Wirtschaftsthemen, Steuern, Buchhaltung und Unternehmensgründungen in Asien kontaktieren Sie bitte:

Fabian Knopf, Sr. Associate, Co-Head of German Desk, Dezan Shira & Associates Fabian.Knopf@dezshira.com
Silke Neugebohrn, Sr. Associate, Co-Head of German Desk, Dezan Shira & Associates Silke.Neugebohrn@dezshira.com
Für weitere Information oder um mit Dezan Shira & Associates in Kontakt zu treten, senden bitte Sie eine Email an germandesk@dezshira.com oder besuchen Sie uns auf www.dezshira.com/de, wo Sie unsere Unternehmensbroschüre herunterladen können. Bleiben Sie auf dem Laufenden über die aktuellsten Wirtschafts- und Investitionstrends in Asien durch unseren Newsletter.
Folgen Sie uns auf Twitter!

Der Große Steuervergleich für Asien 2015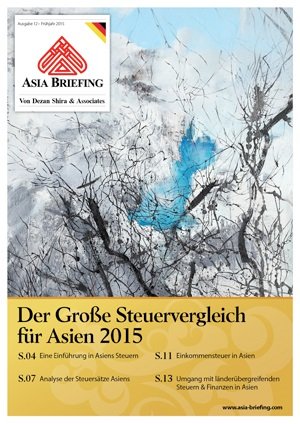 Diese Ausgabe von Asia Briefing behandelt den großen Steuervergleich 2015. Wir untersuchen die Steuersätze der zehn ASEAN Staaten sowie Indien, China, Hong Kong. Da sich das Investitionsumfeld in Asien stetig verändert, ist es von äußerster Bedeutung, immer auf dem aktuellsten Stand zu sein, um für Ihr Geschäft den passenden Standort zu finden. Diese Asia Briefing Ausgabe soll Ihnen ein Verständnis für die verschiedenen Steuersysteme in Asien geben.
Interne Prüfung und Kontrolle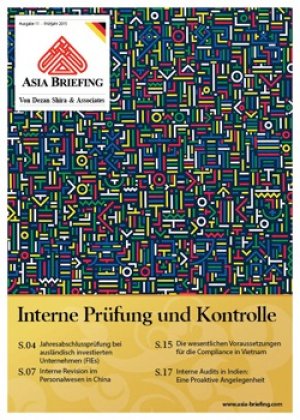 Diese Ausgabe von Asia Briefing behandelt die interne Prüfung und Kontrolle. Diese ist insofern wichtig, da sie nicht nur einen Überblick über die Performance des eigenen Unternehmens ermöglicht, sondern auch, weil eine regelmäßige Prüfung von den Behörden verlangt wird. Unser Magazin soll Ihnen einen Einblick in die Verfahren der internen Prüfung und Kontrolle in den Ländern China, Indien und Vietnam geben.