In den vergangenen Jahren haben die Philippinen große Fortschritte bei der Verbesserung des Geschäftsumfeldes gemacht. Zu diesen Verbesserungen zählt vor allem der Reformprozess zur Vereinfachung des Steuergesetzes. Während die ersten Schritte auf diesem Gebiet mit einigem Erfolg einhergingen, gab es innerhalb und außerhalb der Regierung Rufe, das Steuersystem weiter zu verbessern.
Um die Steuererklärung noch einfacher zu gestalten und die Regelkonformität der Steuerzahler zu fördern, hat die Einkommensteuerbehörde (Bureau of Internal Revenue – BIR) der Philippinen im Februar diesen Jahres bekannt gegeben, dass Steuerzahler nun ein digitales System benutzen müssen, um Steuern zu deklarieren und zu begleichen. Steuerzahler müssen sich frühzeitig für die Nutzung des BIR Elektonic Filing and Payment (eFPS) Systems oder die Nutzung elektronischer BIR Formulare (eBIRforms) anmelden, Steuererklärungen einreichen und Steuern zahlen.

DAZU: Steuer- und Compliancedienstleistungen von Dezan Shira & Associates
Die Philippinen versuchen die Zeit, die Steuerzahler damit verbringen, ihren Steuerverpflichtungen nachzugehen, auf ein ähnlich geringes Level zu bringen wie Malaysia (133 Stunden), Brunei (93 Stunden) und Singapur (82 Stunden). Derzeit dauert es 193 Stunden alle Steuerverpflichtungen auf den Philippinen zu erfüllen. Die Regierung will ebenfalls die Anzahl der erforderlichen Zahlungen reduzieren.
Dennoch sind mit dem neuen, digitalen System Probleme aufgetaucht. Diese schließen technische Probleme auf der Webseite des BIR und die schlechte Schulung der BIR Beamten, die den Steuerzahlern dabei helfen sollen, sich im Steuersystem zurechtzufinden, mit ein. Hinzu kommt, dass das Steuersystem noch immer einer "Universalmethode" entspricht, d.h. dass es nur winzige Unterschiede bei den steuerlichen Anforderungen für Millionäre und für arme Leute gibt.
Sonny Angara, Vorsitzender des Senatsausschusses, gibt den Ton bei den Rufen zur weiteren Vereinfachung des Steuersystems des Landes an. In einem Interview äußerte der Vorsitzende kürzlich: "Wir loben die Bemühungen des BIR, die Besteuerung durch die Umsetzung des elektronischen Einreichungs- und Zahlungssystems transparenter und effizienter gestalten zu wollen. Es scheint jedoch, dass viele das neue System noch sehr mühsam und aufwendig finden, da sie für die Erklärung und Zahlung der jährlichen Einkommensteuer zahlreiche Zusatzschritte in Kauf nehmen müssen."

MEHR ZUM THEMA: Verhandlungen zwischen den Philippinen und der EFTA
Angara empfiehlt die Schritte und die damit zusammenhängenden Anforderungen bei der Steuereinreichung und dem Zahlungsprozess zu minimieren. Er hat ebenfalls vorgeschlagen, die Anzahl der Formulare und die mit dem Prozess verbundenen Gebühren zu reduzieren. Er hofft, dass diese Veränderungen helfen werden, die Besteuerungsgrundlage auszuweiten und die Regelkonformität als auch die Steuereinnahmen des Landes zu erhöhen.
Bei Fragen zu Wirtschaftsthemen, Steuern, Buchhaltung und Unternehmensgründungen in Asien kontaktieren Sie bitte:

Fabian Knopf, Sr. Associate, Co-Head of German Desk, Dezan Shira & Associates Fabian.Knopf@dezshira.com
Silke Neugebohrn, Sr. Associate, Co-Head of German Desk, Dezan Shira & Associates Silke.Neugebohrn@dezshira.com
Für weitere Information oder um mit Dezan Shira & Associates in Kontakt zu treten, senden bitte Sie eine Email an germandesk@dezshira.com oder besuchen Sie uns auf www.dezshira.com/de, wo Sie unsere Unternehmensbroschüre herunterladen können. Bleiben Sie auf dem Laufenden über die aktuellsten Wirtschafts- und Investitionstrends in Asien durch unseren Newsletter.
Folgen Sie uns auf Twitter!

Der Große Steuervergleich für Asien 2015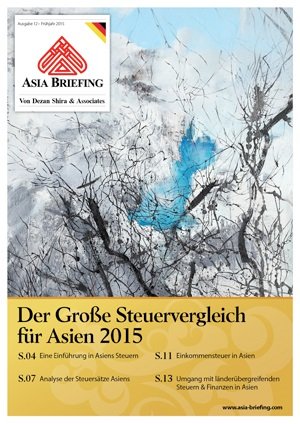 Diese Ausgabe von Asia Briefing behandelt den großen Steuervergleich 2015. Wir untersuchen die Steuersätze der zehn ASEAN Staaten sowie Indien, China, Hong Kong. Da sich das Investitionsumfeld in Asien stetig verändert, ist es von äußerster Bedeutung, immer auf dem aktuellsten Stand zu sein, um für Ihr Geschäft den passenden Standort zu finden. Diese Asia Briefing Ausgabe soll Ihnen ein Verständnis für die verschiedenen Steuersysteme in Asien geben.
Personalverwaltung in Asien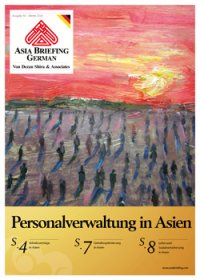 Diese Ausgabe von Asia Briefing hilft Ihnen und Ihrem Unternehmen, sich im Dickicht der erforderlichen Informationen für die Gestaltung eines Arbeitsvertrags in den Ländern Indien, China und Vietnam zurechtzufinden. Wir gehen auf die Sozialversicherungssysteme und deren einzelne Leistungen ein, damit Sie sowohl Ihre Rechte und Pflichten, als auch die Ihrer Angestellten kennen.