Pre-establishment Considerations
When establishing a company in China, it is highly advisable to seek professional assistance to guide you through the complex setup procedure and outline the roles and responsibilities of key positions in the company. This can be a critical factor in ensuring the success of the venture and avoiding time-consuming changes to the company later on down the line.
Business scope
In China, the intended scope of a business must be defined in advance of the business' establishment. It is an enumeration of the commercial activities in which a business is authorized to operate in. It is administered by two state bodies - the Ministry of Commerce (MOFCOM) and the local Administration for Market Regulation (local AMR)1 - and is printed on its business license along with other registered information such as its name, registered capital, and legal representative.
For foreign businesses, it's imperative that the company operations must be reflected accurately in the business scope. Under the current laws and regulations, foreign investors are still
restricted or prohibited to engage in certain sectors, as stipulated in the Special Administrative Measures on Access to Foreign
Investment (2020 edition) (National Negative List) and the Free Trade Zone Special Administrative Measures on Access to Foreign Investment (2020 edition) (FTZ Negative List).
In addition to the legal risk of disingenuously operating in an unregistered domain, not keeping the company's commercial operations within the range of activities set out in its registered business scope can also be detrimental to a company's ability to issue official invoices (fapiao) to its clients. While a company still can issue fapiao for occasional activities out of the business scope, regular discrepancies may trigger potential tax investigations. It is therefore critical that companies carefully plan their business scope prior to initial incorporation in China, or else risk having to undergo the onerous and time-consuming process of changing this later.
Depending on the business scope, FIEs can be classified as being a manufacturing company, a service company, a foreign invested commercial enterprise (i.e. a trading company), regional headquarters, an R&D center, an investment company, or several others. Often, the capital requirements will differ depending on the type of company that is being incorporated.
Registered capital
Registered capital is the fund all the shareholders contribute or promise to contribute to the company when they apply to the local Administration of Market Regulation (AMR) for incorporation of the company. The amount of the registered capital depends on a range of factors, which include the region, the sector, the company's business scope, the planned scale of operations, etc. It will show in the company's business license, this information is available to the public to show the fund strength or capacity of a company to some extent.
The registered capital does not need to be paid completely up front. The previous system of paid-up capital has been replaced by a subscribed capital model, under which a schedule of contributions must be declared in the Article of Association and be registered with the local AMR in charge. The government will check whether the investors follow the capital injection plan.
There is no minimum registered capital requirement for corporate establishment except few industries, such as banking, financing, insurance, etc. Despite this, in practice, the governing authorities will ensure that a company's registered capital is sufficient to support its business operations for at least one year, including its rent, labor costs, and office expenses.
Moreover, the registered capital can affect the amount of offshore debt the FIE can borrow from other investors or foreign banks, if the FIE chooses to follow the ratio between registered capital and total investment1 as shown in the following chart. The upper limits of the offshore debt is the gap between the total investment and the registered capital.
Investment to Capital Ratios

Total investment (US$)

Minimum registered capital

3 million or less

7/10 of total investment

3 million - 4.2 million

US$2.1 million

4.2 million - 10 million

1/2 of total investment

10 million - 12.5 million

US$5 million

12.5 million - 30 million

2/5 of total investment

30 million - 36 million

US$12 million

36 million or greater

1/3 of total investment
Registered capital contributions can be made in cash, as a lump sum, or in installments. However, locally obtained RMB cannot be injected as registered capital – it must be contributed from outside China by the overseas investor. The company's payment schedule for contributions must be specified in its Articles of Association, and once paid, the amount cannot be freely wired out again.
Expense and tax planning
When setting up a company in China, one inevitably incurs costs prior to the company being formally incorporated. The question then arises what part of these costs may be deducted from the company's tax bill. This becomes especially relevant if the investment is a large project, such as setting up a factory and purchasing machinery, where the costs incurred prior to incorporation can be substantial.
At this point, it is important to note that a Representative Office (RO's) in China is taxed on its expenditures. It is therefore in the investor's interest to, within reason, keep expenses allocated to the RO to a minimum. For this reason, it is advisable to allocate the RO's pre-incorporation expenses to the foreign headquarters.
A Foreign Invested Enterprise (FIE) meanwhile, being an independent legal entity registered in China, is taxed on its income, and may therefore deduct expenses from Chinese tax. As pre-incorporation expenses by definition have been incurred prior to the FIE formally existing, only some of these expenses can be taken on by the FIE. Of all the expenses made before formal incorporation, only the so-called pre- operation costs (开办费) may be allocated to the FIE and deducted. The key point in defining pre-operation costs is the time when they occurred.
In practice, the starting point of this period is seen as either the establishment date on the business license, or the day on which the investor gets the company name confirmation from the AIC. This is usually one month before the establishment date on the business license. The ending point of the pre-operation cost period is when the company issues its first invoice, or generates its first revenue.
Most of the costs incurred during this period, such as wages, training, printing, transport fees, registration fees, and purchases of items not considered fixed assets, may be deducted if relevant valid tax invoices can be provided. Up to 60 percent of advertising and business-related entertainment expenses (business dinners, gifts, baijiu, etc.) may be allocated to the FIE during this period.
It is often hard to predict what the establishment date of the company will be. This largely depends on how the incorporation process is conducted. However, the better the investor us able to manage its incorporation process from its side or with its agents, the more clarity and the better the positioning the company can achieve.
Before the company is incorporated, the foreign investor may open a temporary bank account in China. The investor may wire foreign currency into this account and spend these funds on pre-operation and other expenses.
After the company has been established, it needs to open a capital account. The funds from the temporary account can then be wired to this account.
In practice, the only cost incurred prior to the pre-operation cost period is office rent. Allocation to the FIE is accepted, as an office lease is a required step of the incorporation process.
Enterprises, especially manufacturing companies, which often have a long pre-operation period, should take careful consideration of when their pre-operation period ends. These companies in particular need to make sure costs incurred can be carried forward as a loss over the next five years.
Choosing a Location to Set Up Your Business in China
Choosing a location is one of the first decisions that companies must make when entering a new market. Location and a strategic site selection plan can have a major impact on the success of the business, affecting production, operation, and sales. Therefore, companies must take steps to ensure they have the right information before committing their time and money.
Regions with Free Trade Zones and preferential policies
Some locations offer more preferential policies to foreign investment based on the local economic priorities, such as the pilot free trade zones (FTZs). By far, China has established 21 FTZs, which constitutes part of China's efforts to transform into a more innovative, service, and consumption-driven economy and the creation of sustainable and high-end manufacturing capacity to attract international businesses.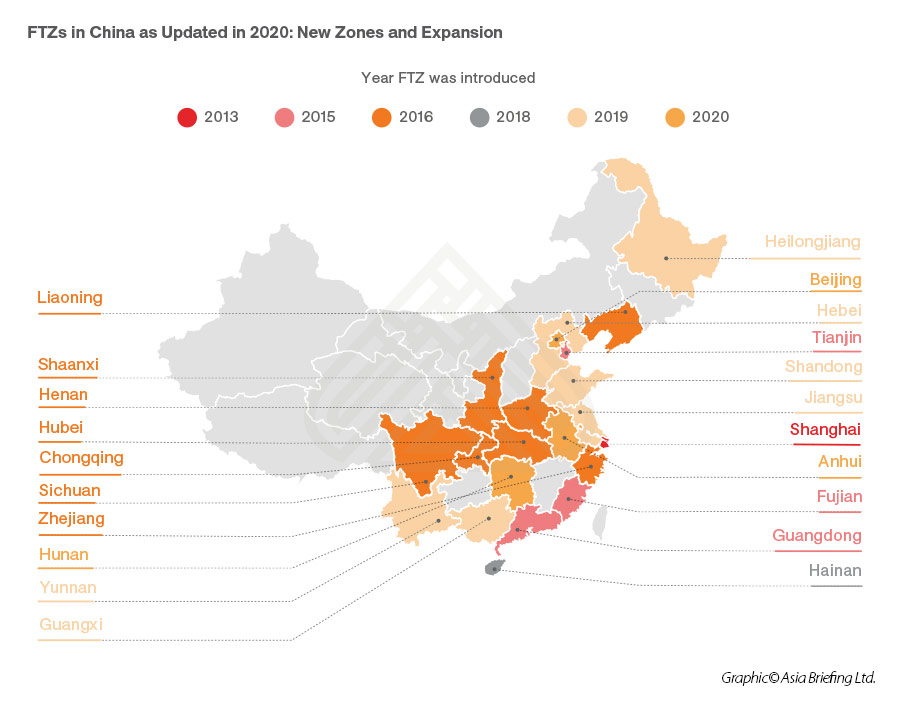 However, investors are not suggested to make decisions solely based on preferential policies. Rather, there are multiple considerations that companies must grapple with when choosing a location, including but not limited to real estate, infrastructure, supplier and customer market, cost, operating environment, legal and regulatory environment, and human resources.
Below, we share some tips on location selection:
Establish search metrics
The most important factor in site selection is the specific needs of the enterprise, which can be refined into the enterprise's business priorities and goals. Generally, businesses usually consider the below metrics during location selection:
Cost metrics – real estate (such as rental or purchasing cost or site and building amenities), utilities (water, gas, or power), labor costs (including social insurance);
Supply Chain – number of upstream and downstream enterprises, number of competitors;
Connectivity – major infrastructure, transportation options, ease of access to customers and suppliers;
Work force – availability of skilled workers, labor productivity;
Legal environment – industry permit or certifications, special requirements on targeted industries; and,
Incentives – tax, financial supports, visa.
Analyze your shortlist
Enterprises can conduct an in-depth analysis of their search findings, and chose the most suitable options based on the business priorities and goals set at the beginning.
At this stage, some quantitative tools, such as a table to weigh all the metrics based on the significance, can be really helpful when the decision maker is flooded by the data gathered and has difficulty to make any evaluations. Enterprises are also advised to seek professional services for at least this step, to take advantage of the insight of independent advisors.

After collating information based on the search metrics, a business will likely get several potential options. The final step is to conduct a due diligence check on the shortlisted properties or preferred destination. This is particularly important for businesses entering a new region.Due diligence for property options
For example, an industrial park might have wonderful promotion brochures for marketing, but the infrastructure or the facilities are nothing like those printed on paper. The property option might not have the proper landowner certifications. In worst-case scenarios, the incentives promised by the authority-in-charge might not be in compliance with the national policies.
Given these risks, a due diligence check in advance is not a simple procedural step, but serves as necessary and important measures to save investors from potential troubles.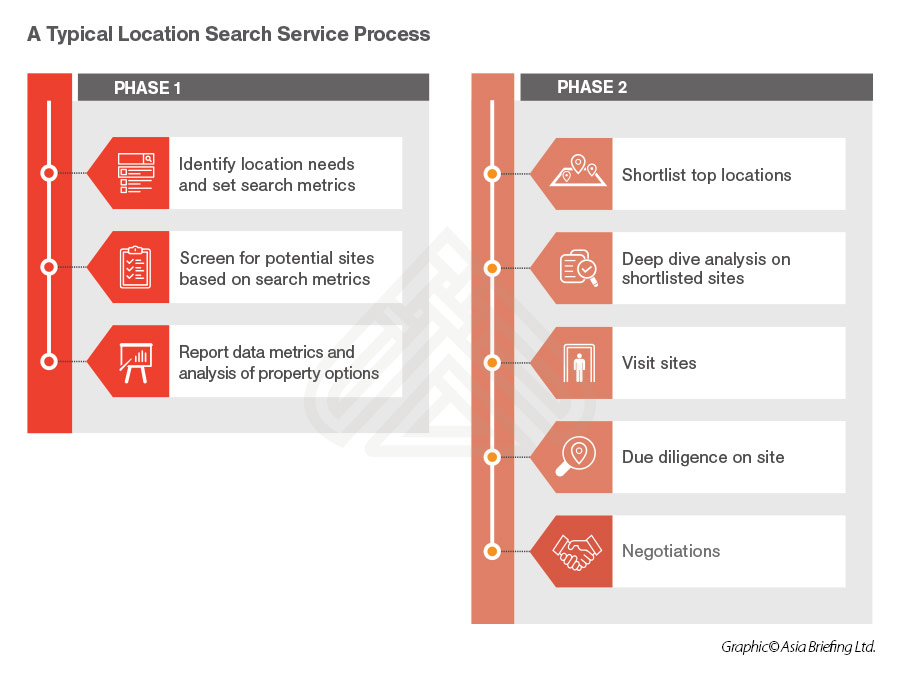 Company Holding Structure
Does it make sense to use a Holding Company?
Many companies choose to establish holding companies, or "special purpose vehicles", in jurisdictions, such as Hong Kong or Singapore, to hold their Chinese entity. Holding companies allow for an additional layer of distance between the Chinese subsidiary and parent company, and can "ring-fence" the investment to an extent, protecting it from the potential risks and liabilities of the Chinese subsidiary. In the case that an investor wishes to sell their Chinese business, or introduce a third-party partner/shareholder into the structure, the administrative changes can also be done at the holding company level, rather than at the China level, where the regulatory environment is tougher and procedures are more time-consuming.
Given the comparatively sophisticated banking systems of Hong Kong and Singapore, establishing a holding company in either jurisdiction is a popular option for foreign companies wishing to hold their China-earned profits offshore. In this way, the profits can be re-invested into China if the need arises, or used to further expand operations elsewhere in Asia. Subject to the parent country's anti-avoidance tax rules, this method is often used as a tax deferral mechanism for foreign companies who do not want to remit their China profits immediately back to the home country.
In addition, Hong Kong and Singapore holding companies present a number of tax advantages, including reduced withholding tax rates on the repatriation of profits and limiting tax exposure on capital gains.
Note that the Foreign Account Tax Compliance Act (FATCA) has significantly disrupted the ability of U.S. investors to open or maintain bank accounts through Hong Kong, threatening to cut off the cash flow to their mainland China subsidiaries. Although also a signatory to FATCA, Singapore appears to be less affected by these developments.
Corporate Establishment Process
The establishment process varies based on one's chosen investment structure and planned business scope. For example, setting up a manufacturing FIE requires an environmental evaluation be completed, setting up a trading FIE must comply with the customs/commodity inspection requirements, and setting up a simple services FIE may require neither.
Establishing a foreign investment structure in China generally takes between three and six months and involves the following government authorities:
Ministry of Commerce (MOFCOM) and its local branches;
State Administration for Market Regulation (SAMR) and its local branches;
State Administration of Foreign Exchange (SAFE) and its local branches;
State Taxation Administration (STA) and its local branches;
General Administration of Customs (GAC) and its local branches; and
National Bureau of Statistics (NBS) and its local


Below we take WFOE as an example to demonstrate the setup procedure.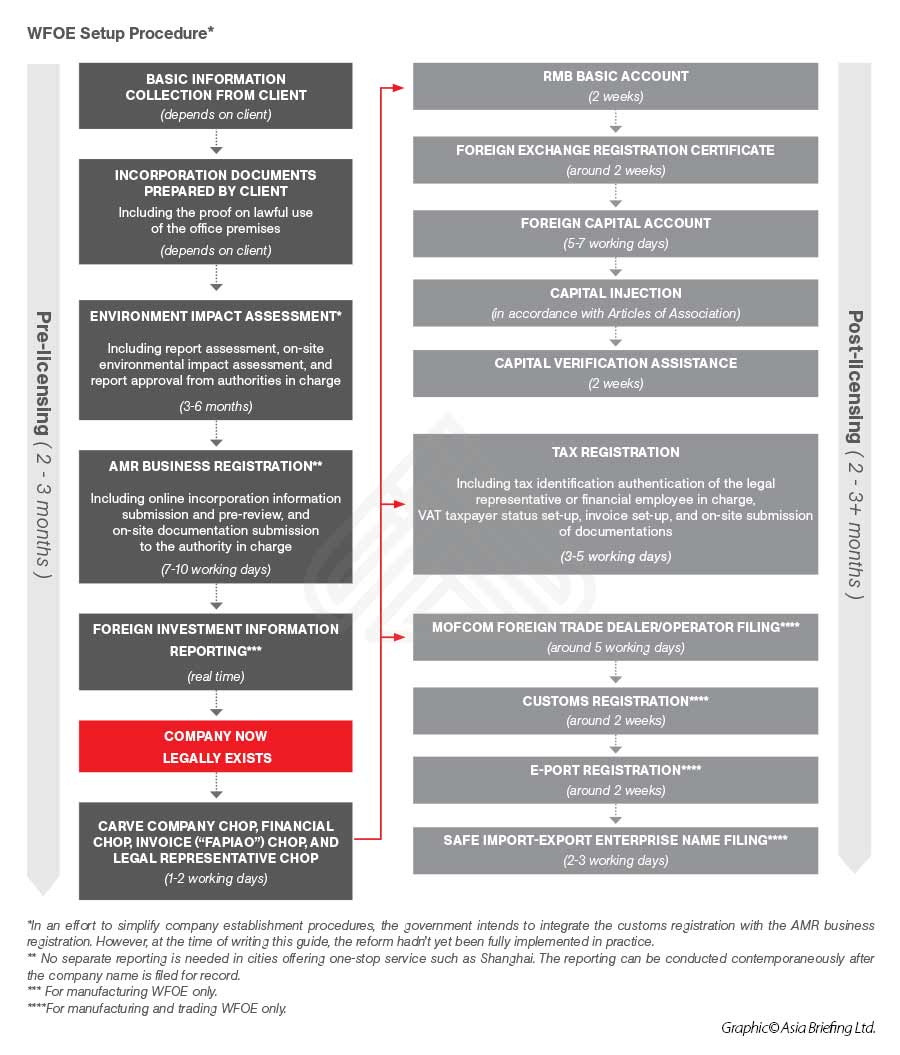 Key Positions in a Foreign Invested Entity
The key positions in a foreign invested entity vary by the investment structure and size, with some overlap.
ROs should designate a chief representative to sign documents on behalf of the company. In addition to a chief representative, an RO can also nominate three more general representatives.
For WFOEs and JVs, key positions include shareholders, an executive director (or board of directors), supervisor(s), general manager, and legal representative.
Shareholders and Executive Director (or Board of Directors)
For WFOEs, the board of shareholders represents the highest authority of the company, whose decisions regarding company operations are executed by the executive director or board of directors. For JVs established before January 1, 2020, i.e. the effective date of the FIL, the board of directors is the highest authority. But they will need to make relevant changes within the five- year transitional period. For JVs established after January 1, 2020, the board of shareholders will be the highest authority of the entity.
Supervisor(s)
WFOEs must have at least one supervisor to oversee the execution of company duties by the director(s) and senior management personnel. For JVs, this used not to be a mandatory obligation before the FIL enacted. However, starting from January 1, 2020, JVs are also required to have supervisors following the rules stipulated in the Company Law.
To ensure there are no conflicts of interest, a company's director(s) and/or senior management personnel cannot concurrently serve as supervisors. Where a company has a relatively small number of shareholders and is small in scale, one or two supervisors will suffice. For larger companies, a board of supervisors composed of no less than three members is required.
General manager
Both WFOEs and JVs need a general manager who is responsible for day-to-day company operations. This position may be concurrently filled by the executive director or a member of the board of directors. For JVs, several deputy general managers can also be appointed; this group is collectively referred to as the management office. A director of the board can concurrently hold the post of general manager, deputy general manager, or any other senior management position, which includes CFO or any other position designated as such in the company's Articles of Association.
Legal representative
Every business established in China, foreign or domestic, is required to designate a legal representative, i.e. the person responsible for performing the duties and powers on behalf of a company. The legal representative is, by definition of their role, one of the most powerful people in a FIE. Yet this power comes with heavy responsibility, and if a single individual in a foreign invested entity is to be held accountable for company actions, that person is more likely than not the legal representative. For WFOEs and JVs established after January 1, 2020, the executive director, the chairman of the board of directors, or the general manager are all eligible to be legal representatives. Before that, only chairman of the board of directors can take the legal representative role of the JVs.
Powers and responsibilities of a legal representative
The Company Law does not clearly define the powers of a legal representative. However, it is clear that a legal representative is authorized to perform all acts regarding the general administration of a company according to the company's aims and objectives. This may include:
Acting (legally) to conserve the company's assets;
Executing powers of attorney on the company's behalf;

Authorizing legal representation of and litigation by the company; and
Executing any legal transactions that are within the nature and scope of that company's
The new Foreign Investment Law's impact on key positions in FIEs
Considering that WFOEs are generally limited liability companies, which are basically in line with the Company Law, the new FIL has a limited impact on key positions in WFOE. For existing FIEs in the form of a CJV or EJV, they need to change their governing structure within the five-year transitional period to the three-tier structure (the board of shareholders, the board of directors, and the general manager), in accordance with the Company Law. Below, we take EJV as an example.
New FIL's Impact on Key Positions in EJV

Items

Under the EJV Law

Under the new FIL

Highest authority

Board of directors

Board of shareholders or the general meeting of shareholders

Board of shareholders

No board of shareholders

The following matters must be be reviewed and approved by shareholders holding two-thirds or more of the voting rights on the shareholders' meeting:

Amendment to the article of associations;
Increase or reduction of registered capital; and
Company merger, division, dissolution, or change of company structure.

Board of directors

The board of directors shall comprise no less than three members;
Directors shall be appointed and removed by EJV parties;
Where a Chinese national takes the position of chairman, the position of the deputy chairman shall be held by the foreign party, or vice versa; and
The tenure of a director shall be four years.

Company can choose to appoint an executive director instead of establishing a board of directors;
The board of directors shall comprise three to 13 members for limited liability companies, or five to 19 members for joint-stock companies;
Directors who are not employee representatives shall be elected and replaced by the board of shareholders/shareholder; and
The tenure of a director shall not exceed three years.

Supervisor

Board of supervisors/supervisor is not obligatorily required

Board of supervisors should comprise no less than three members;
Limited liability companies with fewer shareholders may appoint one to two supervisors instead of establishing a board of supervisors;
The tenure of supervisor is three years; and
Directors and senior management personnel shall not hold the post of supervisor concurrently.

Legal representative

Chairman

Chairman, executive director, or general manager

Senior management personnel

Where Chinese party takes the position of general manager, the position of the vice-general manager shall be held by the foreign party, and vice versa

No limitation