Annual compliance
In advance of being able to distribute and repatriate profits, FIEs must complete annual compliance procedures, involving the following steps: producing a statutory annual audit report, making a CIT reconciliation report, and reporting to relevant government bureaus. These procedures are not only required by law, but are also a good opportunity to conduct an internal financial health check. The relevant procedures and key considerations vary slightly by region and entity type. Companies should either contact a service provider or the local government to achieve full compliance.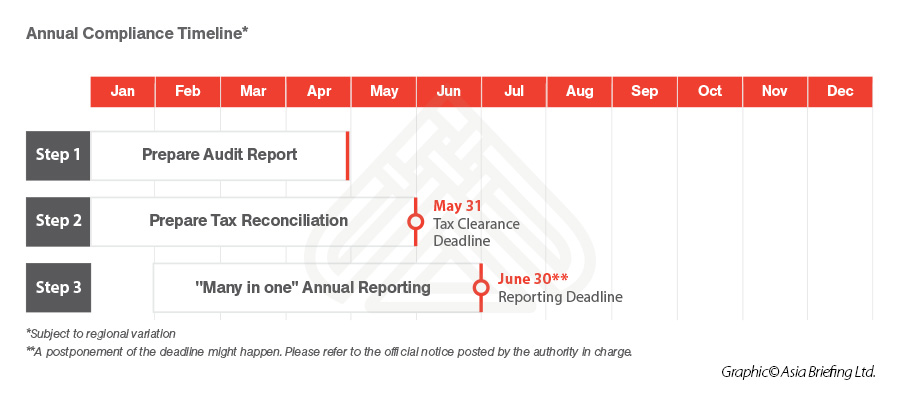 Step 1: Prepare an annual audit report
The annual compliance procedures start from the annual audit of the business. As mentioned in the first article, although the audit report is generally not required to be submitted in the compliance process for FIEs nowadays – companies only need to disclose whether they have done annual audit during annual reporting – most companies still conduct their audit on a yearly basis out of various considerations, and get the audit report ready before the end of April to meet the May 31 tax reconciliation deadline.
The annual audit report for FIEs generally consists of a balance sheet, an income statement, a cash flow statement, a statement of change in equity, and a supplementary statement of financial indicators. To ensure that FIEs meet Chinese financial and accounting standards, the annual audit report should be conducted by qualified accounting firms and signed by two Certified Public Accountants (CPAs) registered in China.
To be noted, in the case where an annual report is required, the requirements for the report may vary by region. For instance, in Shanghai, companies must include a taxable income adjustment sheet in the audit report, which is not a necessary supplement in Hangzhou, Beijing, or Shenzhen.
Step 2: Conduct CIT reconciliation
Although the State Taxation Administration (STA) oversees all kinds of tax, only corporate income tax requires annual reconciliation to the tax bureau at the company level.
In China, CIT is paid on a monthly or quarterly basis in accordance with the figures shown in the accounting books of the company – companies are required to file CIT returns within 15 days from the end of the month or quarter. However, due to discrepancies between China's accounting standards and tax laws, the actual CIT taxable income is usually different from the total profits shown in the accounting books.
As such, the STA requires companies to conduct annual CIT reconciliation within five months from the previous year's year-end to determine if all tax liabilities have been met, and whether the company needs to pay supplementary tax or apply for a tax reimbursement.
All companies engaging in production and operation, including pilot production and operation, are required to go through this procedure, regardless of whether or not the company is under a tax deduction period, and whether or not the company makes profit. For companies maintaining branch offices in multiple locations and required to pay tax on a consolidated basis, there are special rules and requirements regarding CIT reconciliation procedures. Companies should pay special attention to the matter if they fall into this scope.
Generally, the Annual CIT Reconciliation Report must include adjustment sheets to bridge the discrepancies between tax laws and accounting standards among other documents. FIEs that conduct transactions with related parties should prepare an Annual Affiliated Transaction Report on transfer pricing issues as a supplementary document to the Annual CIT Reconciliation Report.
Moreover, FIEs in certain regions might be required to prepare another separate CIT audit report by meeting certain conditions, which also vary from city to city.
In the current trend of digitalization and business reform, annual CIT reconciliation can be conducted through online channels, under which companies can conveniently submit relevant information in the appointed system. This is specially recommended in the context of the COVID-19 pandemic. However, if companies cannot make online CIT reconciliation due to certain circumstances, they can still go to the tax bureau in person to submit relevant materials as required.
The deadline for conducting annual CIT reconciliation is May 31 every year, but the investigation of the tax compliance could last to the end of the year, and companies should be prepared to provide supporting documents upon demand from the tax bureau. Besides, where companies are unable to conduct CIT reconciliation within the stipulated deadline due to a force majeure event, such as where the company was quarantined due to COVID-19 control measures, they may apply for an extension. But they must submit a report to the tax bureau immediately upon cessation of the force majeure event. The tax bureaus shall investigate the facts and approve accordingly.
Every year around March, depending on the location, the local tax bureau will issue annual guidance on CIT reconciliation. FIEs are suggested to keep an eye on the guidance for any potential changes regarding the requirements and procedures.
Step 3: "Many-in-one" annual reporting
The third step of annual compliance is to conduct annual reporting to multiple government bureaus. Starting from 2020, with the new Foreign Investment Law coming into force, the annual reporting to the local Administration of Market Regulation (AMR, which previously was called Administration of Industry and Commerce or AIC) and the annual combinative reporting were merged into one "many-in-one" annual reporting, under which the FIEs can submit all relevant information at once through the National Credit Information Publicity system (www. gsxt.gov.cn).
The annual report submitted should cover the following information:
Basic information of the enterprise, including the contact information, the existence status of the enterprise, the

business scope, the licensing situation, the staffing and salary information, the social insurance contributions, the IP situation, etc.
Investor profile, including information regarding the subscribed and paid in amount, time, ways of contribution, the actual controller of the investor, etc.
The name and URL of the website of the enterprise and of its online shops.
Equity change information of the equity transfer by the shareholders of a limited liability company.
Information relating to any investment by the enterprise to establish companies or purchase equity rights.
The balance sheet information of the enterprises, including total assets, total liabilities, total owner's equity, etc.
Warranties and guarantees provided for other entities.
Information regarding the operation of the enterprise, including total imports and exports, total revenue, income from the main business, operational cost and expenses, R&D expenses, total tax payment, gross profit, net profit, profit distribution, etc.
Information regarding the credit and debt.
Tax breaks information if the enterprise enjoys preferential treatment for importing equipment.
Customs relevant information if the enterprise is subject to the administration of the customs.
Part of the information will be synced from the statistics maintained by other government bureaus, such as the social security bureau and tax bureau, automatically. Enterprises are required to prepare and submit other information online during the period between January 1 and June 30.
If the enterprise fails to submit the annual reporting information on time, it will be put into the Catalogue of Enterprises with Irregular Operations (Irregular Operations Catalogue), which is open to the public. Besides, the enterprise will also be put into the Irregular Operations Catalogue if fraudulent information or serious concealment are discovered by authorities in the random check following the annual reporting.
If the enterprise is listed in this Catalogue for three years in a row, there will be more serious consequences – the enterprise will be put into the Catalogue of Enterprises with Illegal and Dishonest Behaviors, which serves as a blacklist for future operations and investments.
The legal representative and the general manager of the blacklisted enterprise will be banned from taking the legal representative or general manager role in other enterprises for three years, and the blacklisted enterprise will be at a disadvantageous position in bidding, government procurement, licensing application, obtaining land, as well as making new investment in the future.
FIEs are suggested to pay attention to the deadlines and requirements, or make timely correction where incompliance happen, to avoid serious consequences.
For ROs, annual compliance procedures are simpler. They also need to prepare a statutory audit report and a tax reconciliation report, and then report to AMR between March 1 and June 30 every year. In certain cities, RO is also required to submit an existence certificate of headquarter during the annual compliance process.

Following the annual audit and completion of tax payment, a net profit figure can be derived. The decision to repatriate and/or reinvest profit will depend on the current situation of the China-side FIE and its parent company abroad.
However, not all profit can be repatriated or reinvested. A portion of the profit (at least 10 percent for WFOEs) must be placed in a reserve fund account, and treated as part of owner's equity on the balance sheet. This account is capped when the amount of reserve funds equals 50 percent of the registered capital of the company. In addition, the investor may choose to allocate some of the remainder towards a staff bonus welfare fund or an expansion fund, although these are not mandatory for WFOEs.
The remaining net profit is available for redistribution. Following a resolution of the board of directors, an application form for the repatriation of funds can be submitted to the tax bureau to authorize the bank to disperse funds.
Pilot program of rolling annual reporting in selected cities
Starting from 2019, China has introduced the pilot program of rolling annual reporting in selected cities. Under the pilot program, the annual reporting is required to be done on a rolling basis, rather than by June 30.
First introduced in five cities – Liaoyuan (Jilin Province), Quzhou (Zhejiang Province), Yueyang (Hunan Province), Shenzhen (Guangdong Province), and Zhuhai (Guangdong Province) – enterprises are required to submit the annual reporting of the previous year within two months from the anniversary of its establishment. In 2019, enterprises subject to customs administration were excluded from the pilot program, which meant they still needed to follow the traditional reporting path and deadline. In 2020, FIEs have also been excluded from the pilot program.
In Hainan, starting from October 1, 2019, the rolling annual reporting system started to get implemented as well. Different from the system in the first five cities, enterprises in Hainan can choose any date as the annual reporting deadline. If they do not want to choose a different date, enterprises need to submit the annual report of the previous year within two months from the anniversary of their establishment. However, enterprises subject to customs administration, companies limited by shares, and FIEs are excluded from the rolling reporting system. Moreover, enterprises without business activities can apply to be dormant and are thus exempted from annual reporting. Hainan's pilot program will end on December 31, 2021.
Although this pilot program seems quite unstable presently and FIEs are excluded from the pilot scope, the pilot program is more in line with international practices. There might be a possibility that the pilot program gets expanded to other cities. FIEs are suggested to follow up with future updates.
Due diligence
Broadly speaking, due diligence is a thorough review of a company so as to uncover any fraud, non-compliance, or other issues posing a risk to potential partners. Due diligence procedures, which can vary widely based on the intended business transaction and industry of the companies involved, are often split into legal, financial and operational due diligence. However, it can also include market, reputational and cultural considerations. A due diligence checklist in China is generally quite similar to those used elsewhere, likely including a review of:
Legal documents for company establishment and any additional government approvals and licenses;
Financial documents, including annual audits, tax returns, current financial statements and loans;
Documentation for real estate and land use rights (in China, land is owned by the state; an individual can merely purchase land use rights);
Documentation for intellectual property and hard assets;
Major contracts, distribution records, etc.;
Litigation history and outstanding litigation (if any); and
HR administration documents.
One of the key differentiating aspects of due diligence in China is the variety of issues commonly discovered in accounting books, from a company completely misrepresenting its financial situation to minor accounting errors that may come from misguided actions to help the company (i.e. by avoiding tax) or lack of knowledge. Some very common points to pay attention to in financial due diligence investigations in China include the following issues:
Two or more sets of financial accounts - many companies keep two or more sets of financial accounts so as to avoid tax, but this practice can also be used to cover up inappropriate financial behavior.
Revenue received "off the books" - underreporting of accounts receivable is often used to hide sales and reduce taxable income.
Employees paid "off the books" - employees are sometimes paid "off the books" so as to increase expenses and avoid paying taxes on labor salaries. This can result in high liabilities related to IIT and social security.
Phantom assets and contracts - the assets list on the books are often an overstatement or understatement of assets actually held. Assets are sometimes "mixed" with those of shareholders. Depending on the seriousness of infractions discovered in the course of an investigation (if any), it may be necessary to re-evaluate one's dealings with the subject company.
Internal control and audit
Strong internal control systems and periodic audits are essential to preventing fraud when running a company in China. The following is a list of common types of fraud in China-based enterprises (including FIEs with less than adequate internal control systems), separated by department:
Payroll

Discrepancy between contract salary and payroll payments;
Deliberate over-accrual/unauthorized use of welfare benefits; and
Ghost employees (non-existent employees, whose salary is often sent to the bank account of another employee).

Supply Chain

Purchasing of overpriced raw materials due to relationship/inappropriate agreement between staff and supplier;
Improper disposal of scrap;
Fake VAT invoices; and
Poor inventory control.

Sales

Sale of goods at/below cost due to relationship/inappropriate agreement between sales staff and purchaser;
Payment of unauthorized sales commissions to employees or friends; and
Lack of competitive bidding process.
A key aspect of the Chinese legal environment is the use of official company seals, or "chops", to legally authorize documentation (often in place of a signature). To safeguard against fraud, chops should not all be held by one person and steps should be taken to ensure that chops are not misused.
Depending on its business scope, a company may hold any number of chops, all for different purposes and used on different types of official documentation, including a company chop, financial chop, contract chop, customs chop, invoice chop, etc.
An internal audit ordered directly by company headquarters is the best way to evaluate the effectiveness of internal control systems and prevent fraud in a China-based entity. An internal audit engaged by the China-based entity and reporting only to that entity runs the risk that fraud discovered at the local level may not be reported to the overseas headquarters.