Setting up a company typically requires months, during which time the company is not operational, and requires tens or hundreds of thousands of dollars in investment capital, often before understanding the business, financial, consumer, or local culture landscapes.
[video file='https://content.jwplatform.com/videos/zlDUiMlC-xkRGspnx.mp4' image='https://resource.dezshira.com/resize/900x506/Misc/banners/web_1.jpg' title='All Eyes On Vietnam – Why And How To Enter The Market']
Such fixed entry strategies may result in mistakes such as: choosing the wrong pricing model, launching the wrong initial service line or product, setting up in the wrong location, pursuing a misguided business model, or selecting the wrong business partners or suppliers to work with.
It is easy to make avoidable mistakes in the absence of on-the-ground information and practical experience in the market. Yet reversing strategies when investments have been made is more costly, time-consuming, and can even adversely affect the business' reputation.
Due to the country's complex legal processes, when establishing a company in Vietnam, we recommend that professional assistance be sought to guide companies through the setup process and to help them understand the roles and responsibilities of key positions. This will help ensure that your company is set up for success. In this section, we discuss the various options businesses have for market entry to Vietnam, what the key considerations are when setting up, as well as closing a business procedures.
Types of business - What are my options for investing?
Foreign investors can choose between various types of investment options. Choosing the appropriate investment structure for your business depends on several factors, including its planned activities, industry, and investment size.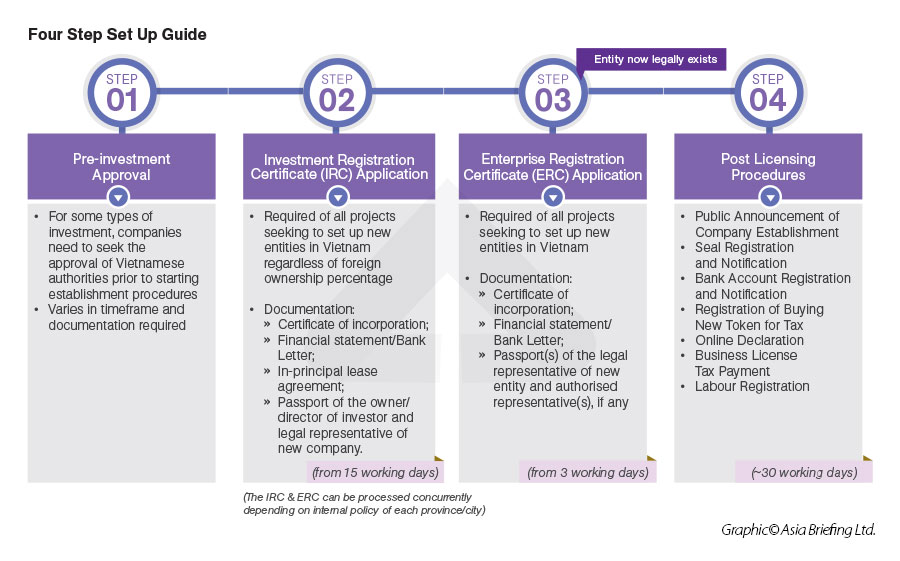 Choosing the right corporate structure for setting up a company in Vietnam is paramount and can mitigate unnecessary business constraints, costs, and official scrutiny. These challenges handicap growth following market entry and can undermine a company's plans to expand. To put it simply, investors have the option of establishing a representative office, forming a joint venture, or forming a public-private partnership to begin the process of investment.
Read this section to gain insights about the investing option.
Setting up a business without entity
An increasing number of firms today may find it better to first test out or target a smaller or shorter-term presence in Vietnam. Fortunately, a lesser-known model for businesses to hedge against the risks of market entry exists and is available across several Asian markets.
As an alternative, a new market entry model called Global Staffing Solutions enable foreign investors doing business in Vietnam without setting up an entity, for the short-term at least. GSS works in a way that enables businesses to place boots on the ground, without needing to physically set up a local establishment.
Find out more about how to do business in Vietnam without an entity.
Key consideration for doing business in Vietnam
Choosing a location
Vietnam is a diverse country. The typical process to look for a new location involves a market study, initial screening, preliminary due diligence followed by a long list of locations, detailed due diligence, a comparison model development, final site selections, and if possible, a site visit.
Then there are different factors to evaluate potential locations. This includes the availability of materials, government policy, taxation, proximity to market, labor availability, incentives, infrastructure, local laws, and political stability. As mentioned earlier there is no one size those fits all. Each industry, market, and location are different. A tailor-made approach is essential. Businesses should build out a location-by-location comparative matrix to see which locations best suit their needs.
Opening a bank account
One of the first decisions that will have to be made by investors is that of banking. Upon entering the Vietnamese market, foreign investors who wish to remit profits to their home markets will be required to open a foreign currency bank account. This account is to be utilized for all foreign currency transactions carried out within the country.
For companies that have already established operations in Vietnam, foreign currency accounts will have been set up during the transfer of funds to capitalize on given projects.
Alternatively, those considering Vietnam as a destination for future investment should note that, while the use of foreign bank accounts is important at the latter stage of the remittance process, it is nonetheless crucial to finalize banking arrangements on the front end of the investment.
[tips title="Important Tip"]Understanding which actions require the use of a foreign currency account, where restrictions are placed upon these types of accounts, and what documents must be prepared will all ensure that operations are optimized effectively.[/tips]
Intellectual Property Protection
Intellectual property (IP) is a key concern for every business, no matter where they are operating. This is no less true in Vietnam; while the country is a signatory to numerous IP conventions, there are still many reasons for foreign companies operating there to keep a close eye out for IP violations. Therefore, it is crucial that foreign investors have a clear understanding of how IP operates in Vietnam and what possible recourses are available should they find themselves dealing with a violation of their property.
Read more about IPR, bank accounts and other key considerations for doing business in Vietnam here.
Closing a business
Foreign investors may decide to exit Vietnam for a variety of reasons, including an inability to compete with domestic rivals, a real or perceived slowdown in specific sectors, shifts in consumer behavior, rising business costs, black swan events such as the coronavirus pandemic, or regulatory compliances.
Undoubtedly, most investors do not hope or expect to stop their business activities, but it may take time for executives to become fully aware of the responsibilities they can face in dissolving or liquidating a company.
The process of closing business includes the following steps:
Reasons for closure
Issue a decision of dissolution statement
Debt resolution
Closing of the import-export tax code
Bank account closure and stamp destruction
Submission of a dossier to the Ministry of Planning and Investment (MPI)
In this section, we provide a step-by-step guide to closing a business in Vietnam