Vietnam's Free Trade Agreements
Free trade agreements (FTAs) are when two or more countries agree on the terms of trade between them. They determine the value of tariffs and duties that countries impose on imports and exports. In 2007, with Vietnam's ascension into the World Trade Organization (WTO) – it took a significant step integrating with world trade and subsequently entering into several free trade agreements.
Over the past few years, Vietnam has been active in signing bilateral trade agreements with countries throughout the world. Additionally, due to its membership in the Association of Southeast Asian Nations (ASEAN), Vietnam has become a party to several FTAs that the regional trade bloc has signed.
FTAs – The benefits
The benefits of the free trade agreements will enable Vietnam's economic development to continue to shift away from exporting low-tech manufacturing products and primary goods to more complex high-tech goods like electronics, machinery, vehicles and medical devices.
[video file='https://content.jwplatform.com/videos/3wSOtOMB-syh0Bvtn.m4a' image='https://resource.dezshira.com/resize/900x506/Misc/banners/web_2.jpg' title='The RCEP Advantage Part 1 – New Trade Opportunities In Vietnam']
This can be done in two ways – first, through more diversified sourcing partners through larger trade networks and cheaper imports of intermediate goods from partner countries, which should boost the competitiveness of Vietnam's exports.
Second – through partnership with foreign firms that can transfer the knowledge and technology needed to make the jump into higher value-added production. An example of this is the VSmart phone manufactured by Vietnamese conglomerate Vingroup.
Vietnam is touted as a low-cost manufacturer with several companies such as Samsung and Nokia setting up shop to manufacture and then export electronics, but the latest example shows how Vietnam can develop its own products from the transfer of know-how technology.
Such sophisticated business practices and technology will help boost Vietnamese labor productivity and expand the country's export capacity.
With recent trade agreements like the RCEP and the EVFTA – Vietnam seems to prioritize international trade integration trade partners outside ASEAN.
Once in effect, such trade agreements will allow Vietnam to take advantage of the reduced tariffs, both within the ASEAN Economic Community (AEC) and with the EU and US to attract exporting companies to produce in Vietnam and export to partners outside ASEAN.
Vietnam's entry into these trade deals will also ensure alignment with national standards ranging from employee rights to environmental protection. Both the CPTPP and EVFTA require Vietnam to conform to the International Labor Organization's (ILO) standards. The ILO has noted that this is an opportunity for Vietnam to modernize its labor laws and industrial relations systems.
Challenges posed by FTAs
The FTAs may also come with some added downsides. Such agreements are likely to trigger aggressive competition from foreign rivals on local businesses – particularly in the agriculture sector including meat and dairy products from the EU, Australia, and Canada.
If local firms do not adapt, make use of new market opportunities and potential partnerships with foreign firms – they could find competing in the market challenging.
The Vietnamese government would also need to continue on its path of reforms – strengthening the banking sector, removing corruption, refining legal and tax structures, and improving trade facilitation.
[tips title="Did You Know"]Vietnam's Ministry of Planning and Investment forecast that the CPTPP could increase Vietnam's GDP by 1.3 percentage points by 2035, while the EVFTA could boost GDP by 15 percent. [/tips]
These trade deals along with already signed and upcoming FTAs are likely to ensure that Vietnam remains competitive in the short-to-medium term.
[faq title="FAQ: The RCEP Advantage – New Trade Opportunities in Vietnam" ui="accordion"]
Officially in force since the beginning of this year, the world's largest trade bloc in history, the Regional Comprehensive Economic Partnership (RCEP) further builds on free trade agreements within APAC and will push economic integration and shape future trade policy. Member economies range from powerhouses such as China, Japan, and Australia to smaller markets like Brunei, Cambodia, and Laos. Joining the RCEP will help all of them reduce trade barriers and improve market access for their goods. However, who will benefit from the RCEP the most? Will there be any victims of free trade?
What is the RCEP?
The Regional Comprehensive Economic Partnership (RCEP) is an agreement between ASEAN member countries and its free trade agreement (FTA) members. The agreement includes Brunei, Cambodia, Indonesia, Laos, Malaysia, Myanmar, the Philippines, Singapore, Thailand, Vietnam, China, Japan, South Korea, and Australia. The RCEP is a mix of high-, middle- and low-income countries. It is important to note that ASEAN was the initiator of this partnership.
The objective of the RCEP is to eliminate close to 90 percent of tariffs within 20 years. The aim is to also reduce tariffs and red tape with unified rules of origin facilitating international supply chains with trade within the region. One of the drawbacks that has been highlighted is the absence of a focus on labor unions, environment protection, or government subsidies compared to more established FTAs such as the CPTPP and the EVFTA. There are no unified standards on labor and the environment.
Nevertheless, the RCEP is an important agreement as it represents about 30 percent of the world's population and 30 percent of global GDP making it the largest trade bloc in history.
Can you tell us the impact of the RCEP on Vietnam?
The RCEP is Vietnam's most recent trade agreement and will allow for more development and trade in the form of integrated markets for Vietnamese goods. Vietnam was already well integrated in the region; therefore most benefits will not come from tariff reductions alone but from other elements such as trade facilitation measures like unified rules of origin.
The tariff eliminations are planned for a period of 15 years. For example, Vietnam has imposed high tariffs on motor parts, non-metallic minerals, and animal products among others. However, with the RCEP, tariffs on such products will be reduced by 2035 significantly.
What are some benefits that we can expect in Vietnam?
The RCEP brings further development and trade opportunities for Vietnam. This includes an integrated market for Vietnamese goods and the elimination of tariffs in certain sectors. For example, regarding tariffs faced by Vietnam, the sectors with the highest reductions are food and beverage, petroleum, coal products, and meat.
With an integrated market, the simplification of customs procedures and common rules of origin makes it easier for businesses to trade within the region. Common rules of origin are particularly helpful as businesses can manufacture their products while obtaining raw materials from RCEP members and sell to RCEP members with reduced tariffs and costs.
The RCEP also allows Vietnamese products to enter high-end markets such as Australia, New Zealand, and Japan. Previously, Vietnamese products have not been able to be verified for market access to these high-end markets.
In addition, the RCEP solidifies Vietnam as a manufacturing hub in Asia. Vietnam is a market-driven export-oriented model. The agreement helps Vietnam become more attractive as an investment destination particularly from within the region due to the RCEP.
Which industries are expected to benefit the most in Vietnam due to the RCEP?
As the RCEP is focused on trade facilitation, the blue-collar sector is expected to benefit the most. In addition, consumer sectors like tourism, education, entertainment, healthcare, and retail are also expected to benefit as the middle class expands. Further, Vietnam's export-oriented industries such as IT, agriculture, automobiles, footwear, and telecommunications are expected to see gains.
What are some challenges posed by the agreement?
The RCEP will pose a higher level of competition for Vietnam. This will not only be in manufacturing but also in services due to the decreased level of protection of goods traded within the bloc. However, local businesses in Vietnam may also face challenges in keeping clients if they are not able to adapt and meet RCEP requirements.
As mentioned earlier, the RCEP does not include provisions on environment, labor, or intellectual property and thus falls short of such commitments.
[/faq]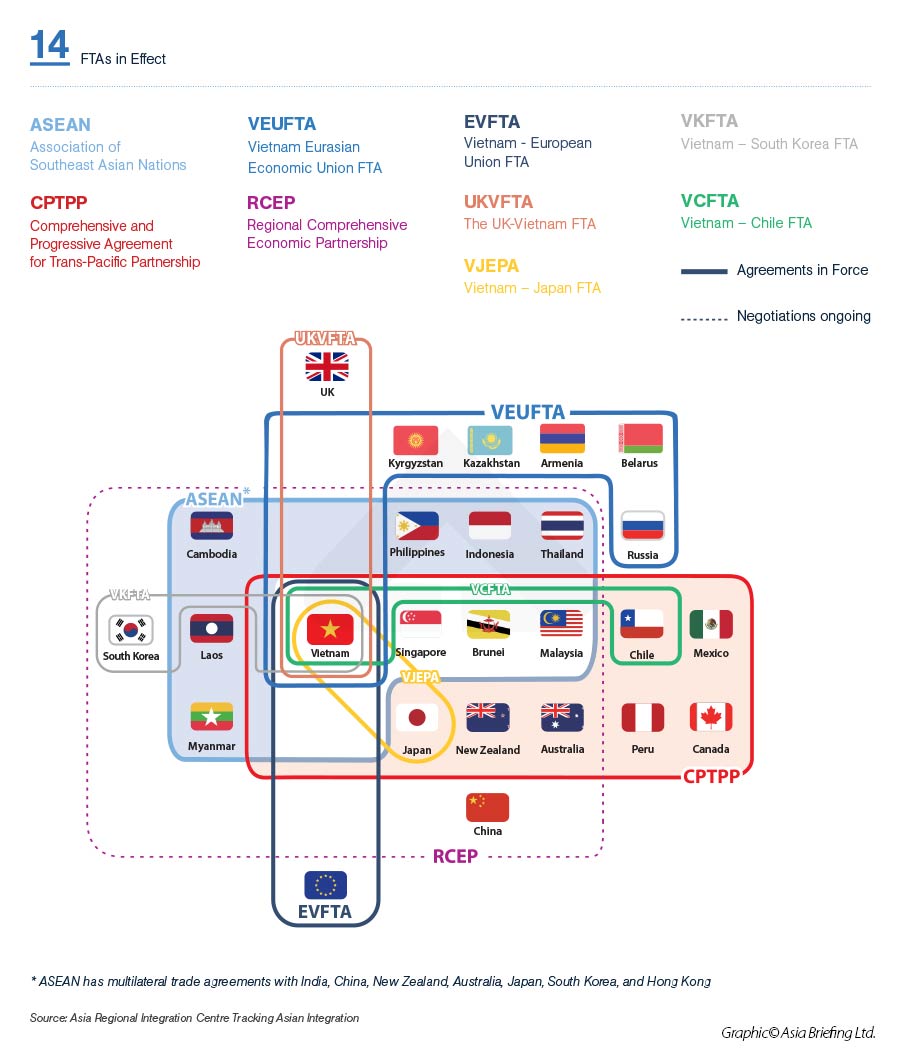 Vietnam's Double Tax Avoidance Agreements
With regard to international trade, the various countries' tax systems often times put global investors in the unfavorable position of having to face redundant taxes on their income —i.e., double taxes. For example, a company may be subject to taxes in its country of residence and also in the countries where it raises income through foreign investments for the provision of goods and services.
It is therefore extremely worthwhile for foreign investors to be aware of the existing double taxation avoidance agreements (DTAAs) between Vietnam and various countries, as well as how these agreements are applied. These treaties effectively eliminate double taxation by identifying exemptions or reducing the amount of taxes payable in Vietnam.
As of 2022, Vietnam has signed DTAs with more than 80 countries and territories, including France, China, and Canada. These treaties eliminate double taxation through identifying exemptions or reducing tax payable in Vietnam for residents of the signatories of the agreements.
Subject of DTAs
DTAs are applied to individuals or corporations who are residents of Vietnam, citizens of DTA countries, or both.
Residents of countries that are signatories to DTAs are taxable subjects in their native countries under the law of that country. They are considered residents if they own residential property, have had periods of residence in the signatory country, or satisfy any other criterion of a similar nature.
Organizations are considered residents of Vietnam if they have established a business in Vietnam and operate under Vietnamese law. Examples include state companies, cooperatives, LLCs, JSCs, or private enterprises.
Principles of application
If there is a direct conflict between domestic tax laws and tax provisions in a DTA, tax provisions of DTA will apply.
However, domestic tax laws will prevail when tax obligations included in the DTA do not exist in Vietnam or when tax rates in the agreement are higher than domestic taxes.
For example, if a signatory country is entitled to impose a type of tax, which Vietnam does not recognize, then Vietnam's tax law will apply.
Furthermore, the provisions of a DTA will not affect the rights or immunities of members of diplomatic and consular missions, as per international treaties, which Vietnam has signed or to which it has acceded.
Finally, DTAs typically only apply to income tax, while in Vietnam, DTAs impact both corporate and personal income tax.
Who do DTAAs apply to?
DTAAs apply to both individuals and corporations who are residents of Vietnam or of the country that Vietnam had signed a DTAA with or both.
On the other hand, residents of Vietnam must satisfy at least one of the following:
Having stayed in Vietnam for 183 days or more within one calendar year or a consecutive 12-month period from the first date of arrival;
Obtained and

register

ed for permanent residence status; or
Leased a residence in Vietnam for at least 90 days within the tax assessment year. Applicable residences include hotels, boarding houses, rest houses, lodgings, and working offices.
Organizations are considered residents of Vietnam if they have established a business in Vietnam and operate under Vietnamese law. Examples include state companies, cooperatives, limited liability companies (LLCs), joint-stock companies, and private enterprises.
How do DTAAs apply?
If there is a direct conflict between domestic tax laws and the tax provisions in a DTAA, those in the DTAA will prevail. However, domestic tax laws will prevail when the relevant tax obligations included in the DTAA do not exist in Vietnam or when the tax rates in the agreement are more than the domestic tax rates. For example, if a signatory country is entitled to impose a type of tax that Vietnam does not recognize, then Vietnam's tax laws will apply.
DTAAs typically only apply to income taxes. However, in Vietnam, DTAAs impact both corporate and personal income taxes.
Types of taxable Income
Corporate income
For foreign-invested enterprises (FIEs), corporate income is what is earned from carrying out production and business activities in Vietnam.
The tax obligations of FIEs are determined as follows:
Legal entities (e.g., wholly foreign-owned enterprises or joint ventures) – such entities are taxed on incomes arising from business activities according to the corporate income tax law. The current standard tax rate in Vietnam for corporate entities is currently 20 percent.
Non-legal entities – those who operate without forming legal entities will be subject to withholding tax or partially taxed if they own a permanent establishment (PE) in Vietnam to which income can be directly or indirectly attributed.
A PE is defined as a fixed place of business where operations are wholly or partially carried out. An FIE is said to be a PE in Vietnam if it maintains a building, office or equipment (either wholly or in part) that must be set up at a specified place and/or maintained permanently.
Investors with PEs who are licensed to conduct business in Vietnam are subject to the laws of the prevailing corporate income taxes in Vietnam. Those who conduct business under contract with Vietnamese organizations or individuals will be subject to withholding tax according to foreign contractor withholding tax regulations.
Income earned from Vietnam by FIEs
Dividends
No treaty benefit applies to dividends under DTAAs as there is no withholding tax on dividends in Vietnam. Companies are required to fulfill their financial and tax obligations in Vietnam before remitting dividends to their overseas parent companies. This means that the remitted dividends are after-tax profit which can be taxed again in the other signatory countries. Most tax and revenue jurisdictions allow tax offset for tax paid in other countries on dividends received.
Interest & royalties
Interest & royalties are taxed at 5 percent and 10 percent respectively. Tax on the interest is usually exempt under most DTAA while tax in royalty income is often reduced and ranges from 5 percent to 15 percent.
Technical, management, and consulting services
Tax on service fees is often withheld at 10 percent, in which 5 percent is of value-added tax (VAT) and the other 5 percent portion is CIT. Under DTAAs, only the CIT portion is subject to an exemption.
Personal income
Residents of countries that have a DTAA with Vietnam that earn income in Vietnam are required to pay income taxes subject to Vietnam's personal income tax laws. However, these residents may be exempted from taxation if they satisfy all of the following conditions:
The resident is in Vietnam for fewer than 183 days over a 12-month period of any taxable year;
The resident's employer is not a resident of Vietnam, regardless of whether the wages are paid directly by the employer or through the employer's representative; and
The wages are not paid by the PE of the employer in Vietnam.
Income raised from the provision of independent services is also subject to corporate income taxes, and foreign individuals that earn income this way must pay the relevant income taxes. If individuals or companies provide independent services without a business license, they are also required to pay personal income taxes.
Vietnam's Double Taxation Avoidance Agreements (as of 2020)
Algeria (Not yet in effect)
Ireland
Portugal
Australia
Israel
Qatar
Austria
Italy
Romania
Azerbaijan
Japan
Russia
Bangladesh
Kazakhstan
San Marino
Belarus
North Korea
Saudi Arabia
Belgium
South Korea
Serbia
Brunei Darussalam
Kuwait (Not yet in effect)
Seychelles
Bulgaria
Laos
Singapore
Canada
Luxembourg
Slovakia
China
Macedonia (Not yet in effect)
Spain
Cuba
Malaysia
Sri Lanka
Czech Republic
Malta
Sweden
Denmark
Mongolia
Switzerland
Eastern Uruguay
Morocco
Taiwan
Egypt (Not yet in effect)
Mozambique
Thailand
Estonia
Myanmar
Tunisia
Finland
Netherlands
Turkey
France
New Zealand
Ukraine
Germany
Norway
United Arab Emirates
Hong Kong
Oman
United Kingdom
Hungary
Pakistan
United States (Not yet in effect)
Iceland
Palestine
Uzbekistan
India
Panama
Venezuela
Indonesia
Philippines
Iran
Poland