Event Details
EuroCham: E-COMMERCE IN CHINA: SELL ONLINE ON THE LARGEST E-COMMERCE MARKET OF THE WORLD! (FULL-DAY TRAINING, ENGLISH)
MAY
06
2015
Summary
The Chinese eCommerce market is the largest eCommerce market in the world. This market has its own specificities: local players and local practices quite different from the western world.
Whether you are a brand or a merchant with an eCommerce project in China, this training will help you to understand the local eCommerce Chinese market, the best eCommerce practices in the country and the Chinese digital ecosystem.
Training Goals
With more than 645 million internet users and USD 420 billion in eCommerce transactions in the past year, China is the largest eCommerce market in the world.
The Chinese eCommerce market is dominated by local players, most of which have no presence in the western world.
Understanding of the Chinese eCommerce market is the first step for a successful eCommerce market entry in China : Who are the local players ? What is a typical Chinese Internet users behavior when buying online? Why your digital strategy has to be localized in China hence different from the rest of the world? What budgets are we talking about for an eCommerce business in China ? How to manage your eCommerce operations in China ?
With a really different ecosystem compare to the European one, this training will give you the keys to better understand and operate on the eCommerce market in China.
Who should participate?
This training session targets any brands or merchants with an eCommerce or Digital project on the Chinese market.
Through real life examples and study cases, this training will allow you to gather the necessary practical and market knowledge for your eCommerce success in China.
Trainer
Cyril Drouin- BysoftChinaFounder & CEO–Senior eCommerce Consultant
Cyril Drouin, founder and CEO of the eCommerce global Agency BysoftChina, lives in China since 1998, and founded BysoftChina in 2003.
With over 15 years of experience in the field of e-commerce and the Internet in China and Europe, Cyril worked with nearly 100 clients, including brands, retailers, manufacturers, small businesses and startups.
He helps brands accross the entire lifecycle of an e-commerce project, from consulting to implementation, digital marketing and monitoring performance.
Based on his knowledge of the Chinese market, digital marketing and technical expertise, Cyril has built an expertise in digital strategy and eCommerce in China as well as in the management of market places and localization in China of leading e-commerce technologies.
He is a regular well-respected speaker & trainer at various digital and eCommerce conferences. He host high level training sessions about "eCommerce in China" few times a year in China and around the world. Cyril holds a Master degree IT & Mathematics, speaks fluent French and English and has a good practice of Chinese.
European SMEs* that register before 24th April qualify for a 5% discount!!!
*The definition of European SME is a company headquartered in the EU with no more than 250 employees worldwide and an annual turnover not exceeding EUR 50 million.

For registeration and more information about the event, please visit here.
---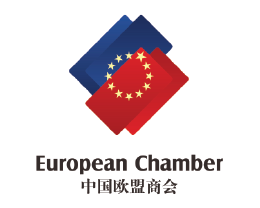 The European Union Chamber of Commerce in China was founded in 2000 by 51 member companies that shared a goal of establishing a common voice for the various business sectors of the European Union and European businesses operating in China. It is a members-driven, non-profit, fee-based organisation with a core structure of 43 Working Groups and Fora representing European business in China.
---
Beijing, China | May 6, 2015 50 Liangmaqiao Road, Chaoyang District, Beijing
北京市朝阳区亮马桥路50号燕莎中心写字楼C座411A
Back to event home