The past 12 months has seen a dramatic increase of Western news stories about China's Muslim Uyghurs in Xinjiang Province and mistreatment of them. Hardly a day goes past now without any daily newspaper screaming headlines about alleged atrocities. As a campaign to discredit China in the eyes of the West, it has certainly found a home – with yet largely unproven allegations of torture, rape, and that most ugly of words, 'genocide', a word typically associated with ethnic cleansing and mass-murder than labor camps.
The EU of course – and NATO – are quite familiar with genocide. They fought a European war that pitched Muslims against Christians in Bosnia, have fought ISIS in the Levant and North Africa while memories of the holocaust still run deep.
But there is another nasty little war that has been going on, fought both by American and NATO troops – Afghanistan. It has lasted all this century thus far. According to the United Nations ReliefWeb portal, an estimated 40% of all casualties in the period 2016-2020 were children. They state: In the period 2016-2020, in Afghanistan, there were 3,977 total civilian casualties from airstrikes: 2,122 civilians killed, 1,855 civilians injured. 1,598 total child casualties from airstrikes: 785 children killed, and 813 children injured.
NATO in Afghanstan is made up of both US and European military, with the United States, UK, and EU members Germany, Italy, Romania, Poland, Portugal, Denmark, Netherlands, Bulgaria, with Norway all having troops on the ground there.Earlier this year, a decision was finally made to fully withdraw from the country. All US and NATO troops are set to leave by September 11, a date set to coincide with September 11, 2001, when Taliban attacks bought down New York's Twin Towers, and a reminder that this has been a very American conflict. US President Joe Biden has stressed that troops can disengage because there 'is now no threat to our homeland' – referencing of course the United States.
What it doesn't do is provide any measure of security for Europe or Asia. And this especially impacts upon China – with its 13 million Uyghurs sitting right across from the Chinese border with Afghanistan. It must be especially galling for Beijing to be accused of genocide in Xinjiang when one considers the culpability of American and NATO troops just next door.
There are extremely worrying developments. Despite NATO assurances, and having trained the Afghan military, it appears the Taliban – now associated with ISIS – are gaining ground in the country. The map below illustrates.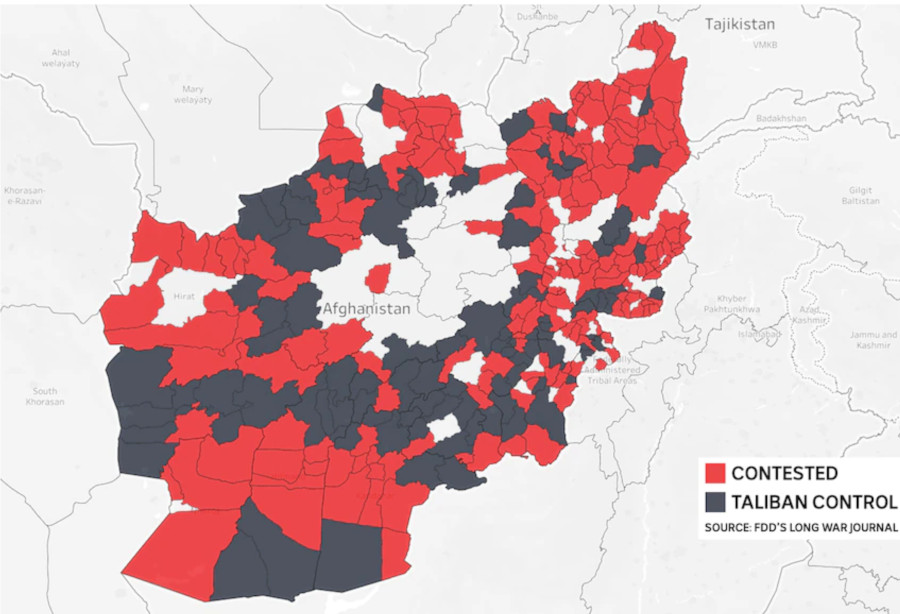 The US military have also stated they will be leaving weapons and equipment behind. If so, then given the precarious position the US and NATO appear to be leaving Afghanistan in, then it cannot be too long before that falls into the wrong hands. It is utterly irresponsible.
Reports from Afghanistan said that without back-up from the US air force and US special forces, Afghan government forces have suffered several major defeats and the Taliban have captured several regions and towns. This includes the northern region of Kunduz and the town of Shir Khan Bandar on the Tajikistan-Afghanistan border. Several dozen Afghan government soldiers escaped the Taliban after the battle for Shir Khan Bandar by fleeing into Tajikistan and, further west, Uzbekistan also said on June 23 that 53 Afghan government soldiers had fled across its border too.
"The increase of violence in the neighboring country is causing utmost concern," Uzbekistan's foreign ministry said. "We strongly urge all parties involved in the conflict to refrain from using force and to prevent casualties among civilians." Uzbekistan has since closed its border to Afghanistan, officially because of a surge in coronavirus case numbers although analysts also said that Tashkent doesn't want to get dragged into the conflict by becoming a refuge for fleeing government soldiers.
Russia has complained loudly that the withdrawal of Western military forces in Afghanistan will allow the Taliban to push north and to destabilize Central Asia. The RIA Novosti news agency quoted Russian defense minister Nikolai Patrushev as saying that the US should "strengthen the military of non-regional players in Central Asia". Western analysts have been skeptical that the Taliban intends to attack Central Asia but there is some precedent. In 2014, Turkmenistan strengthened its border forces after it said that they had had to fight off Taliban forces.
What is China to do? It can only batten down the hatches by increasing focus on any locals with known or suspected Taliban or East Turkistan links or state objectives, tightening its regional security, and placing Xinjiang on high alert. Russia will be on hand to lend military support, while not just China, but Afghanistan's other neighbors, Iran, Uzbekistan, Turkmenistan, Tajikistan, and Pakistan must also fear the worst. Afghanistan, and its neighbors, including Xinjiang, has a population of some 400 million people – all of whom will be impacted if Afghanistan falls into chaos.
The EU's intense criticism of China, accusations of genocide and of its treatment of the Uyghur population appears therefore to be a direct attempt to muddy waters over their own involvement in a real tragedy: their involvement in a war that has killed thousands of Afghani civilians and hundreds of children in the past four years. That is a rather more serious matter than China's Uyghur transgressions, while the claims of genocide are meant to paint a totally different picture upon the situation. Criticizing China over Human Rights abuses is one matter, while at the same time forgetting that those same critics – the United States and European nations have been involved in fighting a 20-year regional war that has killed thousands of civilians and children. To expect China to just pick up the pieces while pointing the finger at their treatment of Uyghur Muslims and Xinjiang's security as a 'genocide' is duplicitous and highly economic with the truth.