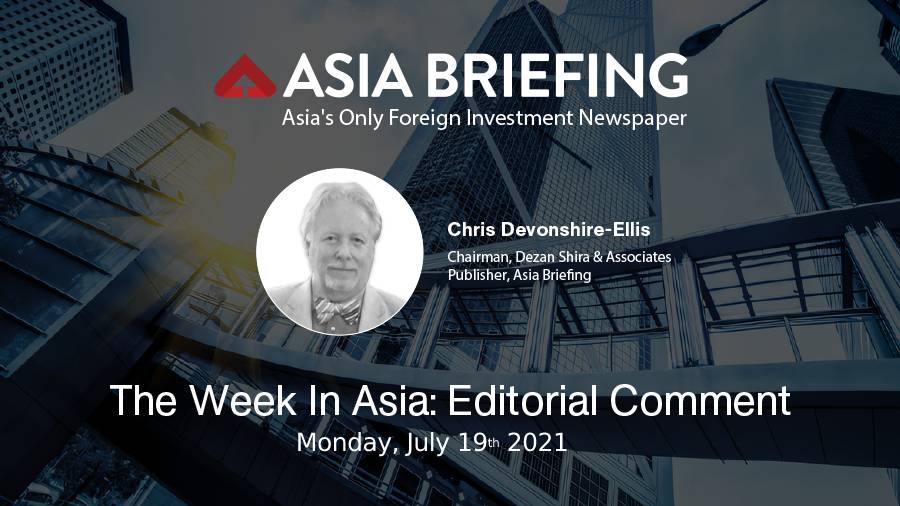 Solid professional expertise is available to cut through the anti-China rhetoric and see where the investment opportunities are
By Chris Devonshire-Ellis
The emergence of over 1,000 Chinese US dollar billionaires – about 50% of the global total has wetted appetites in the West for access to this incredible amount of wealth. The rise of China's billionaires co-incides with the growing wealth of China's middle class – an estimated US$3 trillion of private income needing homes to go to and financial expertise to manage and sustain it.
As was noted on several occasions during the 'Greater Bay Area: Opportunities' webinar held last week, the role of Hong Kong, and stock exchanges in Shenzhen and Guangzhou are taking a leading position in the rebalancing of global wealth and how this is to be managed. Henry Tillman, of China Investment Research pointed out how these exchanges were able to raise enormous sums of money via rule changes instigated by Beijing – by permitting the public listing of as-yet unprofitable companies in the bio-tech sector. That has led to an explosion of Chinese financing of biotech worldwide – and has been a major driver in the fight against Covid-19.
Julia Charlton, of Charlton's law firm in Hong Kong illustrated that the combined strength of the Hong Kong, Shenzhen and Shanghai exchanges now rivals that of the United States in their stock value and ability to raise capital.
As my colleague Alberto Vettoretti of Dezan Shira & Associates said, should the Greater Bay Area – Hong Kong, Macao and nine southern Chinese cities – be a country, GDP growth projections to 2030 would place it as the world's fifth largest economy, only slightly behind Germany within a decade.
My own contribution was to show how Double Tax Treaties and Free Trade Agreements either already, or coming into force from both China and Hong Kong are set to unleash unprecedented global access to trade with China and beyond. The extent of the coming China trade reach will go way beyond South Asia and is already making significant inroads into Central Asia, the Middle East, Africa, and South America.
This means that increases in private wealth in China – and in China's larger trade partners globally – will continue to expand.
What isn't understood so well is how that is to be accessed, and especially by Western financial institutions and fund managers. One thing, however, can be guaranteed – the Chinese State will oversee Chinese wealth. New regulations and products are in the process of being agreed and designed, not least among them the digitalization of currencies. The Digital RMB Yuan is already being trialed. Russia meanwhile has similar plans for the Ruble, while both are expanding this to include the BRICS nations as well as the EAEU. The use of the US dollar will diminish as a result.
These developments are crucial to understand from the business and future trade – and profitability perspectives. While Western governments lambast China for suppressing democracy in Hong Kong, human rights for Muslims in Xinjiang and of creating debt traps along its Belt & Road, readers should be mindful that Hong Kong has never been democratic and wasn't under British rule either, the security situation in Xinjiang is a direct result of the US and NATO pulling out of Afghanistan, and that both John Hopkins University and Chatham House have studied Chinese BRI financing and found no evidence of financial coercion whatsoever.
Hong Kong in fact stands to boom as a financial center given its experience and product specific access it has to mainland China; investors in the financial services industry would be well advised to listen to the views people on the ground rather than politically, even jealously motivated statements.
The upshot is that getting into the Chinese private wealth market means understanding the rules and regulations for doing so and to be understanding of the requirements of being part of new structures such as the Hong Kong Wealth Connect Scheme – which provides access to that US$3 trillion in private Chinese hands.
Beijing will approve licenses for foreign investors in these markets providing they qualify and have the relevant expertise. There is a great need for Chinese capital to develop overseas and Beijing has already shown it is prepared to do this by investing in so much bio tech internationally. Listening to the position of China, and what it is doing to create level playing fields and allow foreign investment into key sectors is the way ahead. The sooner Western investors understand that and are prepared to engage, the sooner they can access and be part of that huge amount of Chinese wealth, service the market and ultimately, add value to their own shareholders. The lessons learned by the likes of Kodak, who shunned the opportunities of digital cameras and missed out on the massive global move to mobile phones and new digital technologies. Foreign investors likewise should not be influenced by political rhetoric, old fashioned ways of thinking and widely inaccurate media reports. Talk to people on the ground, not journalists, fed political bias and sitting at home. The route China is taking is the one business investors should be looking at as a key part of the foreign investment strategy. The knowledge, intellect and experience is there, and to prove this, I strongly recommend spending 90 minutes on last week's GBA webinar, where businesspeople, not politicians have their say. The link is here.