Op-Ed Commentary by Chris Devonshire-Ellis – September 13th, 2021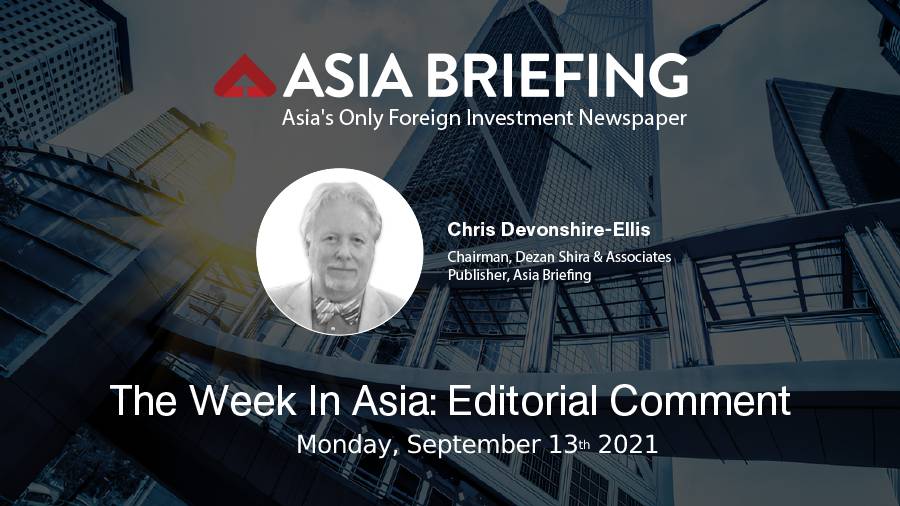 President's Xi and Biden appear to have set out lines in the sand during their phone conversation last week as to the limits of their strategic rivalry. This was more significant from the US perspective given all the threats were actually coming from Washington – with the key part of their statement being: "the responsibility of both nations to ensure competition does not veer into conflict."
The reference to "conflict" must surely be most relevant to issues surrounding South China Sea, where the US, UK, some other Western and Indian naval military presence has been growing in last few months, but also the military build-up in and around Taiwan.
Clearly, sanctions of Chinese technology companies and restrictions in supplies of high-end tech products, such as semiconductors, must be the other area where both will likely want to rein in intensifying conflict given it is leading to a bifurcation of tech standards which would eventually harm the global economy.
Most international media seem otherwise more preoccupied with focusing on conflict from their interpretation of the phone call between the two. Otherwise, not a lot was said to warrant the extensive coverage the 90-minute conversation (probably closer to 30 once niceties and translations took place, the fact that Biden probably needed a nap afterwards and Xi is extremely busy).
Eurasia however is infinitely more dynamic and exhilarating. Take a look at what Russia's President Vladimir Putin had to say about regenerating the Asian part of Russia – an area of 6.9 million square km, equivalent to 25 Texas's and with a 4,200km border with China. Reporting of that in the US? Practically zero, despite Chinese President Xi Jinping and Indian PM Narendra Modi also making speeches.
A concern has also been how a dangerously "defensive" a declining America was going to react to the rise of Eurasia. Ukraine, Crimea, Maidan, and sanctions on Russia has thus far been its worst incarnation, as these do not impact so much on the US economy – but they do upon Russia's. Trumps' trade sanctions on China were an attempt to follow suit but have largely backfired.
However, the West has realized that Russia is not in their capacity to control in the way they would have liked, and there has been an elevated sense of concern that serious geopolitical, perhaps even military, conflict with China would take center stage. This concern has been heightened by the recent massive movement of military assets into the Shanghai Cooperation Organisation, largely due to the US exist from Afghanistan and the fact that the West probably perceives China as an untested military power, with Xi as a similarly untested leader in a fraught geopolitical standoff.
Fortunately, and with great relief, the Xi-Biden statement appears to calm this down. Considering which, it's back to cultivating the Eurasian Dream. ASEAN is considering a Free Trade Agreement with the EAEU. The Belt & Road Initiative is still expanding (Media coverage of the B3W disappeared pretty quickly after all the hype) and the Afghanistan issue and its impact on uniting Central and South Asia looks promising. RCEP should kick in next year. Beijing is to open a new Stock Exchange, for SMEs. And all this was just last week's news. When a brief chat between Biden and Xi contains very little yet still makes the headlines after rather more interesting news elsewhere, it is time to realize that Kansas is not the place to be any more for geopolitics, trade or the making of the new world. In fact, Xi's conversations with the likes of Putin and Modi are likely to impact the United States rather more than anything the Biden administration now says or does in the wake of Afghanstan debacle. Eurasia is where it's at. When will the New York Times set up a bureau in the Russian Far East? After all, it's a mere 55 miles away.
Have a great week!