Op-Ed Commentary by Chris Devonshire-Ellis – October 4th, 2021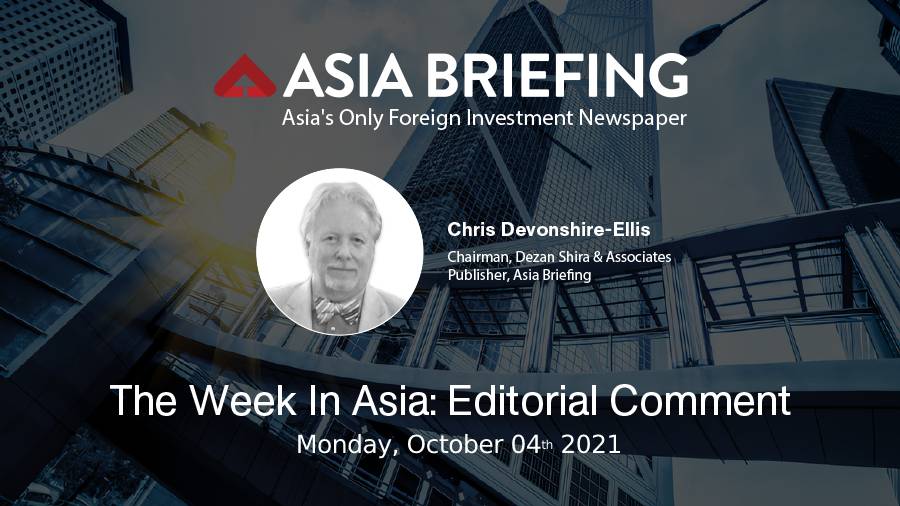 China Wants 'Collaboration', The West Stresses 'Alternatives'. Someone has to Give Way
The EU and US media propaganda machine went into overdrive this week, based on US President Biden's apparent 'launch' of the 'Build Back Better World' (B3W) alternative, and EU media talking up their version, the so-called 'Global Gateway'. To illustrate the extent of this, any search of 'Belt and Road Initiative' online will produce reams of anti-BRI articles, all written in the West. On the popular News Now aggregator, I counted that of 86 articles listed under 'Belt And Road Initiative', 57 were overly negative. Of these, nearly all originated from just three sources: the US, EU, and India. None of these support China's BRI, so to some extent, this is hardly surprising. But some 147 countries and territories have signed up to China's Belt & Road Initiative, meaning Western media is drowning out the majority views.
Of the more prominent anti-BRI stories, picked up by everyone from the Economist, to the Financial Times, the Washington Post and numerous other international media has been 'revelations' that China has lent US$385 billion in 'hidden' debt and exposed 42 low-income nations (somehow including Brunei, which is actually oil rich) to debt to GDP ratios in excess of 10%. The report they all focus on was from the US based AidData research laboratory, part of the William & Mary college, which is US military backed. However, the report, as I illustrated here, is deeply flawed. Its research is outdated, contradicted by other, similar reports, and based on hugely erroneous financial risk suggestions. It is in fact propaganda, not research, and was issued just 24 hours before President Biden gave his B3W speech, in which he talked up the US plans for infrastructure investment.
AidData thus became a tool to support US propaganda, which sadly renders their data compromised and untrustworthy. The reason I say this is because neither Biden's B3W, nor his US$1 trillion 'Partisan Investment' actually exist. In fact, both are looking extremely dodgy. The Partisan Investment Bill has been delayed for a vote until the end of the month, due to concerns over the spending. Biden has promised to 'sell' it to the American people, saying 'it will create two million American jobs.' But as a global investment scheme, isn't it supposed to be about creating overseas infrastructure and to offer an alternative to China's BRI funding? Because the anti-BRI news this past week has been nearly all about that.
But Biden has other, more pressing, and rather more serious matters to deal with. Dutifully hidden among all the 'US alternative to China's Belt & Road' are two other financial matters: Congress narrowly averted another Government shut down by agreeing finance to last until December – a close call that will again rear its head and will need to be solved just before the beginning of 2022. Of even greater significance is the request to raise the US debt ceiling, which needs to be done within the next two weeks – or the United States will default. That ceiling, which is an at already all-time high of US$28.4 trillion, requires the US to borrow even more money to sustain its economy. The paradox when compared to China, and its Belt and Road lending, is acute.
Incidentally, I recall a US-China event I presented ten years ago in Shanghai in front of a group of US investors and law firms, in which contrary to their beliefs, I stated that China would not be investing in US infrastructure anytime soon, and that at the time, China was already spending more in LatAm than in the United States. They were aghast. Nowadays it seems that in hindsight, the BRI might have been more politically attractive if it had included the US. But it didn't, and it's been portrayed negatively ever since.
As for the EU's 'Global Gateway', again there has been a great deal of propaganda talking it up. For example, Brussels talks about a new era of Africa engagement. But with Angela Merckl now gone, and a highly divisive coalition now in Germany (where the right to govern was just 26% of the popular vote) a French political climb to wrest the EU to Paris rather than Berlin seems on the cards. France meanwhile is getting close to serious diplomatic stresses with Algeria, Tunisia and Morocco, all at the same time. Not exactly a great platform for EU-African investment, where China and Russia are already highly active, and the UK expected to follow. There's also the issue of Brussels raising funds for overseas investment – it hasn't provided any details of how it will fund its Global Gateway programme. Until it does, it is not capable, despite all the media noise.
Nonetheless, EU Commissioner Ursula von der Leyen has said, in general terms, how the EU will look to develop funding sources and to "connect institutions and investment, banks and the business community". In practical terms this is likely to involve the EU sourcing a mix of new and existing financial resources, just as it did under the Juncker Investment Plan for Europe, which raised over 400 billion euros, for investments in infrastructure which had the highest GDP growth effects for lesser developed southern and eastern European member states.
The Global Gateway will probably extend the remit of the European Fund for Strategic Investments, or create a similar institution, which can act as a guarantor for riskier investments in the Global South. This would enable the involvement of the European Investment Bank and the European Investment Fund, which are likely to provide the institutional financial backbones to target investments in infrastructure across continents such as in Africa, the Middle East and Asia where these institutions have been actively funding projects for a number of decades, albeit on a smaller scale.
One can assume these supranational regional guarantees and international financial institutions' involvement will also provide a secure level of foundation for European and other international private commercial banks to become involved in syndicated arrangements.
In reality, the EU's Global Gateway may even participate in co-ventures involving Chinese BRI banks and financial investors, in certain infrastructure projects, given that European banks and companies are also becoming increasingly engaged in BRI projects. No doubt there are possibilities for tie-ups between China's Asian Infrastructure Investment Bank (AIIB) and European-based multilateral financial agencies, both of which involve arrangements for European and Chinese government co-shareholdings.
So, while the Global Gateway has been touted as a geopolitical strategy to compete with China in the Global South, the practicalities and risks for European institutions, are likely to be too high for the EU to merely go it alone. In the end, the EU's Global Gateway, from its very title, is not likely to be merely a singular endeavour that operates in a vacuum. There are significant financial and economic risks associated with building infrastructure in the Global South, which the EU has increasingly withdrawn from funding ever since the 2008 Global Financial Crisis, while China has gained invaluable experience and connections across some of the most complex and riskiest parts of the developing world. It therefore seems inevitable that financial partnerships, of whatever kind, whether intra-EU or with other global partners, such as with China, will be an economic fact of life for the EU's Global Gateway.
All this could be written off as geopolitical finance differences and financial politics. Will the US default on its loans in two weeks time? Probably not, as that would cause a major, global meltdown. But is it suitable for the world's largest economy to be having political in-fighting of the type that makes it even a possibility? Absolutely not, it is a disgrace.
Will the EU's bankers and investors alone want to fund its Global Gateway? Also, probably not. There will emerge a hybrid with part EU, and part Asian – including Chinese – funding as reality bites and the need for spreading non-EU based infrastructure risk becomes a financial reality.
Hiding these conflicts and realities behind a beating up of China's Belt & Road is hiding from the truth.
I am warmer to the possibility of EU-China joint institutional financing ocurring as opposed to US-China. China though may have to give up part of its promotional "Belt & Road" projects as a defining title to gain EU acceptance. Brussels will want its pound of Global Gateway promotional marketing as well.
But there is an even larger potential conflict brewing. Cop26 is due in November, at which the world's leaders are supposed to fix climate issues and agree on cooperative measures. Scientists believe that if consensus isn't reached very soon on reducing emissions and finding new sources of energy to power our economies, the future for mankind looks increasingly dim. China has also been making overtures towards 'collaboration' and 'cooperation' in speeches made recently by Xi Jinping and Wang Yi, China's Foreign Minister at last week's UN conference on sustainable development. Both have stressed the need for mutual engagement, not competing programmes.
147 countries have signed up to China's Belt and Road Initiative implying they suggest this too. But that is not the message coming right now from the West. Those state that we need alternatives to China's Belt and Road, not engagement with it. The question then is whether the US, EU, UK, and India intend to divide the world and its resources, and hang the climate, or whether China's views can hold sway? It must be said that right now the prognosis doesn't look good. Engagement with China however is not optional when one considers global geopolitics as both Washington and Brussels have stated as their global infrastructure intentions. My bet is on the EU blinking first.