Lithuania's emerging China supply chain gaps to be filled by more expensive US products
Lithuania has had its foreign relations with China downgraded after the country elected to open a trade representative office in Taiwan, a move that infuriated Beijing. Other countries maintain de facto diplomatic, although not fully official diplomatic ties with Taiwan, however, follow standard international diplomatic protocol and refer to these facilities as being with 'Chinese Taipei'. Lithuania has broken that by referring to their office as being with Taiwan – the official name of the island as preferred by the Republic of China government and deliberately provocative as Beijing regards the name as an attempt to label the island as independent.
The move has been instigated by Lithuania's Foreign Minister, Gabrielius Landsbergis, who was also responsible for drumming up EU support for labeling China's detention of Uyghurs in Xinjiang a 'genocide' – a term that even the UK government has recently shown reservations about using and has requested independent, international judicial panels to further look into the claims. Landsbergis is therefore something of a thorn in China's side and has made it a personal mission to be highly prominent as an EU based Minister critical of China. That mission is now impacting negatively on his country.
Beijing's response to Landsbergis' Taiwan initiative has been to downgrade its relations with Lithuania from full diplomatic recognition to that of 'charges d'affaires' – meaning no Ambassadors are now appointed and Lithuania is now represented through a representative only – and is diminished in Beijing's eyes to the status of a minor country. No other EU country has such limited relations with China. Lithuania now stands alone.
This has implications, not least for Sino-Lithuanian trade. Lithuanian exports to China had been growing since the country initially signed up to China's Belt and Road Initiative and reached about US$360 million last year, from practically zero a decade ago. Landsbergis has basically just put a bomb under that.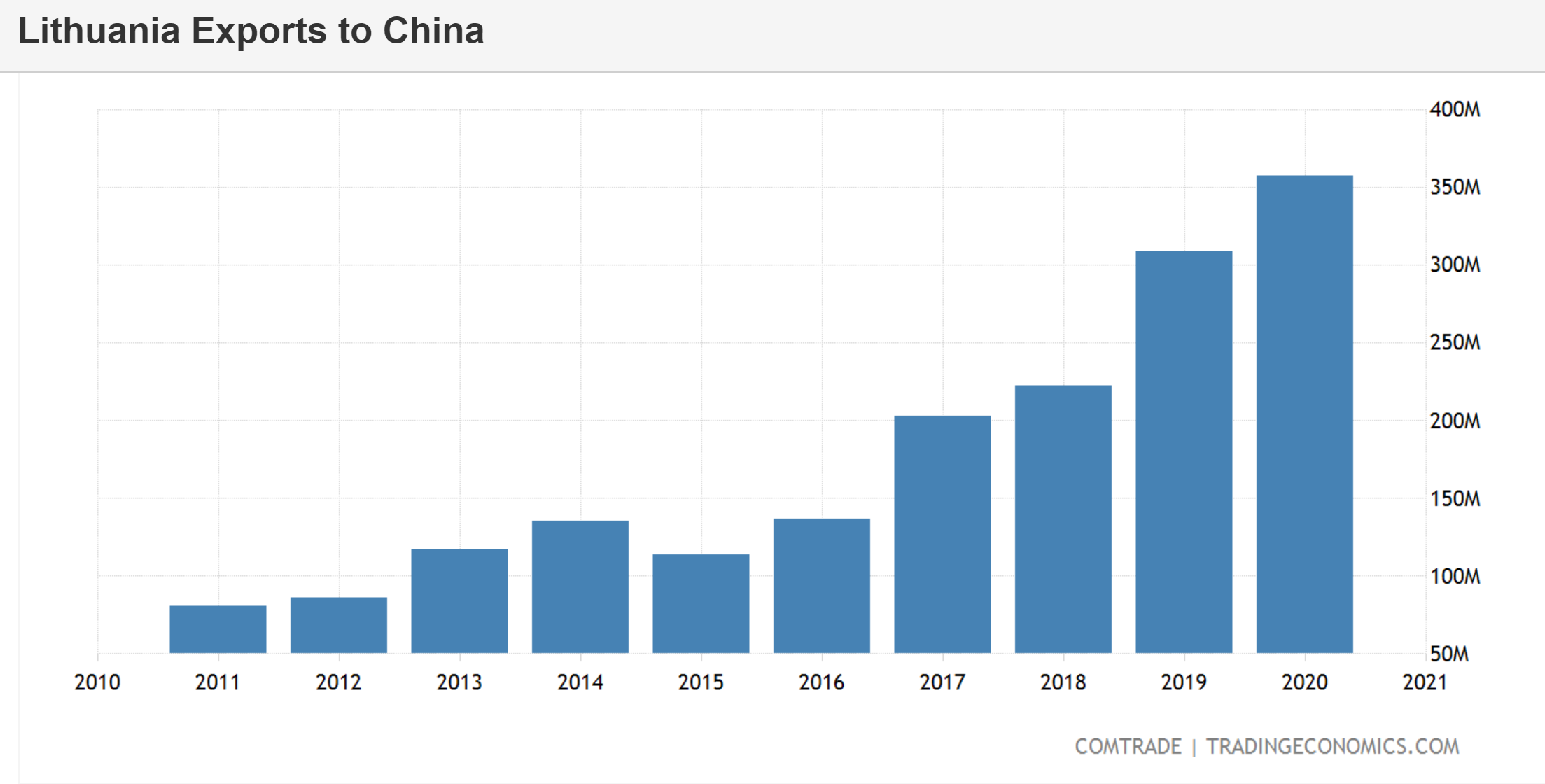 Lithuania exports in total are about US$33 billion, meaning that the China export slice of that represents about 10% of the total, and has been patiently built up over the years. That is now set to reduce dramatically, which is a disaster for Lithuanian exporters who have spent time and money on developing the China market. Lithuanian exports to China include agricultural produce such as cereals, fruits, and nuts, (US$90 million, and upon which China has just placed an import ban) in addition to its lumber trade (US$41 million) and associated industries such as wooden furniture and prefabricated housing materials (US$44 million).
Beijing has now ceased sending trains through the Belt and Road Initiative rail network to Lithuania, meaning that Lithuanian importers buying from China will also see volumes significantly decrease.
They had been on a consistant upward trend, again from practically zero a decade ago to US$1.375 billion in 2020. Again, that trade will now massively deteriorate.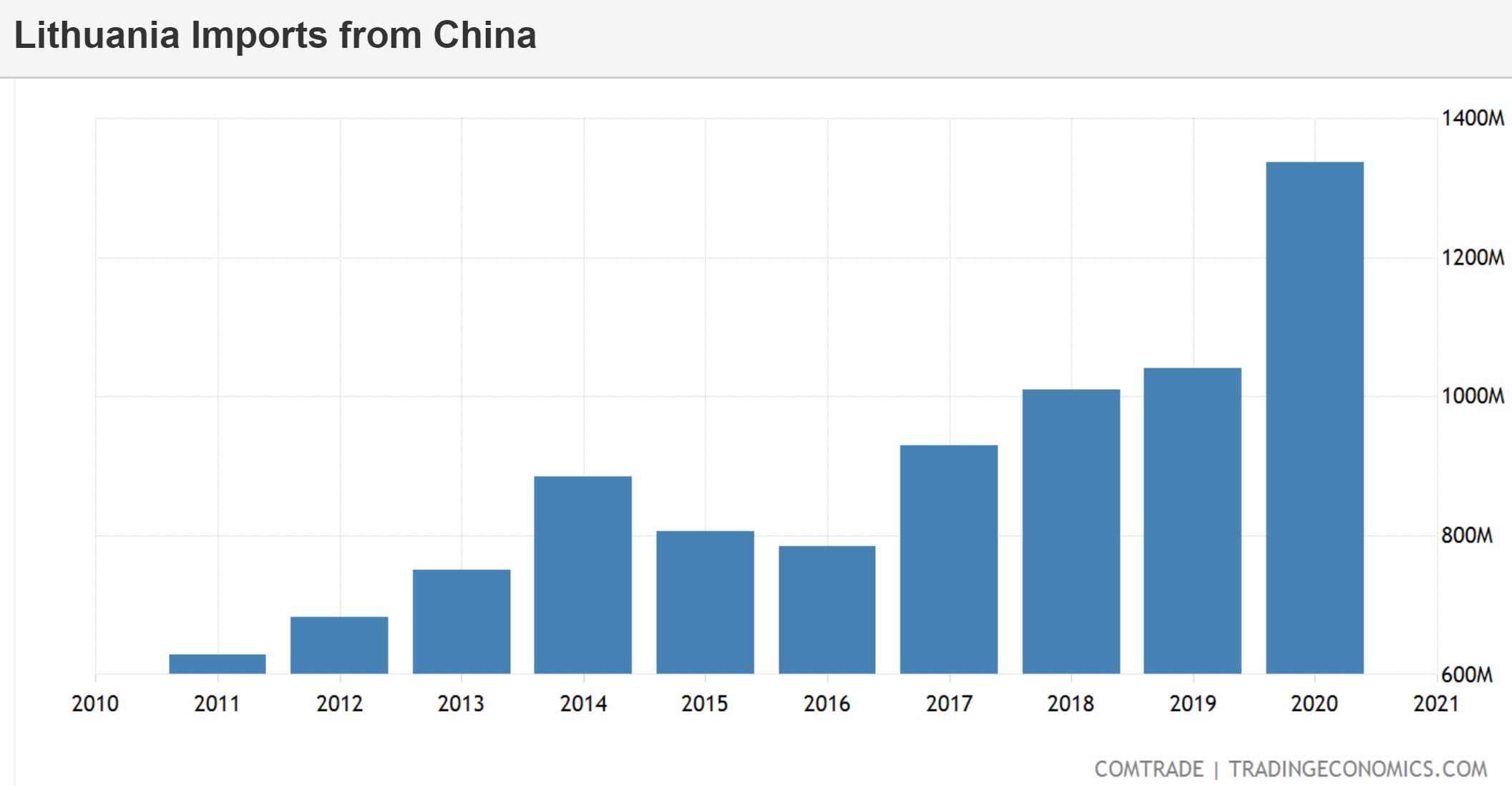 With China now not sending goods to Lithuania, Lithuania's US$260 million worth of imported, inexpensive Chinese manufactured electrical and electronic equipment will now dry up, as will imports of China made textiles and apparel (US$158 million) in addition to imports of medical and other technical equipment (US$86 million). For a population of less than 3 million people, these are huge amounts of essential commodities that must either be purchased from within neighboring EU nations or sourced from elsewhere – and will cost more.
Taiwan meanwhile is not an alternative trade answer.
To compare with Lithuania's new target market of Taiwan, Lithuanian exports to the island are about 10% of those it has been exporting to China. The country exported US$37.8 million of products to Taiwan in 2019, across a wide range of products. It imported US$97.3 million of goods from Taiwan, or about 7% of the total it purchased from China, being mainly in the tech and machinery sectors.
In moving Lithuania's trade focus from China to Taiwan, Landsbergis has created supply chain gaps of 90% that need to be made up in exports, and 93% of the commodities it imported. When taken into total, Landsbergis has single-handedly created a supply chain product shortage of about €643 for every single Lithuanian citizen – and managed to do that when trade was actually increasing. That might not seem like much but it matters on the ground.
It represents 15% or more of the average annual income for nearly 15% of Lithuanian citizens and an average 8%-10% of pretax annual income for just over 50% of the entire population. Lithuania's current inflation rate is currently about 1.06%. Sharp increases can be expected.
Not surprisingly, the United States has stepped in 'to offer assistance' and is to sign a US$600 million export credit agreement with Lithuania via the U.S. Export-Import Bank next week, again at Landsbergis's initiative.
Naturally, that will focus on US (and not China or even EU) products. In other words, Lithuania is now borrowing US$600 million from the United States to trade with it instead of China to make up that supply chain gap. It has ignored EU suppliers, despite being a member state. But will Lithuanian consumers get a better deal? It seems not.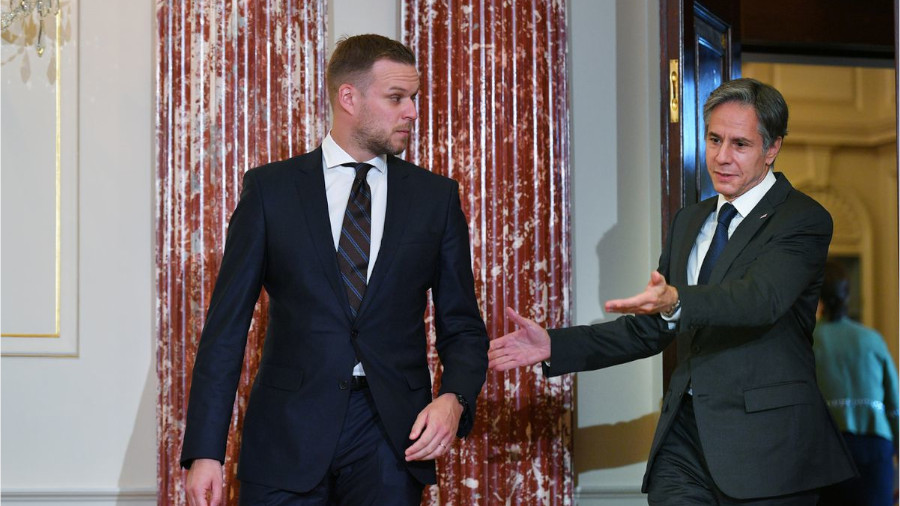 Gabrelius Landsbergis with Anthony Blinken
To take tech as an example, Xiaomi mobile phones, considered one of China's top brands, retail in the EU for between €165-650 depending on the model. US Apple iphones retail for between €360-1,000. These represent consumer price increases of about 120% for cheaper models and 80% for more expensive ones. Wait until those hit the shelves to find out what Lithuanian tech consumers really think about their country borrowing money to buy American imports.
Landsbergis has not only damaged Lithuania's Asian supply chains, he is ignoring the EU, is increasing Lithuanian debt and forcing its domestic consumers to pay more for products. If China further downgrades its agreements with Lithuania, more grief can be expected. Landsbergis of course can say that China is economically bullying a smaller country. But it was he who began this process.
I suspect that when polls are next held in Lithuania with Landsbergis as a candidate, he may well find out rather quickly that Lithuanian consumers and exporters preferred things the way things had been, and not the way Landsbergis behaves on their behalf as an anti-China zealot. Besides, does he not know that a large proportion of Apples iphone content comes from China anyway.
Having photos taken and being entertained by the US Secretary of State might very well be good for the ego. But what it doesn't do, when China, Taiwan and Lithuanian needs are all put into context, is to make such a person a competent Foreign Minister with any grasp of international trade, supply chain development, or domestic consumer economics and needs.
It will be interesting to see where Lithuania goes from here in terms of engaging with Asia and the EU – when apparently seeking trade credit with Washington.