Op-Ed Commentary by Chris Devonshire-Ellis – July 7th, 2022
BREAKING NEWS: July 7th
The British Prime Minister, Boris Johnson, has announced he is to resign. More on Leadership and the British-Asian candidates to follow.
By Chris Devonshire-Ellis
With the British Prime Minister, Boris Johnson under extreme pressure following a series of personal political debacles, several senior conservative politicians may decide to throw their hat in to be his replacement. Poor media relations followed by perceptions of low-end, yet mildly dishonest behavior, and more crucially, recent bye-election results showing public discontent with the incumbent Government have placed Johnson under extreme pressure to resign. He has resigned significant pressure thus far however things in Westminster appear to be coming to a head.
Interestingly, four of the candidates to either potentially hold the Prime Ministerial role or be very key members of the Cabinet office should Johnson fall are Asian. We examine their backgrounds and how this may impact on UK-Asian relations.
Rishi Sunak – Previous Chancellor of the Exchequer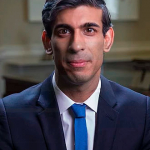 Rishi Sunak, born 12 May 1980, served as the British Chancellor of the Exchequer from 2020 to 2022, having previously served as Chief Secretary to the Treasury from 2019 to 2020. A member of the Conservative Party, he has been Member of Parliament (MP) for Richmond (Yorkshire) since 2015.
Sunak was born in Southampton to Indian parents who had emigrated from East Africa and was educated at Winchester College. He attended Lincoln College, Oxford, and later gained an MBA from Stanford University as a Fulbright Scholar studying economics.
He is married to Akshata Murty, the daughter of N. R. Narayana Murthy, an Indian billionaire who founded Infosys. After graduating, Sunak worked for Goldman Sachs and as a partner at various Hedge funds.
Elected for Richmond (Yorks) at the 2015 general election, Sunak served as Parliamentary Under-Secretary of State for Local Government and voted for the Brexit withdrawal agreement. After Boris Johnson became Prime Minister, he appointed Sunak as Chief Secretary to the Treasury. Sunak replaced Sajid Javid as Chancellor of the Exchequer after his resignation in February 2020.
As Chancellor, Sunak was prominent in the government's economic response to the economic ramifications of the government's decision to impose lockdown to deal with the COVID-19 pandemic in the United Kingdom. In April 2022, he became the first Chancellor in British history to have been sanctioned for breaking the law while in office after being issued a fixed penalty notice for breaching COVID-19 regulations during lockdowns. He resigned as Chancellor on 5 July 2022, citing the differences between himself and Boris Johnson in his resignation letter.
As both a senior politician and an economist with commercial experience, Sunak has extensive India connections and family ties via his wife to the Indian commercial elite. While he will not wish to be seen to be avidly pro-India, the UK government has been working on a trade agreement with India. Sunak will be in a position to see both sides of the coin, although will come under increased Indian pressure to expand trade and other ties with the country. How that develops remains to be seen. It may also negatively influence any position as regards China, already considered a bogeyman in deep quarters of British politics.
Priti Patel – Previous British Home Secretary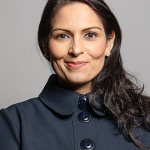 Priti Sushil Patel, born 29 March 1972 served as British Home Secretary since 2019. A member of the Conservative Party, she was Secretary of State for International Development from 2016 to 2017. Patel has been the Member of Parliament for Witham (Essex) since 2010. She is ideologically on the right wing of the Conservative Party and considers herself a Thatcherite.
Patel was born in London to a Ugandan-Indian family. She was educated at Keele University and the University of Essex. She worked for the PR firm Weber Shandwick for several years, including work with involving the Myanmar military government, before seeking a political career, and was elected MP for Witham at the 2010 general election, and was then re-elected in 2015, 2017, and 2019. During this time, Patel was appointed Minister of State for Employment and was vice-chair of the Conservative Friends of Israel.
Patel was a leading figure in the Vote Leave campaign for Brexit during the 2016 referendum on UK membership of the European Union. Then Prime Minister Theresa May subsequently appointed Patel Secretary of State for International Development. However, in 2017, Patel was involved in a political scandal involving unauthorised meetings with the Government of Israel which breached the Ministerial Code, leading to her dismissal from office.
Under Boris Johnson's premiership, she became British Home Secretary in July 2019. In this role, she launched a points-based immigration system, an asylum deal with Rwanda to address the English Channel migrant crossings, advocated the passage of the Police, Crime, Sentencing and Courts Act 2022, and approved the extradition of Julian Assange to the United States. She was also found to have breached the Ministerial Code in relation to incidents of bullying. Patel is a hardcore right-wing politician and has not been shy of enforcing unpopular social policies in the UK.
In January 2017, Patel won Indian the Pravasi Bharatiya Samman, the highest honour that the Indian government gives to non-resident Indians or people of Indian origin, while various policies attributed to her appear to indicate a potential anti-Muslim bias, an issue than the Indian Modi government apparently endorses. Her views have included negative stances on UK immigration, gay rights, and heavy support for increased policing, while she has been accused of combining her political career with 'inappropriate' commercial interests. She is married to Andrew Sawyer, an executive for NASDAQ. The Indian government will consider Patel to be one of their own.
Sajid Javid – Previous Chancellor of the Exchequer & Home Secretary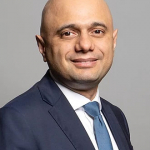 Sajid Javid was born on 5 December 1969 and served as British Secretary of State for Health and Social Care from June 2021 to July 2022, having previously served as Home Secretary from 2018 to 2019 and Chancellor of the Exchequer from 2019 to 2020. A member of the Conservative Party, he has been Member of Parliament for Bromsgrove (Worcestershire) since 2010.
Javid was born in Rochdale, Lancashire, to a British Pakistani family, and raised largely in Bristol. He studied Economics and Politics at the University of Exeter, where he joined the Conservative Party. Working in banking, he rose to become a Managing Director at Deutsche Bank. He was elected to the House of Commons in May 2010, where he served as a Junior Treasury Minister before being promoted to the Cabinet office as Culture Secretary in 2014. After the 2015 general election, Javid became British Business Secretary, and voted to remain in the EU. Following the 2016 referendum vote to leave the European Union, he went on to serve as Communities Secretary from 2016 to 2018, and became the Home Secretary, (the first British Asian to do so) later that year.
During the 2019 Conservative Party leadership contest, Javid stood for election as leader of the Party, finishing in fourth place. The successful candidate, now Prime Minister Boris Johnson, appointed him Chancellor of the Exchequer. He resigned in February 2020 after refusing a demand from Johnson that he dismiss his advisers. In June 2021, Javid was reappointed to Johnson's cabinet as Health Secretary. This made him a prominent figure in the British government response to the COVID-19 pandemic in the United Kingdom. He supported an end to most generalized public health restrictions such as face mask mandates until emergence of the Omicron variant in November 2021 and expanded the vaccination programme. He resigned as Health Secretary on 5 July 2022, almost simultaneously with Rishi Sunak resigning as Chancellor of the Exchequer.
While his family heritage is Muslim, Javid himself is non-practicing but has remarked that he was 'the first Muslim Home Secretary to be invited to celebrate Ramadan', whereas his wife is a practicing Christian. He has received death threats from Muslim groups, which possibly align him more with the Indian government than family ties to Pakistan. As British Prime Minister he is possibly the more principled of the three candidates yet comes with the Pakistan-India baggage: both sides will want to claim him as one of theirs, and this could create complexities both within the UK and in India-Pakistan relations.
Nadhim Zahawi – Current Chancellor of the Exchequer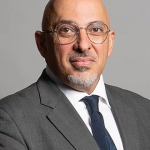 Nadhim Zahawi was born on 2 June 1967 in Iraq. He has been Member of Parliament (MP) for Stratford-on-Avon since 2010. He was Secretary of State for Education from 2021 to 2022 and Parliamentary Under-Secretary of State for COVID-19 Vaccine Deployment from 2020 to 2021.
Born to a Kurdish family in Baghdad, Zahawi was co-founder of international Internet-based market research firm YouGov of which he was chief executive until February 2010 and was, until January 2018, chief strategy officer for Gulf Keystone Petroleum. He has been Conservative MP for Stratford-upon-Avon (the birthplace Shakespeare) at the 2010 general election and was known to be pro-Brexit.
Zahawi became Parliamentary Under-Secretary of State for Children and Families in 2018, then for Business and Industry in 2019, and in 2020 he was given additional responsibility for the COVID-19 vaccination programme as Parliamentary Under-Secretary of State for COVID-19 Vaccine Deployment. In 2021 he was promoted to Secretary of State for Education. On July 5, 2022 he became the Chancellor of the Exchequer after the resignation of Rishi Sunak.
Zahawi's continuing dual role as maintaining senior executive commercial roles while also serving as an MP have earned him a great deal of money. By 2021, it was reported that Zahawi or his wife owned £100 million in property, including an industrial estate, three properties in London, a country house with stables in Warwickshire and a property in Dubai, although he states that his main interest is in serving his political constituency. Zahawi is reportedly a Muslim although he has not made any references to religion during his career.
Zahawi has extensive contacts throughout the Middle-east, although in terms of any perceived Muslim sensibilities it is unsure how he would fall when it comes to preferences for ties with India, although the business elite would most certainly be welcoming. It remains unsure how he will be able to balance his business interests against effective Prime Ministerial duties of a nuclear power and without significant political experience – Zahawi has been able to enjoy a rapid rise through the British political elite.
Comments
There appears little doubt that India is going to loom large in future British foreign policy, as whatever happens with Johnson, these four individuals will continue to wield considerable power within the UK – the beneficiary can be expected to be New Delhi while Beijing is pushed deeper down the influential pecking order. In terms of the Centre – either Sunak or Patel would be a resounding win, with the former probably preferred.
Javid is possibly the more balanced yet may not be able to unite the Muslim and Indian sides, while his appeal lies more with an ability to influence political and foreign affairs rather than his business interests. Zahawi may not be considered either politically established enough and too business investment influenced to cut it as a PM, while his foreign policy leanings are relatively unknown and more likely to lean towards the Gulf. In which case it is possible he is more pro-China than the other candidates.
Whatever happens, there will be horse-trading. In exchange for improved trade ties with India, London will be wanting the India Centre to reduce its energy trade and military ties to Russia. India will also be asking for British support for a seat at the UN security council, an interesting situation as China and Russia have already stated they will support such a move.
Comparisons will be made should any of these candidates find themselves in number ten with a certain Barack Obama, give skin colour. These can be discounted as what is happening in the UK is an even more profound change: the effective immediate influence of a far larger, yet previously subservient nation upon the very fabric of British politics and the recognition of its social order. Britain as a nation now ruled by the descendants of Asian immigrants? It may the solution to Brexit and a rare opportunity for the UK to look east.
The British role in a developing relationship and political ties with India will be to somehow persuade Delhi that its future lies West, not East. That may not be the easiest thing to accomplish when rich post-political wealth appears to be within reach for Sunak, Patel, and Zahawi especially, given their deep commercial ties amongst the South Asian business elite. How those personal ties fit with running the United Kingdom remain to be seen. Whoever eventually becomes PM will certainly be hearing a great deal from the India, Pakistani and Iraqi diasporas about factional politics and businesses within South Asia and Britain's role within that – than any previous Prime Ministers will previously have been.
The perception of what constitutes 'The West' may also come under scrutiny as the UK falls under the influence of Asian politics and business interests – a highly different political, social, and trade influential development from any of the other European nations.
Can the UK use this new dynamic to its advantage? That is now the new question to ask as Britain burns a new trend in European-Asian political circles.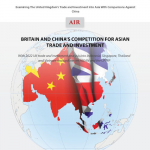 This article has been extracted from the forthcoming issue of Asia Investment Research titled 'Britain and China's Competition For Asian Trade & Investment' to be published as a complimentary download next Tuesday. To pre-order and reserve your free copy please click here.