I've just been threatened with assassination. Not in a jokey, rather bloggish vulgar kind of way which looks good and nasty in print but would never be carried out, but real assassination threats. Three of them. My crime? Because I made a donation to a Ukrainian refugee charity – and then posted onto my Linked In account that I had done so from Moscow.
I have had an account on Linked In for a number of years, where I post generally business intelligence style articles, mainly about the Belt and Road Initiative and about Russia – and this year mostly concerning the changing supply chains due to all the sanctions going on. Occasionally, because I have some dear friends that follow me on Linked In, I'll post a few tidbits about personal life. I have about 3,500 followers, and if I'm lucky, generate about 1,000 views an article and maybe a handful of comments.
The article in question generated over 120,000 views and over 600 comments. Most it was outrage that I was in Russia 'supporting Putin's regime' – with comments about the charitable donation (US$1,000) that it was 'blood money for all the rapes and murders', was 'not enough', criticism over 'paying for child rapes' and absolutely no word of appreciation. (I hadn't been looking for any, but still). Quite aside from the lack of any thanks, even more alarming was the flak over visiting in a land 'full of savage murderers and rapists' and 'financing the murder of babies'.
Actually, I was in Russia to deal with personal issues (I have property there that has maintenance needs dealing with, as I was three years away due to covid, and wanted to see family and friends after so long as well as help prepare my Goddaughter for her upcoming travel and expenses in getting to University in France. The usual life minutiae) whereas my presence in Russia was considered by many 'a war crime' and to be 'utterly morally bankrupt and despicable'.
The outrage was intense. Then came the quite specific assassination threats. Am I over-exaggerating here? I'm afraid not.
Here is the issue: a website affiliated with the Ukrainian government called Myrotvorets has a running 'hitlist' including personal information, of people who are considered by authors of the organization to be "enemies of Ukraine". The website was launched in December 2014 by Ukrainian politician and activist Georgy Tuka, and remains open despite repeated requests from the UN, G7 ambassadors, the EU and human rights groups to close it down, and although it has no official status, it acts to supplement government databases at checkpoints and sends material to its followers to carry out 'liquidations'.
Of the thousands of names entered on the site, 341 are foreign journalists and, shockingly, 327 are minors. Scare tactics? Not really. Oles Buzina was a well-known Ukrainian journalist working for a number of respected newspapers in Ukraine, who called for better ties between Kiev, Minsk and Moscow. Not everyone's cup of tea, but he is permitted an opinion, right?
Wrong. He was on the Myrotvorets hitlist and was assassinated. His photo appears on the site with a red banner across it with the word 'Liquidated' stamped over it in red.
Another was Italian photo-journalist Andrea Rocchelli, of the independent photographers collective Cesura.He was assassinated on assignment in Donbass, while Ukrainian authorities were accused by his partners both for the murder and the subsequent cover-up. Again, his personal details, ID and other information appear on the site with the red 'Liquidated' banner across his photo. There are many others.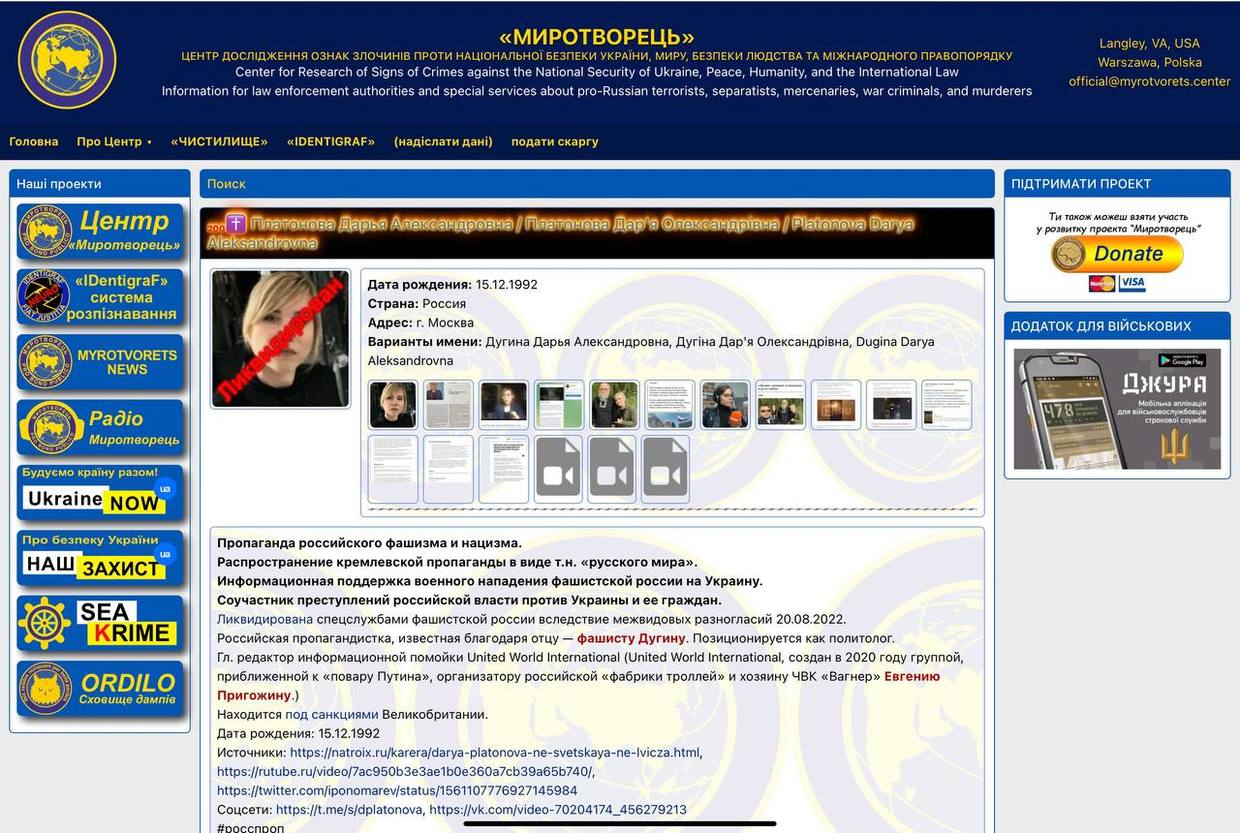 So, what happens next? Well, the outrage that I was in Moscow, as I said, attracted many more views than normal – this was trolling on an industrial degree. Many of the people who left threatening or rude comments had a Ukrainian flag displayed next to their account. Linked In then wrote to me, informing me my account was suspended and asked me to verify my details by requesting a notarized copy of my passport. As at now, that account is still suspended, and somewhere within the Linked In organization, my personal details are in a folder together with details of people who threatened to assassinate me. Myrotvorets take their work seriously by the way – people who find their way to their attention have a file built up on them, with data extracted from various other social media accounts and elsewhere. Personal information is published, presumably in the hope that someone will 'track and whack'.
The interesting thing, according to Canadian journalist Eva Bartlett, is that while this issue is being discussed in Russia – Western media is remaining silent. Her report on the issue can be read here – but be aware that ironically, the outlet it appears from is barred in much of the EU and North America, which ought to be concerning in its own right.
Unfortunately, there is more. Another report, this time from the University of Adelaide, uncovers the "Interaction of bots and humans in discussion of the Russia/Ukraine war" – and the findings are staggering. In just one sample taken, of 5.2 million tweets on social media networks between 60 to 80% were shared by fake accounts, while 90% of these posts were pro-Ukraine. In the words of the author, Caitlin Johnstone, it is "the most aggressively trolled war of all time."
Intelligent readers can sift through the obviously rampant and obsessive, a characteristic of many of the outraged. But death threats – and the carrying out of them are quite another matter. While I am sure that some of my surly competitors might say 'good riddance' to my demise, I would prefer to remain around a while longer. I also stand for free speech, and the right for people to be able to express their own opinion. Global society has already fought two world wars and many smaller ones to support this concept. However, some of the behaviour released as a result of the Ukraine conflict is far from fair, far from balanced or objective and is essentially murderous.
The reason for all the bots and one-sided opinion is of course to subvert the democratic process and especially those of our politicians – who listen to 'public opinion' and form policies based around them. This is why all decisions made about every aspect of the war have in turn, expressly not been shared with the general public. The assumption is that 'public opinion' is what matters. But what if it's been artificially created? That's the issue in a nutshell. Control the creation of that – and you control the democratic process. Is this really where we want to go as a society?
The likes of Myrotvorets is not a badge of honour for the civilised society Ukraine is claiming to be. Funding should be suspended to Kiev until it is removed as this is not part of the 'Western values' that the funding of Ukraine is supposed to be about.
If Kiev, already the recipient of billions of dollars of Western money, chooses it ignore requests to take it down, or the European media continues to ignore this abuse, it means the EU itself chooses to ignore the rights of people to free speech and condone their murder.
Putting the rights and wrongs of Ukraine aside for a moment, the underlying question is what is now brewing at the heart of Western society and what is being done about it. One cannot allow fascism to exist as an excuse of the times. That's what Hitler exploited. The EU needs to take a stance on which side it prefers to stand on. Decent people (and there are many in Ukraine) don't deserve to be 'liquidated' for the opposing views. It's time for the Myrotvorets project to be taken down – and for Linked In to clean up its act.
Disclaimer
Any views or opinions represented in this blog are personal commentary, belong solely to the contributor and do not necessarily represent the views of Asia Briefing Limited or Dezan Shira & Associates.