By Chris Devonshire-Ellis
China and India will account for half of the global economic growth in 2023 versus just a tenth for the US and the EU combined, according to the International Monetary Fund (IMF) in its World Economic Outlook, released on Tuesday (January 31).
The IMF stated China's GDP growth was expected to reach 5.2% during the year, while India would achieve growth of 7%. Both are set for a slight GDP decline in 2024, before rebounding in 2025, meaning that Chinese and Indian consumerism will be attractive markets for businesses looking for higher returns than the West is currently able to deliver.
Global GDP growth averages for 2023 come out at 2.9%, still below the below the historical (2000–19) average of 3.8%. The United States is predicted to grow at just 1.4% and the European Union at 0.7%.
Elsewhere in Asia, the main ASEAN economies: Singapore, Malaysia, Vietnam, Indonesia and the Philippines – are estimated to grow at 4.3%, somewhat lower than our own views on the ground. Dezan Shira & Associates has been seeing robust foreign investment into the ASEAN region during January 2023. The UAE, another market the firm is present in, is scheduled to hit 8.9% growth while Russia is expected to achieve 2.9% growth, the same as the expected 2023 global average.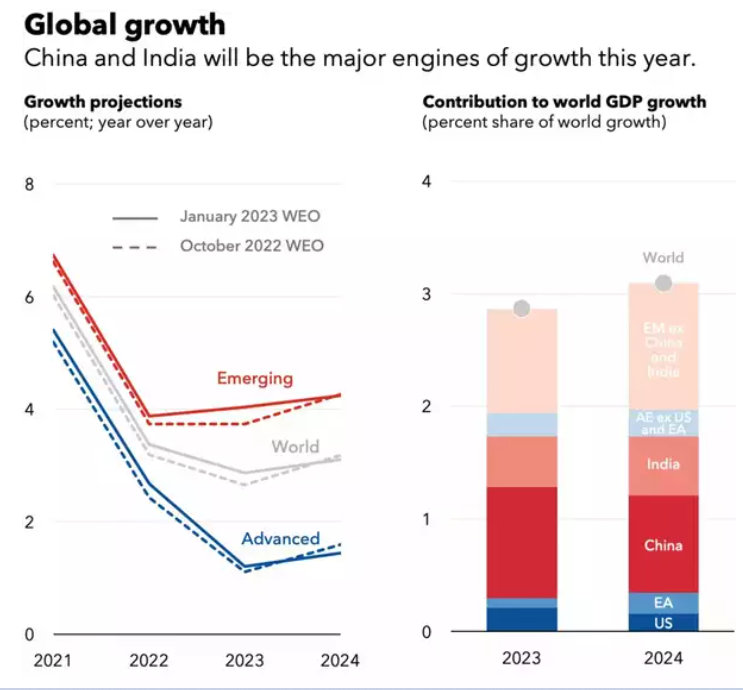 Resilient during the Ukraine conflict
Growth in China is expected on the back of both domestic and export pent up demand, which could be further accelerated by accelerating COVID-19 vaccinations in China, safeguarding its recovery, with positive cross-border spill overs. Investors will be looking to access the 400 million existing middle class Chinese consumers, with the CPC also planning to lift another 450 million to this level by 2030 – meaning a growing middle class consumer base in China developing over the coming seven years – good news for overseas exporters and brands wanting to sell to the China market.
India is in a similar position with a middle class consumer base of about 500 million with this set to double by 2050. One in three Indian city residents are now considered middle class standard.
Both China and India have remained resilient during the Ukraine conflict as has much of Asia, while the same cannot be said for the Western economies.
Inflation
Inflation is also set to decline, though still remain high. Global inflation is expected to fall from 8.8% in 2022 to 6.6% in 2023, although this is still above pre-pandemic (2017–19) levels of about 3.5%. Again, Asia comes out ahead of the recovery curve here when compared to the Western economies. China's inflation rate is estimated to be about 2.3%, and India's about 4.7%. ASEAN is posting rates of about 4.2% and the UAE at 3.2%.
Russian inflation is declining and is expected to average 7% over the year. These figures compare with the United States at 6% and the EU at 6.3% meaning that consumer prices will increase over the year and negate growth gains. The opposite is true in Asia, where inflation rates are lower than growth rates.
Implications
The search for growth and profits is strong in Asia, with smaller businesses and larger enterprises probably wise to consider either investing into the region, or increasing investment productivity there. The IMF forecast overall predicts that this will be a three year trend – with additional data required to extend these statistics beyond 2025. Overall however, it looks that global recovery, demand and profitability will be faster and deeper in Asia in the coming years.
Chris Devonshire-Ellis is the Chairman and Founding Partner of Dezan Shira & Associates. The firm assists foreign investors into Asia and can provide market comparisons, assist with business development and provide legal, tax, compliance and related services throughout the Asian region. The practice has 30 years of experience in this field and 38 regional offices. Please visit www.dezshira.com or email asia@dezshira.com
Related Reading