Value-added tax (VAT) is one of the major indirect taxes in China. The fundamental legal framework for VAT in China consists of the Interim Regulation of VAT promulgated by the State Council and its Implementation Guidelines released jointly by the MOF and SAT. Both were published in 2008 and entered into effect on January 1, 2009.
The Implementation Guidelines were most recently revised in October 2011, and the Interim Regulation was most recently revised in November 2017.
Taxpayers
VAT taxpayers are categorized into general taxpayers and small-scale taxpayers based on their annual taxable sales amount. Taxpayers with annual taxable sales exceeding the annual sales ceiling set for small-scale taxpayers must apply for general taxpayer status.
[tips title="Important Tip"]Starting from May 1, 2018, the sales ceiling of small-scale taxpayers is RMB 5 million for all types of taxpayers.[/tips]
Small-scale taxpayers are subject to a lower uniform VAT rate of three percent, as compared to rates ranging from six to 13 percent for general taxpayers, but they cannot credit input VAT from output VAT, nor are they entitled to export VAT refunds.
VAT payers whose annual taxable sales are below the ceiling, as well as those who have newly established their business, can voluntarily apply for general taxpayer recognition provided they are capable of setting up legitimate, valid, and accurate bookkeeping.
Additional "soft" or unwritten requirements are also commonly found to influence the local tax authorities' judgment on the type and number of VAT fapiao available to the taxpayers, such as registered capital, office size, and number of employees.
To obtain the general taxpayer status, taxpayers are required to go through a registration process. VAT general taxpayer registration is dealt with at the very end of the corporate establishment procedures. The general VAT taxpayer status will be effective from the same day when the registration is done. But there still is an approximately one month waiting period until a company's VAT system is fully established, which includes purchasing special printers and blank invoices and sending a representative employee to participate in training at the tax bureau on how to issue invoices.
Pros and Cons of VAT General Taxpayer and Small-Scale Taxpayer

VAT general taxpayer

VAT small-scale taxpayer

Pros

Tax-saving when enterprises' profit mark-up on cost are lower than critical ratio*;
Able to apply for VAT refund for export business;
Can enjoy input VAT deduction; and
Can issue VAT special fapiao by themselves**.

Tax-saving when profit mark-up on cost higher than critical ratio*;
Can file tax on quarterly basis;
Doesn't need to collect and verify special VAT invoices for deduction, and the tax calculation method is straightforward; and
Can enjoy certain VAT exemption benefits for small transactions (detailed on P.59).

Cons

Has to file tax on monthly basis;
Has to collect special VAT invoices and verify them within 360 days to ensure the input VAT deduction; and
Increasing tax burden when profit mark-up on cost higher than critical ratio*, or when the enterprise is unable to collect special VAT invoices for input VAT deduction.

Unable to apply for export VAT refund;
Some small-scale taxpayers still have to ask tax bureaus to issue special VAT invoices on their behalf**;
Not tax efficient when profit mark-up on cost ratio is lower than critical ratio*.

*The critical ratio here refers to a ratio of profit mark-up on cost under which the tax burden for general taxpayer and small-scale taxpayer are the same. It varies based on the actual tax rates applied.

**Despite the scope of small-scale taxpayers issuing special VAT invoices will be further expanded to all small-scale taxpayers (excluding other individuals), some small-scale taxpayers still have to ask tax bureaus to issue special VAT invoices on their behalf.
Calculating VAT payable
General taxpayers
For general taxpayers, the basic formula for calculating VAT payable is:
VAT PAYABLE = OUTPUT VAT IN THE CURRENT PERIOD - INPUT VAT IN THE CURRENT PERIOD
If the output tax for the current period is insufficient to offset the input tax of the current period, the difference can be carried forward to the next term for continued offset.
Nevertheless, starting from April 1, 2019, there is a trial implementation that businesses are able to enjoy a refund on their excess input VAT (meaning added cash flow for the company), if they are able to meet the following criteria:
Starting from the tax period of April 2019, if the incremental overpaid VAT for each of the six consecutive months (two consecutive quarters if taxed quarterly) is a positive number, and the incremental overpaid VAT in the sixth month is not less than RMB 500,000;
The taxation credit is rated as A or B;
There has been no VAT fraud in the last 36 months prior to claim;
There have been no more than two penalties by tax authorities 36 months before its claim for VAT refund; and
They have not claimed refund-upon/after levy incentives since April 1, 2019.
When making a sale of goods or providing a taxable service, the taxpayer should calculate the amount of output VAT and charge this to the buyer according to the below formula:
OUTPUT VAT= SALES x VAT RATE
The Interim Regulations define "sales" as the total amount of prices and other outlays received from the buyer, excluding output VAT. If the original price of the product(s) already includes VAT, the sales amount excluding VAT should be determined based on the formula:
SALES= SALES INCLUDING OUTPUT VAT / (1 + VAT RATE)
Input VAT is the VAT amount paid by the taxpayer when purchasing goods or taxable services. The following types of input VAT are eligible for deduction against output VAT:
The VAT amount indicated on special VAT invoices obtained from sellers;
The VAT amount indicated on special tax payment receipts of customs import VAT obtained from the customs office;
When purchasing agricultural products, the input tax is calculated according to the purchase price indicated on the purchase receipt or sales invoice, at a deduction rate of nine percent for normal purchase and 10 percent for agricultural products purchased for manufacturing, sales, or consignment processing;
For procurement of labor services, services, intangible assets or immovable in China from overseas organization or individuals, input tax amount shall be the VAT amount stated on the withholding tax payment receipt obtained from the tax authorities or the withholding agent.
For road toll fees paid by general taxpayers, input VTA shall be credited based on the VAT amount indicated on the general VAT e-invoices.
For bridge and gate toll fees paid by general taxpayers, the creditable input tax amount shall be temporarily calculated according to the amount indicated on the toll invoice based on a special formula.
Starting from April 1, 2019, general taxpayers can claim input VAT credits for domestic passenger transport services and credit its input tax against its output tax, based on special formulas.
Input VAT on the following items cannot be credited against output VAT:
Taxable items under the simple tax computation method, non-VAT taxable items, VAT-exempt items, goods purchased for collective welfare or personal consumption, processing/ repair/replacement services, intangible assets and immovables;
Goods purchased that suffer abnormal losses, and the relevant processing, repair and replacement services and transportation services;
Goods purchased (excluding fixed assets), processing, repair and replacement services and transportation services consumed in the production of work-in-progress or finished products that suffer abnormal losses;
Immovables which suffer abnormal losses, as well as the goods purchased and design services and construction services consumed by such immovables;
Goods purchased and design services and construction services consumed by work-in-progress of immovables that suffer abnormal losses; and
Purchased loan services, catering services, entertainment services and other life services.
Small-scale taxpayers
For small-scale taxpayers, the formula for determining VAT payable is:
VAT = SALES x VAT LEVY RATE
SALES= SALES INCLUDING VAT / (1 + VAT LEVY RATE)
VAT Rates for General Taxpayers (A)

Taxable items

Rate

Export of goods (except where otherwise stipulated by the State Council);
International transportation services if taxpayers obtaining qualifications;
Space transportation services; and
Certain type of cross-border services provided to overseas entities, which are fully consumed overseas.

0

Sales and import of the following:

Cereals and edible vegetable oils;
Tap water, heating, cooling, hot water, coal gas, liquefied petroleum gas, natural gas, methane gas, coal/charcoal products for household use;
Books, newspapers, magazines (excluding newspapers and magazines distributed by the Post Department);
Feed, chemical fertilizers, agricultural chemicals, agricultural machinery and plastic covering film for farming;
Agriculture, forestry, products of animal husbandry, aquatic products;
Audio-visual products;
Electronic publications;
Dimethyl ether;
Edible salt.

9%*

Sale and import of goods other than those listed above; processing, repairs and replacement services

13%**

Tangible property leasing services:

Financial leasing;
Operations leasing;

13%**

Transportation services:

Land transportation services (including railway transportation services);
Water transportation services;
Air transportation services (including space transportation services);
Pipeline transportation services;

9%*

Postal services:

Normal postal services;
Special postal services;
Other postal services;

9%*
VAT Rates for General Taxpayer (B)

Taxable items

Rate

Construction and real estate

9%*

Basic telecom services

9%*

Value-added telecom services

6%

Financial services:

Loan services;
Direct charges financial services;
Insurance services;
Transfer of financial products;

6%

Modern services:

Research, development, and technological services;
Information technology services;
Cultural and creative services;
Logistics auxiliary services;
Authentication and consulting services;
Radio, film, and television services;
Business support services;
Other modern services

6%

Life services:

Cultural and sports services;
Education and medical services;
Tourism and entertainment services;
Catering and accommodation services;
Resident daily services;
Other life services;

6%

Sale of intangible assets:

Technology, trademark, copyright, goodwill;
Use rights of natural resources (except land use rights***);
Other equity intangible assets;

6%

*This rate were reduced from 10% to 9% starting from April 1, 2019.

** This rate was reduced from 16% to 13% starting from April 1, 2019.

***VAT rate for transfer of land use right is 9%.
VAT payments
Timing of VAT payment obligation arises
The time at which the tax obligation arises is the time when the taxpayer engages in the taxable behavior on which the obligation to pay tax arises.
For the sale of goods or provision of taxable services, the VAT payment obligation arises on the date on which the sales amount is collected or the proof of sales amount is obtained.
For importation of goods, the VAT payment obligation occurs on the date of Customs declaration for imports.
The withholding obligation for VAT arises on the date of occurrence of the VAT payment obligation.
The time VAT obligation arises is important for defining the time when "output VAT for the period" arises. It is illegal if the enterprises delay the recording of realized sales or deliberately ignore them to delay or evade the tax payment.
Due date for VAT payment
The deadline for VAT payment can be every one day, three days, five days, 10 days, 15 days, one month, or one quarter. The specific tax payment deadline for a taxpayer is assessed by the authorized tax authorities according to the taxpayer's amount of tax payable. A taxpayer who is unable to make payments according to a fixed deadline may opt to pay tax for each transaction.
A taxpayer who opts for a tax payment period of one month or one quarter should file a tax return and make tax payments within 15 days from the date of expiry of the tax payment period. Meanwhile, a taxpayer who opts for the tax payment period of one day, three days, five days, 10 days, or 15 days should pre-pay tax within five days from the date of expiry of the tax payment period, and file a tax return and make tax payments within 15 days from the first day of the following month as well as settle the tax amount payable for the preceding month.
[tips title="Important Tip"]For importation of goods, the taxpayer should make tax payment within 15 days from the date of issuance of the Special Letter of VAT Payment for Customs Imports by the customs.[/tips]
VAT fapiao
In China, fapiao refers to VAT fapiao in particular. It is a business voucher issued and received by all parties involved in the purchase and sale of goods or services.
Different from the commercial invoices or receipts used in many other countries mainly to record transactions, fapiao in China serve as both the legal receipt and the tax invoice:
The fapiao is the original accounting document for a taxpayer to support the legitimacy of their activities; and
The fapiao stipulates the VAT due and is used by the authorities to track transactions for tax purposes and avoid tax evasion.
Fapiao can mainly be sorted into two categories – general VAT fapiao and special VAT fapiao. While special VAT fapiao can only be utilized by VAT general taxpayers whose annual taxable turnover is over RMB 5 million (US$ 780,000) or who have applied for such general taxpayer status voluntarily to ease their VAT obligations, general VAT fapiao can be utilized by any company registered in China but cannot be used by the recipient for VAT deduction purposes. Individuals regularly use general VAT fapiao when reimbursing their business expenses.
These two types of fapiao have been in paper form for a long time. They are printed, distributed, and administered by the State Taxation Administration (STA) and its local branches. When a company wants to issue fapiao in China, it must first obtain blank sheets of specially templated fapiao paper from the local tax bureau within its quota every month, print the transaction information on the fapiao sheets with a special printer that is linked to and controlled by the tax system, and then seal the fapiao with a dedicated fapiao seal showing the issuer's name and tax identification code, and other necessary information.
This paper fapiao system has remained in place for many years. However, in recent years, the methodology has come under increased strain from high-frequency transaction industries, such as retail, food and beverage, and travel. Especially with e-commerce booming in China, sellers find it difficult to issue and deliver fapiao in the traditional method due to the explosive number of online requests. This is why China started to explore the application of e-fapiao.
E-fapiao, as the name suggests, is a type of fapiao in electronic form. It has the same purpose and legal effect as the conventional paper fapiao.
Despite the similar appearance of an e-fapiao and the scanned copy of a paper fapiao, the two are different in nature:
E-fapiao is a data file that is generated in the official tax system in a structured format. It is easier for financial systems to comprehend, book, and archive automatically. And it adopts technical anti- counterfeiting measures, such as electronic signature, to ensure its authenticity.
The scanned copy of a paper fapiao just mirrors information of the corresponding paper fapiao and doesn't contain the original anti-counterfeiting measures possessed by the paper fapiao, which are mainly physical measures, such as special printing ink, the printing font, the company fapiao chop, etc. It can't be regarded by the tax bureau as an "original" fapiao in the way the e-fapiao can be.
Similar to paper fapiao, e-fapiao are also divided into two types: general VAT e-fapiao and special VAT e-fapiao, but in contrast to paper fapiao for which multiple duplicate copies are issued via the special printer, e-fapiao (whether general or special versions) only exist as a single data file.
After piloting in selected cities, China first rolled out general VAT e-fapiao nationwide in 2015, as general VAT e-fapiao are non- deductible for tax purposes by recipients and therefore much simpler to manage, compared with special VAT e-fapiao. In 2017, e-commerce, telecommunication, finance, express mail, and other high-frequency transaction industries were selected to further promote the adoption of general VAT e-fapiao. General VAT e-fapiao have already been overwhelmingly adopted in B2C transactions. Quite a few cities, such as Hangzhou, Guangzhou, Shenzhen, etc. are planning to completely replace paper general VAT fapiao with general VAT e-fapiao within their jurisdictions.
Encouraged by the success of general VAT e-fapiao in B2C transactions, in 2020, Chinese tax authorities mulled over expanding the e-fapiao programs to the B2B field, where special VAT fapiao dominate. This is because businesses generally require special VAT fapiao to deduct their input VAT, and in doing so reducing their overall VAT burden.
So far, the issuance of special VAT fapiao is still on a voluntary basis. Enterprises falling into the pilot scope in the pilot areas can choose to issue special VAT e-fapiao or hard-copy special VAT fapiao when issuing, and where the recipient requests for a hard-copy fapiao, the enterprise should issue a hard-copy special VAT fapiao as it is requested.
However, considering the tax authorities' determination to apply big data and information technology intelligence to enhance tax administration and combat tax evasion, as stated in the Opinions on Further Deepening the Reform of Tax Collection and Administration (Shui Zong Fa [2021] No.21) in March 2021, the rolling out of special VAT e-fapiao can be expected to be much faster than that of the general VAT e-fapiao.
Import VAT
Goods
The import of goods into China is subject to import VAT, which is supervised and collected by local customs at the time of customs declaration. Entities or individuals importing goods – usually the consignee of the imported goods – are considered import VAT payers. Import VAT paid is deductible from output VAT paid when selling the products after import. The VAT charged on imported goods is calculated based on their composite assessable price according to the following formula:
VAT= COMPOSITE ASSESSABLE PRICE x VAT RATE
COMPOSITE ASSESSABLE PRICE= DUTY-PAID PRICE + IMPORT DUTY + CONSUMPTION TAX
The following items are exempt from import VAT:
Imported instruments and equipment to be used directly in scientific research, scientific experiments, or education;
Imported materials and equipment donated as non-reimbursable assistance by foreign governments or international organizations; and
Articles directly imported by organizations for special use by the disabled.
Services
Foreign entities or individuals providing taxable services in China are subject to VAT. No VAT will be imposed under the following circumstances:
The taxable service provided to Chinese entities or individuals is consumed completely outside of China (e.g., equipment rented and used outside of China for an overseas project of a Chinese company);
The intangible property provided to Chinese entities or individuals is consumed completely outside of China;
The tangible property leased to Chinese entities or individuals is only used outside of China; or
Other circumstances specified by the MOF and SAT.
Export VAT refunds
An "export VAT refund" refers to a refund of part or all of the VAT already paid in China on export goods. Export goods from China are subject to zero rate VAT, meaning VAT will not incur during export and the VAT paid when manufacturing the export goods domestically is refundable.
There are two ways of obtaining VAT exemption and rebate benefits:
Exemption, credit, and refund method (ECR method); and
Exemption and refund method (ER method).
ECR method
The ECR method is generally applicable only to production enterprises qualified as general taxpayers (no credit and refund is available for small-scale taxpayers). Exemption means that goods which are exported by production enterprises either directly or on consignment through foreign trade companies are exempt from output VAT.
Credit means that, for enterprises whose self-produced goods are both exported and sold domestically, the input VAT credit on materials purchased for the production of export goods is offset against the output VAT on domestic sales.
Refund means that, after offsetting the input VAT against the VAT payable, any excess amount of input VAT is refundable.
ER method
The ER method is applied to the export of goods or services by export enterprises or other enterprises with no manufacturing capabilities. Under the ER method, output VAT of the exported goods is exempted, and a certain portion of input VAT is refundable, but not creditable.
VAT payment threshold
China also raised the VAT exemption threshold for small-scale VAT taxpayers from April 1, 2021 to December 31, 2022. The VAT threshold for small-scale taxpayers has been lifted to RMB 150,000 (approx. US$23,240) per month (or RMB 450,000 per quarter, approx. US$69,700) from the previous RMB 100,000 (approx. US$15,200) per month (or RMB 300,000 per quarter, approx. US$45,800).
In other words, if the monthly sales amount of the small-scale taxpayer is under RMB 150,000 (or the quarterly sales amount is under RMB 450,000 for taxpayers who choose one quarter as a tax payment period), the taxpayer will not be subject to VAT.
Some small-scale taxpayers have the obligation to pre-pay VAT tax. The policy has clarified that if their monthly sales in the place where the VAT need to be pre-paid does not exceed RMB 150,000, they are not required to pre-pay VAT.
There is one situation where the taxpayer with monthly sales of over RMB 150,000 can still be exempt from VAT. That is when the taxpayer occasionally occurs real estate transaction that month.
The state tax authority has clarified that if a small-scale taxpayer with total monthly sales of more than RMB 150,000, but after deducting the sales of real estate, other sales (i.e., the sales of goods, labor, services, and intangible assets) do not exceed RMB 150,000, the small-scale taxpayer can still be exempt from VAT.
[faq title="FAQ: Export VAT Rebate in China" ui="accordion"]
What is an export VAT refund in China?
Companies formed in China are allowed to apply for a VAT refund when exporting goods overseas. This policy began in 1994 when the Chinese economy opened up to the world. When exporting goods overseas, no VAT will be charged to the exporters and VAT paid in the following transactions will be refundable in full or in portions from the Chinese government:
VAT paid to customs for the import of materials before processing in China;
VAT paid to the domestic suppliers for raw materials, overheads, machineries or goods in China;
The refund is based on the VAT refund rate which is determined by the custom's commodity code (HS code).
What's the difference between a manufacturer and trading company in terms of VAT refunds?
Trading companies have adopted the "Exempt-Refund" system, which means the exported goods are free of VAT and VAT paid to domestic suppliers is refundable based on the VAT refund rate. The actual VAT refund rate (i.e. the percentage of VAT refunded divided by the costs of exported products) is in general the same as nominal VAT refund rate.
Manufacturing companies follow an "Exempt-Credit-Refund" system, due to the fact that the labor costs embodied in the products are not subject to VAT, the actual VAT refund rate is lower than the nominal VAT refund rate.
If the VAT refunds are not fully refunded, the non-refundable part of VAT would increase the cost of overseas business sourcing from China, no matter if it is under the "Exempt-Refund" or "Exempt- Credit- Refund" regime.
How do I apply for export VAT refund?
A company can obtain a VAT refund when the following conditions are satisfied simultaneously:
The company is qualified as a general VAT payer (GVAT);
The company has an import and export license;
The goods are subject to VAT or consumption tax in China;
The revenue generated from the transaction is booked as export income in the accounts of the company;
The goods must physically leave the country (except for those shipped to export processing zone or bonded warehouse/logistic zones); and,
The company has to produce evidence that the payment of export transactions has been settled before the end of April the following year. If a long payment term is agreed in the contracts, special filing on the extension of payment terms is required by tax bureau, which shall be finished before the end of April of following year.
To successfully apply for the VAT refund, the applicant must go through the below procedures:
Preparation
Register with customs and apply for an import and export license
Obtain a GVAT license with the tax bureau
File export business with foreign exchange bureau
Apply for a VAT refund license with tax bureau
Daily operation
Purchase blank export invoices
Export goods through customs and issue VAT exemption invoices for export transactions
Submit VAT refund data into the tax bureau's VAT refund system
Site visit: before releasing the initial VAT refund, the tax bureau may pay a visit to the company to verify whether it has a premise, proper procedure and experienced human resources in place to manage VAT refund
Documentation, including but not limited to the export declaration form, input VAT invoices obtained from suppliers, export invoices and shipping documents etc., needs to be properly filed and will be reviewed by the tax bureau during an investigation.
Annual filing
In March of the following year, the tax bureau will reconcile the transaction data in the VAT refund system with those in the custom's system. In case of a discrepancy or missed filing, the tax bureau will require the company to fill in a questionnaire, in which the company may make proper adjustments which then need to be justified properly. Internally, the company may do a health check before submitting such adjustments to the tax bureau. All the export refund applications must be handed-in before the 15th of April the next year, the deadline for closing all the VAT refund transactions in tax system. If any improper filing or missing of documents is confirmed by the tax bureau, the VAT refund may have to be returned and a 13% VAT may be levied much the same as a domestic transaction.
What are some challenges in managing export VAT refunds?
The VAT export refund policy evolves very fast in China in line with the PRC economy. In the past ten years, we have seen a constant decrease in the VAT refund rate of products like consumed precious resources, pollutants, etc. However, in times of economic depression, the government may increase the VAT refund rate to stimulate exports. Therefore, it is important for exporters and importers to keep a close watch on VAT policy as it may have a big impact on pricing.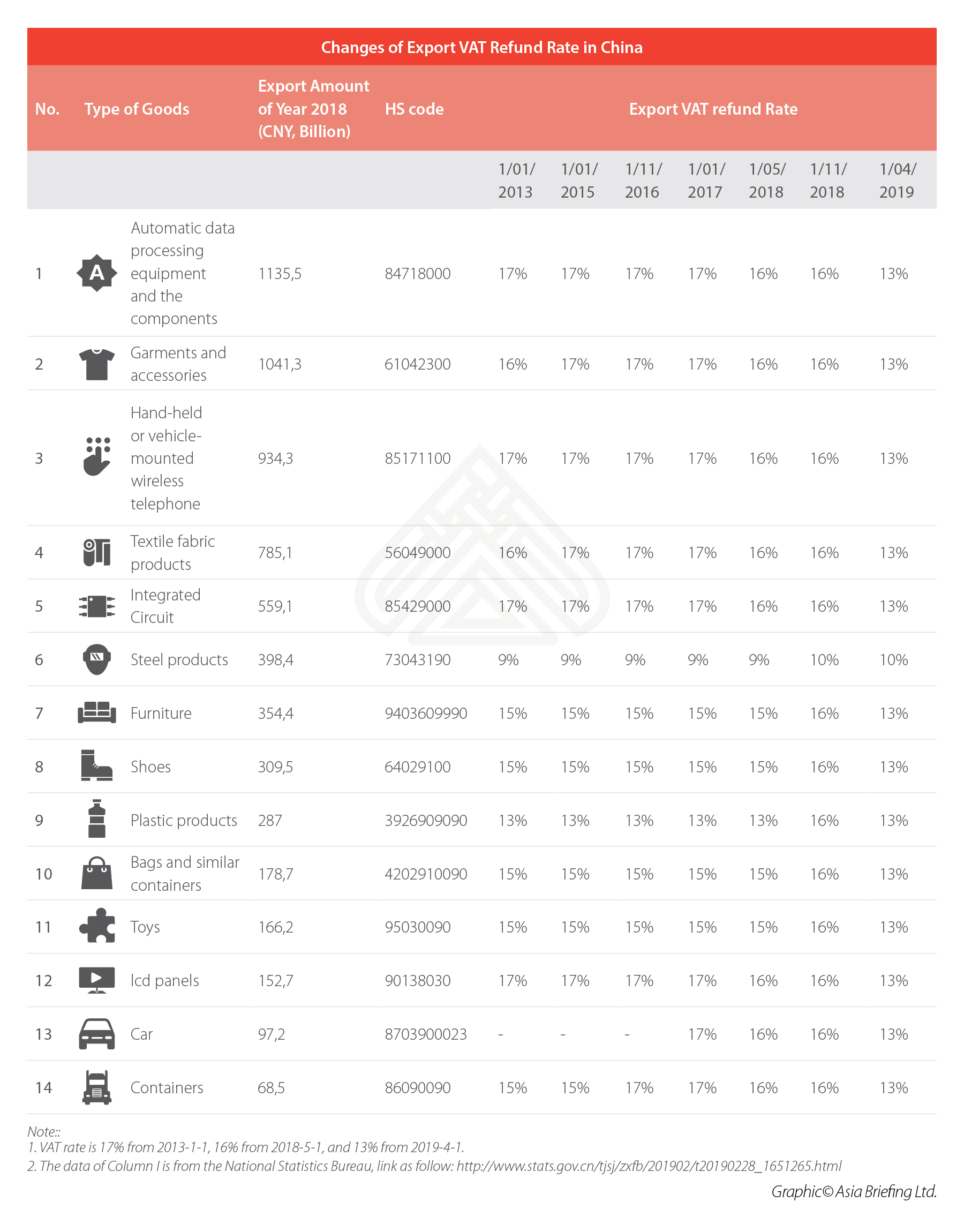 Starting from three years ago, the Chinese government has been working on a credit system to connect all the bureaus' systems together for information sharing and cross checking. The tax bureau has introduced a grading system to manage taxpayers. In case of any serious misconduct or improper filing in term of nature or value of transactions, the company can be downgraded by the tax bureau. Once downgraded, the VAT refund applicant will need to submit more paper documents to the tax bureau and the review process will be prolonged. Considering this, a systematic VAT refund management is very essential to an exporter in China.
[/faq]