By Alex Tangkilisan
Feb. 7 – The ASEAN–India Free Trade Area (AIFTA) is a free trade area consisting of the 10 member states of the Association of Southeast Asian Nations (ASEAN) and India. The initial framework agreement was signed in Bali, Indonesia, on October 8, 2003, and the final agreement was signed on August 13, 2009. The free trade area came into effect on January 1, 2010.
In the aftermath of the recent ASEAN-India Commemorative Summit in New Delhi on December 20-21, 2012, and the subsequent passing of the free trade agreement (FTA) on services and investments, economic ties and prosperity are set to blossom between the two regions.
FTAs between the two regions appear to be operating effectively and efficiently, and Indian Prime Minister Manmohan Singh has confirmed that the FTA in goods, which was concluded in 2010, has helped trade to grow by 41 percent in 2011-12. Singh also stated that the implementation of the 2012 FTA on services and investments has set annual India-ASEAN trade to grow to US$100 billion by 2015. Trade between India and ASEAN presently stands at roughly US$80 billion.
Two Intertwined Regions
ASEAN is a geopolitical and economic organization comprised of the following 10 member states: Brunei, Cambodia, Indonesia, Laos, Malaysia, Myanmar, Philippines, Singapore, Thailand, and Vietnam. It covers a land area of 4.46 million kilometers and has a population of approximately 600 million people. In 2011, its combined nominal GDP amounted to US$2.2 trillion, which would rank it as the world's 10th largest economy if considered as a single entity.
The six largest economies in ASEAN are known as the ASEAN six majors. They are as follows (including nominal 2011 GDP):
Indonesia (US$846.83 billion)
Thailand (US$345.65 billion)
Malaysia (US$278.67 billion)
Singapore (US$239.7 billion)
Philippines (US$224.75 billion)
Vietnam (US$123.96 billion)
Statistics for the remaining four countries are as follows:
Myanmar (US$51.93 billion)
Cambodia (US$12.88 billion)
Brunei (US$12.37 billion)
Laos (US$8.3 billion)
India is the seventh largest country in the world by area, covering 3.3 million kilometers, and it boasts a population of approximately 1.2 billion people. Meanwhile, India's economy was actually the 10th largest in the world with a nominal GDP of US$1.85 trillion in 2011.
India imported US$461.4 billion worth of goods in 2011, including crude oil, raw precious stones, machinery, fertilizer, iron and steel, and chemicals. On the other hand, India exported US$299.4 billion worth of goods during this same period, including petroleum products, precious stones, machinery, iron and steel, chemicals, vehicles and apparel.
India's trade with ASEAN is mainly concentrated in Singapore, Malaysia and Thailand.
For a more detailed representation of the trade flows between India and ASEAN, please see the table below: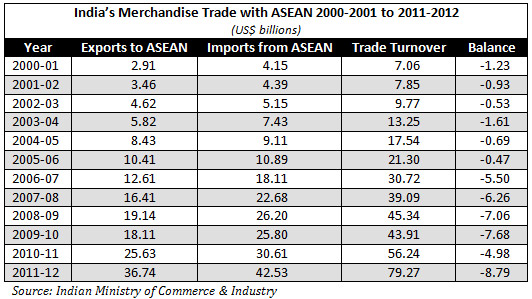 India's main exports to ASEAN include:
Petroleum products
Oil meals
Gems and jewelry
Electronic goods
Cotton yarn and wool
Machinery and instruments
Primary/semi-finished iron and steel
Transport equipment
Marine products
Drugs and pharmaceuticals
Inorganic, organic, and agro chemicals
Dyes and intermediates
ASEAN's main exports to India include:
Coal, coke, briquettes
Vegetable and petroleum oils
Electronic goods
Organic chemicals
Non-electrical machinery
Wood and wood products
Non-ferrous metals, metalliferous ores and metal scrap
Background on the ASEAN-India Free Trade Agreements
After six years of negotiations, the ASEAN-India FTA was signed on August 13, 2009, in Bangkok, Thailand. The agreement was only for trade-in-goods, and did not include software and information technology. Negotiations on an FTA with regards to the services and investment sectors started in October 2008 and were finalized on December 20, 2012.
ASEAN is India's fourth-largest trading partner after the European Union, the United States and China. Trade between India and ASEAN presently stands at US$80 billion, but is likely to receive a significant boost with the finalization of the services and investment FTA.
The trade-in-goods FTA eliminated tariffs for about 4,000 products (including electronics, chemicals, machinery and textiles) between the regions. Duties for 3,200 products will be reduced by December 2013, and duties on the remaining 800 products will be brought down to zero or near zero by December 2016.
There are a total of 489 items excluded from the list of tariff concessions, and 590 items excluded from the list of tariff eliminations pertaining to farm products, automobiles, certain auto-parts, machinery, chemicals, and crude and textile products. ASEAN and India have agreed to allow between 7 percent and 9 percent of tariff lines or products to be excluded from tariff reduction commitments.
Part II of this series will explore the impact of the ASEAN-India Free Trade Area on Indonesia, Vietnam and Myanmar.
Dezan Shira & Associates is a specialist foreign direct investment practice, providing corporate establishment, business advisory, tax advisory and compliance, accounting, payroll, due diligence and financial review services to multinationals investing in emerging Asia. Since its establishment in 1992, the firm has grown into one of Asia's most versatile full-service consultancies with operational offices across China, Hong Kong, India, Singapore and Vietnam as well as liaison offices in Italy and the United States.
For further details or to contact the firm, please email india@dezshira.com, visit www.dezshira.com, or download the company brochure.
You can stay up to date with the latest business and investment trends across India and ASEAN by subscribing to Asia Briefing's complimentary update service featuring news, commentary, guides, and multimedia resources and including updates from India Briefing.