Op-ed Commentary: Chris Devonshire-Ellis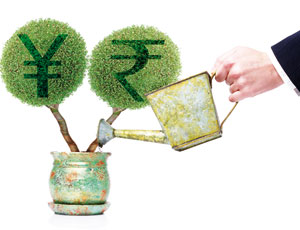 Mar. 18 – A survey by Knight Frank, the Wealth Report 2013, has clearly demonstrated that the bulk of Asia's high net-worth individuals (HNWI) are concentrated in China and India, and that the fastest growing rates for the accumulation of wealth will also be in these two countries. The definition of a HNWI is someone who has US$30m or more in net assets, including property.
While the top 25 cities home to HNWIs were dominated by the United States and Europe, with New York, London, Tokyo, San Francisco and Los Angeles claiming the top five spots, the percentage change of growth of HNWIs from now until 2020 is fastest in Asia, particular in China and India.
For the eight Asian cities in the top 25, their rankings and numbers of HNWI are as follows: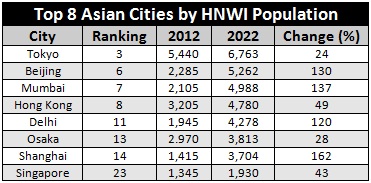 It is apparent that while already well established Asian wealth centers such as Tokyo, Hong Kong and Singapore will continue to do well, it is the duality of China's Beijing and Shanghai and India's Mumbai and Delhi that will achieve the fastest growing prosperity rates amongst the newly wealthy.
All four cities will see the creation of new HNWI at rates of more than 100 percent over the next seven years, outstripping by far any other cities worldwide with the exceptions of Brazil's Sao Paulo (143 percent) and Rio de Janeiro (146 percent).
Overall, however, the rankings will not change much, and most of the top 25 cities in terms of numbers of HNWIs will retain their current standings.
However, the report is a timely reminder of the strength of these emerging markets, and counters the myth that India is "poor" compared to China. In terms of wealth creation, the two countries, at least in their two largest and wealthiest cities, are in fact neck and neck in the numbers of their truly wealthy:

There remains, however, one other salient difference between the two. As long as China's capital controls remain in place, China's wealth tends to remain in China. India however has a freer economy, meaning that once taxes are paid, Indians are free to invest worldwide. Global institutions looking towards Asia for developing products to sell to Asia's HNWIs would do well to realize where the true access opportunity lies.
__________________________________________
Chris Devonshire-Ellis is the founding partner and principal of Dezan Shira & Associates – a specialist foreign direct investment practice, providing corporate establishment, business advisory, tax advisory and compliance, accounting, payroll, due diligence and financial review services to multinationals investing in emerging Asia. Since its establishment in 1992, the firm has grown into one of Asia's most versatile full-service consultancies with operational offices across China, Hong Kong, India, Singapore and Vietnam as well as liaison offices in Italy and the United States.