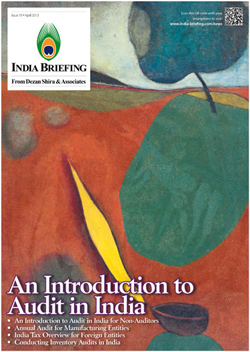 Apr. 24 – The new issue of India Briefing Magazine, titled An Introduction to Audit in India, is out now and available as a complimentary PDF download on the Asia Briefing Bookstore.
To coincide with the commencement of India's annual audit season, this issue of India Briefing Magazine provides an overview of Indian audit procedures for the non-audit foreign executive based in India, as well as for the CFO at the head office who may not be familiar with India's specific audit regulations and accounting standards. We aim to highlight some of the key areas for both levels of international executives responsible for their Indian businesses.
Also in this issue, we examine how India's accounting standards differ from the globally accepted IFRS and IAS protocols, and why it is important to be aware of such discrepancies. We also outline the standard steps and procedures an Indian auditor will go through during the audit process and explain pre-audit preparations that can be carried out to make the process easier to follow and understand for foreign executives. Such preparations will also help the auditor conduct the necessary audit work in a straightforward and efficient manner with clear results that can be used as part of an internal health check for the company.
In this issue:
An Introduction to Audit in India for Non-Auditors
Annual Audit for Manufacturing Entities
India Tax Overview for Foreign Entities
Conducting Inventory Audits in India
An Introduction to Audit in India is out now and immediately available as a complimentary PDF download on the Asia Briefing Bookstore for a limited time only.
Dezan Shira & Associates is a specialist foreign direct investment practice, providing corporate establishment, business advisory, tax advisory and compliance, accounting, payroll, due diligence and financial review services to multinationals investing in emerging Asia. Since its establishment in 1992, the firm has grown into one of Asia's most versatile full-service consultancies with operational offices across China, Hong Kong, India, Singapore and Vietnam as well as liaison offices in Italy and the United States.
For further details or to contact the firm, please email india@dezshira.com, visit www.dezshira.com, or download the company brochure.
You can stay up to date with the latest business and investment trends across Asia by subscribing to Asia Briefing's complimentary update service featuring news, commentary, guides, and multimedia resources.