May. 3 – Hopes are rising that the proposed India-European Union Free Trade Agreement (FTA) may finally be signed off next month after five years of talks. With the chief negotiators of both sides due to meet in two weeks time in Brussels, both parties have stated that they are keen to get the agreement in place at a joint Ministerial meeting planned in June. Both sides need some fast and good news – the EU has been mired in economic problems and has several member States facing elections in September, and the Indian Government needs a political and economic flag to wave itself with its own elections due next year. Another window for reaching consensus may not come around again for some time.
The negotiations thus far have floundered on a number of pressing issues; the EU wants India to cut tariffs for the auto sector and insurance, while India wants easier EU visa processing for professionals in its service industry and the granting of "data secure" status. Two of the issues are complex: a change in raising the foreign investment ceiling in India's insurance sector beyond the current 49 percent limit will require legislation, while the EU is unhappy with the strength of India's data protection laws. The easier granting of visas to Indian nationals is also problematic for the EU as it grapples with high unemployment rates.
Being recognized as "data secure" is crucial for India, as according to the Indian government it will ensure meaningful access in cross border supply. Currently, however, India is not deemed to offer adequate data protection. The EU's Data Protection Directive permits personal data to be transferred to third-party countries outside of the EU if they have been determined as "data secure".
EU industry representatives worry that as India expands its share of the European outsourcing market, which already stands at 30 percent of India's US$100 billion IT and business process outsourcing industry, personal data may be compromised.
These issue notwithstanding, EU-India trade in goods has been trending upwards.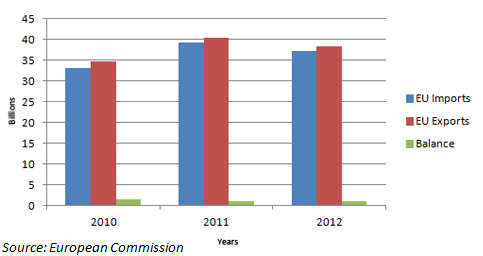 There remains good chances that an "early harvest" agreement could still be reached, with the FTA signed off but leaving room for later adjustment in key sectors. India had previously undergone strenuous FTA negotiations with both Malaysia and Thailand, with parties stuck on certain issues. Under the so-called "early harvest" approach, however, they were able to sign off on the bulk of the trade issues leaving work for the more contentious points later.
A nine page qualitative analysis of the proposed EU-India FTA as written by the University of Sussex and sponsored by the European Commission may be downloaded here.