By Collin Baffa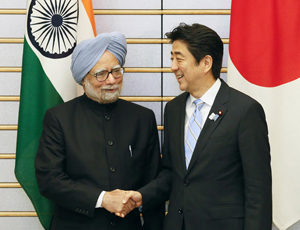 May 31 – India strengthened its "Look East Policy" recently after government officials visited several of the country's Asian neighbors. Indian Prime Minister Manmohan Singh met with representatives in Japan and Thailand this week while the Minister of Transportation traveled to Vietnam to enhance maritime relationships.
The recent trips seek to revitalize India's "Look East Policy," which was initiated in the 1990's by Manmohan Singh, then Treasury Secretary of India. The policy sought to bolster economic ties between India and neighboring Southeast Asian countries, yet was greatly hindered in 1997 when the financial crisis hit the region. After becoming Prime Minister of India, Manmohan Singh recommitted to the "Look East Policy" and expanded its scope to include East Asia and Australia. The policy has been embraced by several Asian countries and has seen support from the United States as well.
Prime Minister Singh met with Japan's Prime Minister Shinzo Abe during the two countries' annual summit, seeking to "invigorate relations with Japan in the political, security and energy spheres."
"India's relations with Japan are important not only for our economic development, but also because we see Japan as a natural and indispensable partner in our quest for stability and peace in the vast region in Asia that is washed by the Pacific and Indian Oceans," said Prime Minister Singh.
The two countries agreed to increase coordinated naval drills off the coast of Japan as part of the Joint Declaration of Security Cooperation and will work to promote the security of maritime trade routes in the region.
Prime Minister Abe also facilitated a loan of US$700 million for infrastructure development projects in India, including the Mumbai Metro Line-III project. Furthermore, Japan pledged financial contributions to the Tamil Nadu Investment Promotion Program and a campus development project for the Indian Institute of Technology.
"I see an enormous role for the Japanese industry to contribute not only to infrastructure development of India, but also to accelerate the tempo of the manufacturing sector in India's economy," Prime Minister Singh further stated.
India has seen robust economic growth over the past several years, with GDP growth reaching 10.5 percent in 2010. Estimates for the current fiscal year are set around 6 to 6.5 percent, well above many developed countries' prospects. Analysts say India is capable of even greater growth, especially if the country's infrastructure and energy deficiencies can be effectively addressed.
Seeking to leverage Japan's developed nuclear capabilities, Prime Minister Singh took time during his trip to discuss energy trade between Japan and India. Prime Minister Abe agreed to facilitate quicker negotiations on a deal that would allow the export of Japanese nuclear equipment and technology to India. The exchange will give a much-needed boost to India's energy capabilities and will strengthen the Japanese economy through the sale of expensive nuclear technology and equipment.
Following discussions in Japan, Prime Minister Singh visited Thailand on his first bilateral visit to the country. Thailand is an important player in India's "Look East Policy," as trade between the two countries continues to grow, averaging an increase of 15 percent per year over the past five years. Thailand also sees India as a key player in its own "Look West Policy," which was implemented to increase cooperation and trade with Thailand's western neighbors.
In an effort to further develop the flourishing trade between Thailand and India, Prime Minister Singh and Thailand's Prime Minister Yingluck Shinawatra agreed to create a Thailand-India Business Forum to enable communication between the two countries' private sector businesses and to allow fast-track business visa processing for entrepreneurs seeking to conduct cross-border business.
"We would like to see enhanced presence of Indian and Thai companies in each other's markets, especially as both countries are planning massive investments in infrastructure over the next five years," said Prime Minister Singh.
The two countries also agreed to work towards a quick resolution to Free Trade Agreement discussions, which are currently underway and will be the focus of a forum held next month in Bangkok.
"We have directed our ministers to quickly resolve the few outstanding issues to achieve a comprehensive and balanced India-Thailand Free Trade Agreement at the earliest," remarked Prime Minister Singh.
Maritime relations were also discussed, with both countries committing to the protection of aquatic trade routes and joint naval drills. Thailand expressed interest in Indian naval technology, with both sides agreeing to facilitate defense industry collaboration.
India-Vietnam maritime relations were also bolstered recently as India's Minister of Shipping G.K. Vasan traveled to Vietnam to meet with the country's Minister of Transport, Din La Thang. The two officials signed a maritime trade agreement designed to increase trade between the two nations and to facilitate bilateral maritime projects, including ship construction and port management.
The agreement was another key step toward India's move to deepen relationships with its neighbors in Asia. Economic ties between the two countries are strong, with India in the top ten exporters to Vietnam. The countries hope to increase bilateral trade to US$7 billion by 2015.
"My visits [this week] will add depth and new meaning to our "Look East Policy" and contribute to peace, prosperity and stability in the Asia-Pacific," said Prime Minister Singh.