By Collin Baffa
Jul. 26 – Trade between India and the United States has seen exponential growth over the past several decades following economic reforms in India designed to attract international investment and exchange. Exports from the United States to India grew 1,250 percent from 1985 to 2011 with imports increasing 1,470 percent over the same period.
Following such astounding growth, trade relations between the two countries have increasingly become a major focus for both countries' leaders. This month, the Vice President of the United States Joe Biden led a convoy of American business and political leaders to India to discuss bilateral trade progress with Indian Prime Minister Manmohan Singh and Minister of Commerce Anand Sharma.
During his visit, Vice President Biden noted the increasing importance of international trade between the two partners.
"India's rise as a global economic power is one of the most powerful stories of the 21st century. The United States has welcomed India's emergence and both nations have profited from it," he said.
Minister of Commerce Anand Sharma also reaffirmed this positive view of international trade between the U.S. and India, noting the potential for increased cooperation "given the opportunities a growing economy like India offers and the opportunities in the largest economy of the United States."
Trade Statistics
The United States is India's third largest trade partner, with total trade between the countries reaching US$60 billion in 2012-13, an increase of 2 percent over the previous fiscal period. In 2010-11, total bilateral trade grew 24 percent and in 2011-12 total trade grew at 30 percent. Trade with the United States accounted for 7.6 percent of India's total international trade in 2012-13.
During the fiscal year 2012-13, India exported US$36.1 billion in goods to the United States, an increase of 4 percent over the prior fiscal year. The previous two fiscal years, however, saw greater export expansion, with growth of 29 percent in 2010-11 and 37 percent in 2011-12.
Imports to India from the United States slowed down half a percentage point during 2012-13 as compared to the previous period, falling to US$24.3 billion. Before the slight decline, imports saw large growth in both 2010-11 and 2011-12, climbing 18 percent and 22 percent respectively.
While India has experienced a net trade deficit over the past several years, it has maintained a growing trade surplus with the United States worth US$5.2 billion in 2010-11, US$10.2 billion in 2011-12 and US$11.8 in 2012-13.
Key Commodities
The largest categories of commodities traded between India and the United States are precious stones and metals, textiles and machinery. High demand for gold in India has made the country and ideal market for exporters of the precious metal. The country is also a net importer of heavy machinery due to its efforts to improve infrastructure across the nation. Furthermore, as one of the world's foremost producers of textiles, India has positioned itself as a leading exporter of garments and apparel.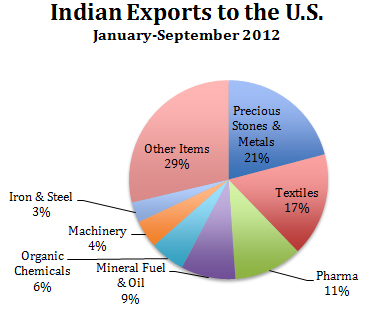 Export of key Indian commodities in 2012 included:
Jewelry (US$1,505,095,000)
Uncut gems and diamonds (US$5,399,655,000)
Synthetic cloths and fabrics (US$278,321,000)
Apparel cotton (US$3,962,560,000)
Other apparel textiles (US$771,286,000)
Rugs and other textile coverings (US$597,055,000)
Pharmaceutical, medical and dental goods (US$4,904,846,000)
Petroleum products (US$2,923,360,000)
Oil field equipment (US$400,914,000)
Industrial organic chemicals (US$1,174,982,000)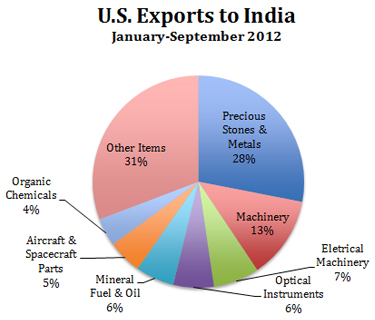 Export of key U.S. commodities in 2012 included:
Non-monetary gold (US$2,909,180,000)
Gems and diamonds (US$2,628,729,000)
Jewelry (US$236,977,000)
Steel-making materials (US$574,911,000)
Industrial engines (US$579,173,000)
Telecommunications equipment (US$602,800,000)
Industrial machines (US$679,091,000)
Civilian aircraft and parts (US$1,234,605,000)
Petroleum products (US$804,275,000)
Metallurgical grade coal (US$723,406,000)
Trade Cooperation
While the United States has yet to sign a formal free trade agreement with India, the two countries have taken several steps to facilitate the cross-border exchange of goods. In 2005, the U.S.-India Trade Policy Forum was established by India's Ministry of Commerce and the United States Trade Representative to discuss investment cooperation and tariff/non-tariff barriers to trade.
"The Trade Policy Forum provides opportunity for both Governments to discuss and share their concerns and work towards resolving them. The potential for bilateral trade and commercial relations between the two countries are immense and the Forum can provide the necessary momentum to the expansion of this relationship," said Commerce Minister Sharma.
Trade relations were further enhanced in 2010 when the two nations singed the Framework of Cooperation on Trade and Investment. This bilateral agreement provides for the development and enforcement of trade policies designed to bolster cooperation among Indian and American businesses, including small and medium-sized enterprises.
Minister Sharma has lauded the agreement.
"By signing this Framework for Cooperation on Trade and Investment we want to create the right environment to ensure that the relationship [with the U.S.] brings maximum benefit to the maximum number of people. We will do so by promoting inclusive growth [and by creating] fresh opportunities for small and medium enterprises in both countries and help in integrating them in the global supply chain," he said.
Recently, India and the United States began drafting a bilateral investment treaty (BIT) aimed at increasing investment and trade through the implementation of fair and equitable practices. Following Vice President Biden's visit to India, representatives from both countries are hopeful the BIT will receive fast-track approval in the coming months.
Dezan Shira & Associates is a specialist foreign direct investment practice, providing corporate establishment, business advisory, tax advisory and compliance, accounting, payroll, due diligence and financial review services to multinationals investing in emerging Asia. Since its establishment in 1992, the firm has grown into one of Asia's most versatile full-service consultancies with operational offices across China, Hong Kong, India, Singapore and Vietnam as well as liaison offices in Italy and the United States.
For further details or to contact the firm, please email asia@dezshira.com, visit www.dezshira.com, or download the company brochure.
You can stay up to date with the latest business and investment trends across Asia by subscribing to Asia Briefing's complimentary update service featuring news, commentary, guides, and multimedia resources.
Related Reading
An Introduction to Tax Treaties Throughout Asia
In this issue of Asia Briefing Magazine, we take a look at the various types of trade and tax treaties that exist between Asian nations. These include bilateral investment treaties (BITs) and also the meatier double tax treaties (DTAs) and free trade agreements (FTAs) that directly affect businesses operating in Asia.
US-India Bilateral Investment Treaty on the Horizon