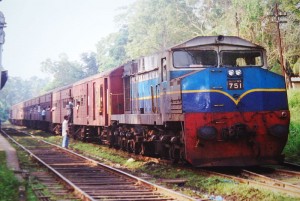 Sept. 18 – Sri Lanka has reopened its Northern "Yal Devi" rail line for the first time in 23 years in the aftermath of the civil war with the Tamil Tigers. With the line rebuild costing some US$185 million, the route once again opens up routes to Jaffna and the adjacent cities and towns, as well as creating a direct link to Colombo and allowing access to Central and Southern Sri Lanka.
Sri Lanka gives names to its various rail routes, and the Northern line, known as the Yal Devi, loosely translates into "Blind Poet" referring to an obscure Tamil King. The train begins its northward journey at Colombo Fort before branching off the main line at Polgahawela. It then passes Kurunegala, the capital of the North Western Province, before continuing to Anuradhapura, the island's 4th century capital, which still retains many sites of cultural and religious significance.
The train previously then arrived at Jaffna, the main center in the north of Sri Lanka, before continuing on to the port city of Kankesanturai. Both Jaffna and Kankesanturai are undergoing extensive reconstruction following the civil war, and the route will eventually continue to its original terminus.
Jaffna is strategically sited on Sri Lanka's north-west tip and is a deep water port that services south-east India. Chris Devonshire-Ellis, who maintains property investments in Sri Lanka, states that "the reopening of the Yal Devi is another sign of the astonishing progress Sri Lanka has made since the war ended. It is a welcome addition to the nation's fast improving infrastructure redevelopment. The nation, while small, is growing in both confidence and capabiities and in terms of business opportunities, may now be described as an Asian Leopard economy."
You can stay up to date with the latest business and investment trends across Asia by subscribing to Asia Briefing's complimentary update service featuring news, commentary, guides, and multimedia resources.
Related Reading
Sri Lankan Investment Zones & Ports Becoming Strategically Important
India and Sri Lanka Pledge to Double Bilateral Trade
Thailand and Sri Lanka Sign Trade Deal
Sri Lanka Opens Second International Airport