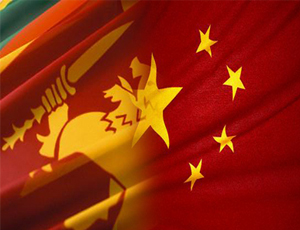 SHANGHAI – China and Sri Lanka are expected to sign off on a Free Trade Agreement (FTA) before the end of this year, according to the Sri Lankan External Affairs Ministry. Last week, the Ministry issued a statement announcing that an agreement had been made between Sri Lanka's Foreign Minister Prof. G.L. Peiris and China's Vice-President Li Yuanchao to fast track negotiations to conclude the FTA.
Sri Lanka is targeting an economic growth of 7.5 percent for 2014 and fast-tracking the proposed FTA with China will help significantly in reaching that target. Professor Peiris expects the agreement would give Sri Lanka much easier access to the China's large and growing consumer market, resulting in greater trade, investment and tourism. India, who signed an FTA with Sri Lanka in 2000 and has long been the former British colony's closest economic partner, will likely be watching the new FTA's progress with some trepidation.
RELATED: India and Sri Lanka Pledge to Double Bilateral Trade
"The feasibility study is on the verge of completion. It will be a landmark, historic achievement since the Rubber-Rice Pact in 1952," Prof. Peiris said in an interview with China's state news agency, Xinhua, before his four-day official visit of Beijing concluded.
The Rubber-Rice Pact referred to by Prof. Peiris was a trade agreement between Ceylon (Sri Lanka's colonial name) and China, whereby Ceylon supplied rubber to China in exchange for rice, leading to the establishment of diplomatic relations and expansion of trade between the two nations.
The FTA is likely to give a boost to Sri Lanka's gem industry, which is currently worth around US$600 million in exports. The country's Export Development Board predicts annual gem and jewelry exports could reach US$1 billion by 2015.
China is a growing consumer of gems as the country becomes increasingly affluent, yet most gemstones from Sri Lanka are currently imported into mainland China via Hong Kong, as it is a free port. The FTA will do away with the need for Hong Kong's role as a middleman, allowing gems to be imported into China at a lower cost.
Both China and Sri Lanka have been steadily strengthening their political and economic ties. Xinhua reported that China has funded around US$4 billion worth of infrastructure projects in Sri Lanka. The Chinese government also plans to improve maritime connections with Sri Lanka and other neighboring countries in developing a "Maritime Silk Route", and the island nation has expressed its willingness to cooperate with China on that initiative.
RELATED: Understanding China's Free Trade Agreements
China has also consistently supported Sri Lanka on human rights issues, as the U.S. is considering presenting a third resolution on Sri Lanka's human rights record before the UN Human Rights Council in March. Chinese Foreign Minister Wang Yi recently stated that China was opposed to other countries interfering in Sri Lanka's internal affairs, and supported the government's right to safeguard national independence, sovereignty and territorial integrity.
You can stay up to date with the latest business and investment trends across Asia by subscribing to Asia Briefing's complimentary update service featuring news, commentary, guides, and multimedia resources.
Related Reading
An Introduction to Tax Treaties Throughout Asia
In this issue of Asia Briefing Magazine, we take a look at the various types of trade and tax treaties that exist between Asian nations. These include bilateral investment treaties, double tax treaties and free trade agreements – all of which directly affect businesses operating in Asia.
China – The Great Infrastructure Developer
Sri Lanka Growth at 7.25 Percent
Thailand and Sri Lanka Sign Trade Deal
India and Sri Lanka Sign Textiles Agreement