Individual income tax (IIT) rates and regulations vary considerably across Asia. In the graph and chart below, we provide a comparative overview of  IIT rates in China, Hong Kong, India, Singapore and Vietnam estimated to the nearest thousand U.S. dollars. The chart, "Individual Income Tax Rates Across Asia," displays IIT rates, while the graph above it provides a visual representation of these differences.
As you might expect in a region comprising so much diversity and complexity, the systems utilized by governments in places like China and Vietnam (countries with large populations and with a communist background) are substantially different than those in places like Hong Kong and Singapore – small jurisdictions with a distinctly capitalist outlook. While the charts below provide an overview of macro-level differences in IIT rates, compliance procedures vary significantly by country.
It is important to remember that these graphs are based upon estimates and the exchange rate at the time of writing, and should not be used to make any meaningful IIT calculations.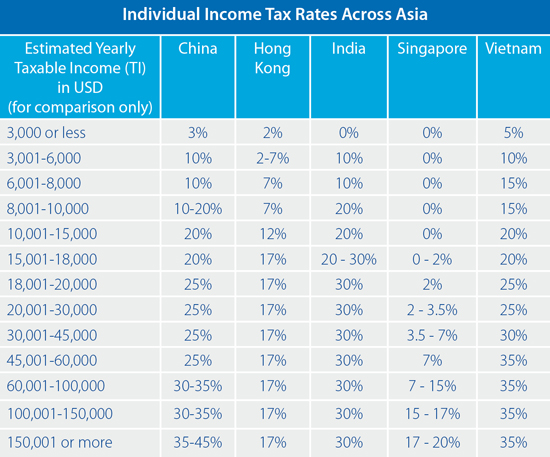 This article is an excerpt from the January and February 2014 issue of Asia Briefing Magazine, titled "Payroll Processing Across Asia." In this issue of Asia Briefing Magazine, we provide a country-by-country introduction to how payroll and social insurance systems work in China, Hong Kong, Vietnam, India and Singapore. We also compare three distinct models companies use to manage their payroll across various countries with external vendors, and explain the differences among three main models: country-by-country, managed, and integrated models while highlighting some benefits and drawbacks of each.
Dezan Shira & Associates is a specialist foreign direct investment practice, providing corporate establishment, business advisory, tax advisory and compliance, accounting, payroll, due diligence and financial review services to multinationals investing in emerging Asia. Since its establishment in 1992, the firm has grown into one of Asia's most versatile full-service consultancies with operational offices across China, Hong Kong, India, Singapore and Vietnam as well as liaison offices in Italy and the United States.
For further details or to contact the firm, please email asia@dezshira.com, visit www.dezshira.com, or download the company brochure.
You can stay up to date with the latest business and investment trends across Asia by subscribing to Asia Briefing's complimentary update service featuring news, commentary, guides, and multimedia resources.