Toyota Australia and Foxconn decisions are linked to global manufacturing's new Asian strategies
Op-Ed Commentary: Chris Devonshire-Ellis
With the news that Toyota is to shutter its Australian manufacturing facility – servicing mainly the local market – comes a recognition that manufacturing across Asia is on the move. Hot on the heels of Foxconn's gradual relocation of its Apple product manufacturing and assembly to Indonesia, the move appears to have caught many analysts by surprise. It shouldn't have, however, as Toyota's Australian auto plant has long been an expensive luxury. Aussie workers earn an average AUD60,000 per annum. Despite the naysayers, including the Australian Prime Minister, suggesting that the move has nothing to do with wage levels, it of course does. Australia's reaction has been predictable: union out on strike and warnings of dire consequences.
The harsh fact remains for Australia, as has long been recognised by the United Kingdom, most of Western Europe and cities such as Detroit – their own domestic consumers do not want to spend the money it would take to buy a locally produced car. It is, in effect, game over; at least for Australia's 'ability' to manufacture autos and even auto parts for the domestic and other Asian markets. It is time to move on.
The questions not fully addressed are why has this happened – and where will Toyota go? Naturally they still wish to sell cars and trucks to Australia, but where from? And it is this issue that is the more interesting, as for the first time, it puts Australia into China's position in a global industry environment – the country is just becoming too labour cost expensive. Accordingly, the Foxconn and Australian Toyota decisions have elements in common, and these need to be understood to benchmark what is happening in Asia. The implications for the global manufacturing and sourcing industries are huge.
First of all, let us consider ASEAN. Foxconn's move to Indonesia makes sense in a lot of ways. China, as has oft been noted, is becoming increasingly expensive in terms of labour costs. With 1.4 million employees in the country, Foxconn's success has been intrinsically linked to China's workforce. Relatively low costs, good infrastructure and sustainable delivery timeframes married with a well-oiled management and production team have made both China, Foxconn and Apple billions of dollars over the past decade.
If anyone had a dream realised by China, it was Steve Jobs. Yet that situation is now drawing to a close.
China's workforce is aging, and increasingly in need of retirement support. With no social welfare net of any real structure to support China's rapidly aging workers, communist China is reverting to the iron rice bowl – the employer pays, and in China increasingly so. That is driving the likes of Foxconn out of the China production market.
There are additional factors – Foxconn are Taiwanese and the political situation between China and Taiwan remains politically awkward.
This situation is not dissimilar to that of Toyota Australia – a local workforce that is becoming more expensive – and is unionized. The labour union negotiated a rise of 5.5 percent for workers at Toyota's plants there this year, considerably above the Australian GDP growth rate of 3 percent. Toyota manufactured 1.136 million vehicles in Australia last year, and its Corolla vehicle is a best seller. Yet the writing is on the wall: a militant union, wages rising faster than local growth, and competition elsewhere have made Toyota pull out. The only difference is that Foxconn have seemingly announced their next geographical intentions, whereas Toyota have not.
And therein lies a Tale of Two Treaties: ASEAN & China, and Australia & the RCEP.
Let's examine both.
In the Foxconn case, the company has seemingly plumped for Indonesia, although India was also apparently seriously considered. It is worthwhile comparing India with Indonesia when it comes to labour intensive industries, as they represent 50 percent of the world's largest four nations in terms of working age population – China and the United States being the others. India, however, has a somewhat bureaucratic government and has not recently been seen as friendly towards foreign investment – the tax problems concerning Vodafone, although now largely resolved, are a case in point as to how FDI into India can be scared off by strong-arm tactics towards foreign investment by the Indian tax department. They are too often inclined to stick to the letter of the law and beyond instead of seeing longer-term benefits and be able to negotiate in today's increasingly competitive world.
There is indeed a case to be made for India to manufacture the iPad, however, I would reckon that the strict interpretation of India's ministries and the lack of entrepreneurial skill within them made Foxxconn look at Indonesia instead – where it is understood the Indonesian government are prepared to negotiate favourable tax benefits for Foxconn and their 1 million employee potential. Who wouldn't?
It is ironic that one of today's great IT innovators – India – is seen as unable to be as flexible when it comes to foreign investment. That is a problem in fast-moving industries involving Comms, IT and Innovation – India seems unable to keep up at both investment encouraging and the bureaucratic level.
Of additional note here, however, is the fact that Indonesia is a member of ASEAN. With Apple products in Asia accounting for roughly 30 percent of the total production, that may not seem relevant. Yet the lowest percentage of consumers is in Asia, meaning it is the least saturated market. In other words; it is Asia that future sales will go to.
If true, it becomes hugely significant for Foxconn and for Apple that Indonesia manufactures Apple's products. As a member of ASEAN, it has duty free export status on all products within the ASEAN bloc. This includes the ASEAN big-five of Indonesia (where 5am queues formed for the launch of the new iPhone 5s), Malaysia, Philippines, Singapore and Thailand. Not only this, but ASEAN has free trade agreements with China and India – reducing tariffs on ASEAN manufactured products to next to nothing.
Adding the consumer markets of China, India and ASEAN to its portfolio has been a very smart move for Foxconn, and for Apple per se. Over time, the traditional big markets for these products will shift from the United States and Europe to Asia. Foxconn are ahead of the game. And just in case anyone was wondering – they have a plant in Chennai, India as well.
Now back to Toyota Australia. It is true that they have not yet announced where they will manufacture Australia-destined autos from. There, however, is a logical choice. One other country in Asia has a large, inexpensive workforce, a resurgent and experienced auto manufacturing industry and can supply not just Australia but the rest of Asia, Africa, European and other Global markets. A country that Toyota have already been doing business with for close to two decades, already manufacture the top selling vehicle in Australia for that countries local market and have a domestic market share of fourth position they would dearly love to grow. That country is India.
India is becoming so attractive as a combined domestic and export market that Ford relocated its entire non-U.S. manufacturing facility to Gujarat last year. Ford expects that facility to grow and produce 2 million vehicles per annum by 2018 and will crucially "follow the company's global pricing strategy". Of that total production, Ford expects to sell 50 percent directly onto the local Indian market, mainly as the Indian government have reduced taxes for acquisition of "non-luxury" autos – exactly the market Toyota are in.
Toyota have intriguingly suggested they would like to sell the Lexus in India. There are issues here, not to mention the contradiction between acceptance of foreign automotive companies in India and that of Foxconn's demands. India has always permitted FDI in the auto sector and understood the benefits of allowing this. The industry is well managed and tax understood, and behaves in India in a more predictable fashion than the IT industry does. India may at times be a slow elephant, but once it understands, it moves. And such are the distinctions between its auto and IT sectors as affect foreign investors – with, of course, an added dash of protectionism thrown in.
But once again, there is an underlying treaty issue here, albeit one that has yet to be agreed. Japan (and Toyota of course are a Japanese company) has been entering into negotiations with ASEAN, China, India, South Korea, New Zealand – and Australia – to create a free trade body known as the Regional Comprehensive Economic Partnership (RCEP). There are some big players there, not least China. But there is also great political will. Neither China, India or ASEAN as a bloc have been invited to participate in the U.S.-led TPP Agreement. In sewing up Asia as one huge free trade zone, China will have scored serious points off the United States. And if the RCEP does in fact come to fruition, it really won't matter very much where your Toyota or iPhone is made for the Australians or the Chinese, as long as it is manufactured in Asia.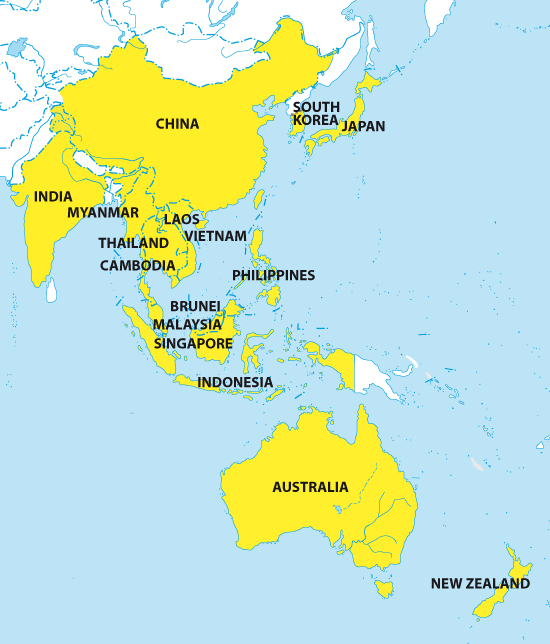 Foxconn and Toyota want Asia Free Trade To Look Like This: The Regional Comprehensive Economic Partnership. Then Everyone Wins. 
Chris Devonshire-Ellis is the Founding Partner of Dezan Shira & Associates – a specialist foreign direct investment practice providing corporate establishment, business advisory, tax advisory and compliance, accounting, payroll, due diligence and financial review services to multinationals investing in emerging Asia. Since its establishment in 1992, the firm has grown into one of Asia's most versatile full-service consultancies with operational offices across China, Hong Kong, India, Singapore and Vietnam as well as liaison offices in Italy and the United States.
For further details or to contact the firm, please email asia@dezshira.com, visit www.dezshira.com, or download the company brochure.
You can stay up to date with the latest business and investment trends across Asia by subscribing to Asia Briefing's complimentary update service featuring news, commentary, guides, and multimedia resources.
Related Reading

Payroll Processing Across AsiaIn this edition of Asia Briefing Magazine, we provide a country-by-country introduction to how payroll and social insurance systems work in China, Hong Kong, Vietnam, India and Singapore. We also compare three distinct models companies use to manage their payroll across various countries with external vendors, and explain the differences among three main models: country-by-country, managed, and integrated models while highlighting some benefits and drawbacks of each.

The 2014 Asia Tax Comparator
In this issue of Asia Briefing Magazine, we examine the different tax rates in 13 Asian jurisdictions – the 10 countries of ASEAN, plus China, India and Hong Kong. We examine the on-the-ground tax rates that each of these countries levy, including corporate income tax, individual income tax, indirect tax and withholding tax. We also examine residency triggers, as well as available tax incentives for the foreign investor and important compliance issues.

Work Visa and Permit Procedures Across Asia
In this edition of Asia Briefing Magazine, we outline the specific documents required for foreign nationals working in China, India, Indonesia, Malaysia, Philippines, Singapore, Thailand and Vietnam, as well as highlight the relevant application processes in each of these countries.
An Introduction to Tax Treaties Throughout Asia
In this issue of Asia Briefing Magazine, we take a look at the various types of trade and tax treaties that exist between Asian nations. These include bilateral investment treaties, double tax treaties and free trade agreements – all of which directly affect businesses operating in Asia.

An Introduction to Development Zones Across AsiaIn this issue of Asia Briefing Magazine, we break down the various types of development zones available in China, India and Vietnam specifically, as well as their key characteristics and leading advantages. We then go on to provide a snapshot of the latest development zones across the rest of Asia. With several hundred development zones operating in the region, it is impossible to cover them all in the pages of just one publication. However, we hope that this issue will provide the basic fundamentals to understanding one of the most important business tools available to international businesses operating in Asia.