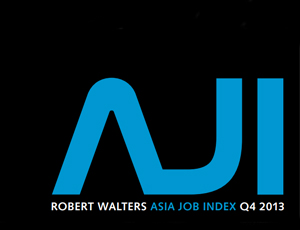 The Robert Walters Asia Job Index reported a significant increase in job advertisements for professional positions last quarter.
One of the world's largest professional recruitment consultancies, Robert Walters publishes its Job Index quarterly to provide employers with a barometer of business confidence and the demand for skilled candidates across Asia. The Index is produced by tracking the number of job advertisements posted daily in key newspapers and on leading online job boards based in Hong Kong, Japan, Malaysia, Singapore, South Korea and China.
According to the Asia Job Index Q4 2013, the total number of job advertisements for professional positions increased by 1.6 percent from Q3, and by 26.4 percent year on year (from Q4 2012).
Of the countries analyzed, Malaysia saw the largest increase in job advertisements for professional positions, rising from 78,988 in Q3 to 81,633 in Q4 with a total increase of 3.35 percent.
This was followed by China, where postings increased by 2.08 percent, Japan (0.98 percent) and South Korea (0.36 percent). Postings in Singapore decreased slightly by 0.20 percent and by a surprising 10.89 percent in Hong Kong.
Year on year, however, China saw the largest increase in the region with a 30.2 percent increase from Q4 in 2012.
"Overall, the region is showing signs of increasing business confidence as well as a continuing skills shortage across all markets. Senior level managerial skills are in short supply in the region but with the rate of economic growth in markets such as China, the skills gap is more profound than in the fully industrialized markets of Japan and South Korea. In addition, the infrastructure build-out across markets is driving demand for manufacturing and engineering professionals, particularly in China, Japan and Malaysia, where the demand for engineers grew 0.9 percent, 2.8 percent and 4.1 percent, respectively," the report explained.
The steep increase in Malaysia was attributed by the report to the country's rapidly growing retail sector, which saw an increase in postings by 13 percent from the previous quarter.
Hong Kong's sudden drop was credited to a cautious market and decrease in accounting and finance jobs (14.9 percent) and legal positions (27.2 percent).
Across the region, there was a noticeable increase in advertising for consulting and analyst professionals, with consulting firms and government ministries seeking qualified candidates for operation transformation and expansion programs. In Hong Kong, these postings increased by an incredible 79.8 percent, followed by Malaysia (22.2 percent) and China (2.9 percent).
"The marginal increase quarter on quarter is indicative of a positive trend in the Asian economies, however even more meaningful is the 26.4  percent increase year on year. Asia is optimistic about the prospects of 2014, despite the fact that some of the sheen has come off Asia as signs of recovery are emerging from Europe and recovery gains momentum in the U.S," commented Richard Parnell, CEO of Robert Walters Asia Pacific.
"In relative terms, Asia might not stand out as it once did, but growth continues at variable rates across the region. Going into 2014, there is an enhanced level of optimism across the region. We are seeing more confidence in the market as the global economy stabilizes and businesses start to grow, however going into 2014, we will still experience some of the caution that defined 2013."
You can stay up to date with the latest business and investment trends across Asia by subscribing to Asia Briefing's complimentary update service featuring news, commentary, guides, and multimedia resources.
Related Reading

The Gateway to ASEAN: Singapore Holding Companies
In this issue of Asia Briefing Magazine, we highlight and explore Singapore's position as a holding company location for outbound investment, most notably for companies seeking to enter ASEAN and other emerging markets in Asia. We explore the numerous FTAs, DTAs and tax incentive programs that make Singapore the preeminent destination for holding companies in Southeast Asia, in addition to the requirements and procedures foreign investors must follow to establish and incorporate a holding company.

Work Visa and Permit Procedures Across Asia
In this edition of Asia Briefing Magazine, we outline the specific documents required for foreign nationals working in China, India, Indonesia, Malaysia, Philippines, Singapore, Thailand and Vietnam, as well as highlight the relevant application processes in each of these countries.