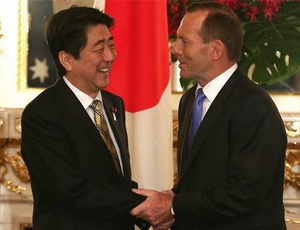 Australia has sealed free trade agreements (FTA) with both Japan and South Korea amidst signs the Chinese government is eager to fast-track its own FTA talks during the Australian Prime Minister's visit to the country this week.
Finalized on Monday, the Japan-Australia Economic Partnership Agreement (JAEPA) is the result of more than seven years of negotiations, which began in 2007.
"[The JAEPA] will deliver a significant boost to Australian farmers and other agricultural producers, resource exporters, service providers and consumers. Better access for key agricultural products – including beef, cheese, horticulture and wine – will give Australia a head start over our competitors in this market," an announcement  from Prime Minister Tony Abbott's office stated.
"JAEPA represents a major windfall for Australian beef – our biggest agricultural export to Japan, currently worth AU$1.4 billion. This includes a halving of the tariff on frozen beef from 38.5 percent to 19.5 percent, with deep cuts in the first year. Cheese, by far Australia's largest dairy export to Japan at AU$372 million, will gain significant new duty-free access. Australian horticultural producers will gain from immediate tariff eliminations across a wide array of fruit, vegetables and nuts. The tariffs on canned products such as tomatoes, peaches and pears, as well as fruit and vegetable juices, will also be eliminated," it continued.
In return, Australia will cut tariffs on Japanese electronics, cars and domestic appliances.
"This is the first time that Japan has negotiated a comprehensive economic partnership agreement or free trade agreement with a major economy, particularly a major economy with a strong agriculture sector," PM Abbott said of the agreement during his visit to Japan earlier this week.
At the joint press announcement, Japanese Prime Minister Shinzo Abe hailed the JAEPA as elevating Japan and Australia's bilateral relationship to a new level.
"I am especially pleased that on this occasion we have been able to reach a general agreement on the Japan-Australia EPA negotiations, which we started when I was serving as Prime Minister in 2007. Japan and Australia have long enjoyed close and friendly relations as strategic partners who share universal values and strategic interests such as democracy, basic human rights and the rule of law. In our current meeting, Tony and I agreed to further elevate Japan-Australia relations into a special relationship and to build an even more robust partnership," PM Abe said.
On Tuesday, Australia and South Korea officially signed their own FTA that will scrap nearly all tariffs between the two countries within a decade and immediately lift levies on several key exports, including vehicles and wine.
Most notably, five percent tariffs on Korean-made cars, televisions, refrigerators and machinery will be immediately abolished. In turn, Seoul will lift tariffs on nearly half of all agricultural imports from Australia, including wine and coconut oil, in addition to a fifth of fish imports.
Watching their trade ministers sign the deal at Seoul's presidential Blue House, Prime Minister Abbott and South Korean President Park Geun-Hye said the deal would address the "huge untapped potential" in trade between the two countries.
"I'm determined to build on this and I believe what we have signed today makes this a historic moment in the relationship between Australia and Korea," PM Abbott said.
While Japan and South Korea are Australia's second and third largest export markets, respectively, China ranks first with a massive 28.1 percent share (in comparison to Japan's 16.1 percent and South Korea's 6.9 percent) according to Australian government statistics.
As such, PM Abbott is eager to clinch a free trade deal with China "as quickly as possible" during his visit to the country this week to attend the Boao Economic Forum and kick off the inaugural 'Australia Week in China' trade expo in Shanghai and Beijing.
"We will be pushing very hard to do that as fast as possible. I must say, the Chinese leadership have made it very clear that they want to accelerate negotiations with Australia too," Parliamentary Secretary to the Prime Minister Josh Frydenberg said in Shanghai yesterday.
The Boao Economic Forum being held on the resort island of Hainan will likely feature sideline bilateral trade talks between PM Abbott and Chinese Premier Li Keqiang over the proposed FTA.
Promising to make finalizing the Australia-China FTA a priority upon taking office, PM Abbott is likely to announce an update on the status of FTA negotiations with China sometime next week. Telling reporters at the APEC meetings in Bali last October, "I have to say I would be disappointed if we can't conclude a significant FTA with China within 12 months," the clock is now ticking for PM Abbott after a successful week tying up loose ends in both Japan and South Korea.
You can stay up to date with the latest business and investment trends across Asia by subscribing to Asia Briefing's complimentary update service featuring news, commentary, guides, and multimedia resources.
Related Reading

The Gateway to ASEAN: Singapore Holding Companies
In this issue of Asia Briefing Magazine, we highlight and explore Singapore's position as a holding company location for outbound investment, most notably for companies seeking to enter ASEAN and other emerging markets in Asia. We explore the numerous FTAs, DTAs and tax incentive programs that make Singapore the preeminent destination for holding companies in Southeast Asia, in addition to the requirements and procedures foreign investors must follow to establish and incorporate a holding company.
China, Japan and South Korea Enter Fourth Round of FTA Talks
Understanding China's Free Trade Agreements
Vietnam-EU Free Trade Agreement Expected by Late 2014