Erläuterung des RCEP, TPP und EUSFTA
SINGAPUR – Lim Hng Kiang, Singapurs Minister für Handel und Industrie, gab einen umfassenden Überblick über die globale Positionierung Singapurs als "Verbindungsglied von welchem Unternehmen ihre regionalen und globalen Geschäftstätigkeiten kontrollierten und koordinieren können". Kiang erklärt auf der Feier des Europatages in Singapur, dass sich Singapur durch ein Netzwerk an Freihandelsabkommen neu positioniert hat.
"In der heutigen Versorgungskette, ist es nicht ungewöhnlich, dass die Rohstoffe und Komponenten, die ein Endprodukt ausmachen, nationale Grenzen mehrere Male während des Produktionsprozesses überqueren. Als Wirtschaftsstandort, ist es unerlässlich, Unternehmen die Flexibilität zu geben, ihre Beschaffung für Produktionstätigkeiten in verschiedensten Ländern in der Region zu tätigen und ihre Lieferketten am wirtschaftlichsten auszurichten", kommentiert Minister Kiang, unter Hinweis darauf, dass Singapur ein Netzwerk von 20 regionale und bilaterale Freihandelsabkommen etabliert hat.
"[Singapur] rangiert laut McKinsey Global Institute als viertes der am meisten aufgeschlossenen Länder der Welt und ist eine von nur zwei asiatischen Städten unter den Platzierungen der Top-Ten", kommentierte er weiter. "Um unsere Relevanz für globale Unternehmen zu erhöhen, ist Singapur sehr aktiv in regionalen Integrationsbemühungen, wie dem Regional Comprehensive Economic Partnership (RCEP), welches alle Freihandelsabkommen zwischen ASEAN verbinden und konsolidieren soll. "
Das RCEP sieht eine breitere Wirtschaftspartnerschaft zwischen den ASEAN-Staaten und ihren sechs Freihandelspartner, darunter Australien, China, Indien, Japan, Südkorea und Neuseeland vor. Diese Länder würden kombiniert einen Markt von mehr als 3 Milliarden Menschen schaffen und würden eine Bruttoinlandsprodukt von über US Dollar 18 Billionen aggregieren.
Im Bezug darauf: China drängt auf Asien-Pazifik-Freihandelsabkommen
Im weiteren Verlauf seiner Diskussion über regionale Wirtschaftspartnerschaften, bemerkt Minister Kiang: "Eine weitere wichtige Initiative ist, dass sich Singapur aktiv an der multilateralen Trans-Pazifik-Partnerschaft (TPP) beteiligt. Mit den derzeitigen zwölf Mitgliedern, repräsentiert das TPP eine Freihandelszone von rund 40 Prozent des globalen BIP und ein Drittel des Welthandels. Sowohl TPP und RCEP werden als hochwertige Vereinbarungen um regionale wirtschaftliche Integration zu vertiefen gesehen und können als mögliche Wege zu einer Freihandelszone der Asien-Pazifik Region in Betracht gezogen werden."
Singapur hat auch zu mehr wirtschaftlichen Zusammenarbeit mit seinen europäischen Handelspartnern beigetragen, zuletzt dargestellt durch das Freihandelsabkommen Europäische Union – Singapur (EUSFTA), welches im September letzten Jahres umgesetzt wurde.
"Die EU ist Singapurs drittgrößter Handelspartner und die größte Quelle von ausländischen Direktinvestitionen. Es gibt über 10.000 europäische Unternehmen in Singapur", fuhr er fort. "Nicht nur stärkt das EUSFTA unsere wirtschaftliche Verknüpfung mit der EU, sondern bietet auch EU-Unternehmen eine Vielzahl von Vorteilen wie Zollzugeständnissen [und] verbessertem Marktzugang zu verschiedenen Branchen."
"Abgesehen von bilateralem Handel, dient das EUSFTA auch dem breiteren strategischen Interessen der EU um sich in der Region zu engagieren. [Es] wird einen Schub von Wirtschaftsbeziehungen der EU mit ASEAN ankurbeln und dient als eine wegweisende Vorlage für die EU die laufenden Verhandlungen mit den anderen ASEAN-Ländern wie Malaysia, Vietnam und Thailand abzuschließen. Einmal abgeschlossen, können diese bilateralen Freihandelsabkommen den Weg zu einem eventuellen EU-ASEAN-Freihandelsabkommen ebnen.", erwähnt Minister Kiang abschließend.
Chris Devonshire-Ellis von Dezan Shira & Associates in Singapur kommentiert: "Singapur hat einen guten Job gemacht seine Positionierung in den Mittelpunkt Asiens zu bringen und hat sich in seinem Streben nach Abbau von Handelsschranken und Zöllen durch freien Handel und Doppelbesteuerungsabkommen als sehr durchsetzungsfähig erwiesen. Das Land ist ohne Zweifel eines der wichtigsten Märkte für das Erreichen des übrigen Asiens, einschließlich Chinas und Indiens, sowie der ASEAN-Staaten."
Bei Fragen zu Wirtschaftsthemen, Steuern, Buchhaltung und Unternehmensgründungen in China kontaktieren Sie bitte:
Fabian Knopf, Sr. Associate, Co-Head of German Desk, Dezan Shira & Associates Fabian.Knopf@dezshira.com
Silke Neugebohrn, Sr. Associate, Co-Head of German Desk, Dezan Shira & Associates
Silke.Neugebohrn@dezshira.com
Für weitere Information oder mit Dezan Shira & Associates in Kontakt zu treten, bitte senden Sie eine Email an germandesk@dezshira.com, besuchen Sie uns auf www.dezshira.com wo sie unsere Unternehmensbroschüre kostenlos herunterladen können.
Bleiben Sie uptodate über die aktuellsten Wirtschafts- und Investitionstrends in Asien durch unseren Newsletter. Jetzt abonnieren!
Weiterführende Lektüre:
Sind Sie bereit für ASEAN 2015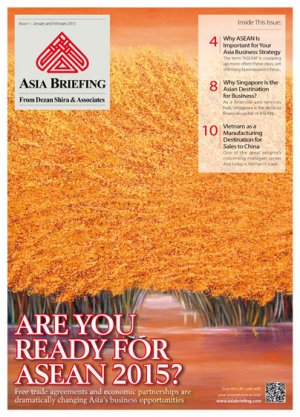 Indien hat kürzlich ein Freihandelsabkommen mit ASEAN unterzeichnet, jedoch sind sich noch immer viele Unternehmen nicht bewusst, inwiefern diese Freihandelsabkommen und Wirtschaftspartnerschaften die Geschäftsmöglichkeiten in Asien dramatisch verändern. Diese Vereinbarungen reduzieren Zollgebühren und Zölle von tausenden Produkten.
In dieser ersten Ausgabe des zweimonatlichen Asia Briefing Magazins, konzentrieren wir uns auf die Veränderungen, welche das ASEAN Freihandelsabkommen für die gesamte Region bringen wird, sowie auf die tiefgreifenden Auswirkungen von pan-asiatischen Freihandelsabkommen, wie das Regional Comprehensive Economic Partnership.