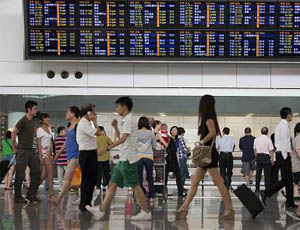 Home to the burgeoning Chinese and Indian markets, the Asia-Pacific region now dominates global business travel spending, according to the latest findings by the Global Business Travel Association.
Global business travel is largely concentrated in three regions – Asia-Pacific, North America and Western Europe. In total, the three regions accounted for 89 percent of the world's business spending last year. In 2013, business travel spending in Asia-Pacific accounted for 38 percent of the world's total, more than the 21 percent for North America and 24 percent for Western Europe, the report found.
Business travel expenditure in Asia-Pacific more than doubled from 2000 to USD$392 billion last year, after growing 7.5 percent annually for more than a decade. The report expects spending to continue growing at a 10.2 percent annual pace over the next five years.
As the global economy continues on its recovery from the 2008 financial crisis, the gap between emerging markets and developed markets is narrowing. Although global travel spending grew at a stable rate of 6.9 percent from last year, emerging markets were largely driving the growth.
Travel spending in China grew at an average of 16 percent per year since 2000 to reach US$224 billion in 2013, compared to the 1.1 percent annual growth rate of the U.S.
China's growth has been powered by infrastructure investments, export growth and rising nominal wages, the report finds. By 2016, China, currently the second largest business travel market, is expected to overtake the incumbent leader, U.S., as its importance as a global trade and financial center continues to rise.
"This report underscores that China, along with the other BRIC countries of Brazil, Russia and India are leveraging their business travel expenditures into more economic opportunities," said GBTA Executive Director and COO Michael W. McCormick in a press release.  "We expect to see this shift in business travel spending to continue."
To the south of the region, India has also seen tremendous business travel expenditure growth, reaching USD$24 billion in 2013, a threefold increase from a decade ago. With Modi's election, expectations for economic growth are high and business travel spending is forecast to grow by almost 12 percent annually through 2018, reaching USD$38 billion, according to the report.
As travel demand around the Asia Pacific region continues to rise, supply for travel related services is also likely to grow in response. Half of the increase in Asia's commercial aircraft fleet from 6,000 at the end of 2013 to 10,300 in 2020 is likely to come from China, Bloomberg reports. Hotel rooms are also being added at more than double the pace of other regions. With the optimistic projections for growth, businesses in Asia-Pacific should already be making preparations to meet the future demand.
Asia Briefing Ltd. is a subsidiary of Dezan Shira & Associates. Dezan Shira is a specialist foreign direct investment practice, providing corporate establishment, business advisory, tax advisory and compliance, accounting, payroll, due diligence and financial review services to multinationals investing in China, Hong Kong, India, Vietnam, Singapore and the rest of ASEAN. For further information, please email asia@dezshira.com or visit www.dezshira.com.
Stay up to date with the latest business and investment trends in Asia by subscribing to our complimentary update service featuring news, commentary and regulatory insight.
Related Reading
China Retail Industry Report 2014
In this special edition of China Briefing, we provide an overview of the retail industry in China and the procedures for setting up a retail shop, focusing specifically on brick-and-mortar physical retail stores. Further, we have invited our partner Direct HR to offer some insights on the talent landscape in the retail industry, as well as tips for recruiting retail personnel in China.

Work Visa and Permit Procedures Across Asia
In this edition of Asia Briefing Magazine, we outline the specific documents required for foreign nationals working in China, India, Indonesia, Malaysia, Philippines, Singapore, Thailand and Vietnam, as well as highlight the relevant application processes in each of these countries.