Dieser Artikel stammt von Expat News
Zwischen 20. und 22. November 2014 fand die diesjährige Asien-Pazifik-Konferenz der Deutschen Wirtschaft (APK) in Ho-Chi-Minh-Stadt, Vietnam statt. Das hochrangig besetzte Netzwerktreffen widmete sich dieses Jahr Trends und Perspektiven in Asien und der Weltwirtschaft.
Die Region Asien-Pazifik gewinnt für die deutsche Wirtschaft stetig an Bedeutung: So gingen von Januar bis August 2014 14,3 Prozent aller deutschen Exporte in Höhe von mehr als 106 Milliarden Euro in den Asien-Pazifik Raum. Doch die Potenziale sind längst nicht erschlossen. Vor allem in Zeiten einer schwächelnden Weltkonjunktur sind bei manchen Staaten protektionistische Maßnahmen zu erkennen. Freihandelsabkommen könnten Abhilfe schaffen und letztendlich alle Teilnehmer profitieren lassen. 
Mehr zum Thema: Ausländische Direktinvestitionen in ASEAN
EU verhandelt über Freihandelsabkommen im Raum Asien-Pazifik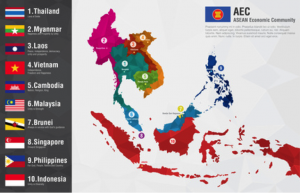 Seit 2007 führt die EU mit mehreren asiatischen Staaten Verhandlungen über bilaterale Freihandelsabkommen. Das erste Abkommen mit Südkorea findet seit Mitte 2011 Anwendung und die bereits ausgehandelte Vereinbarung mit Singapur kann nach dem Ratifizierungsprozess 2015 in Kraft treten.
"Das Abkommen mit Südkorea hat sich positiv auf die deutsche Exportwirtschaft ausgewirkt. Die deutschen Ausfuhren nach Südkorea erreichten 2013 einen Wert von 14,5 Milliarden Euro. Dies ist ein Zuwachs um fast 24 Prozent im Vergleich zu 2011, wo das Volumen 11,7 Milliarden Euro betrug", sagt Frank Robaschik, Bereichsleiter für die Region Asien-Pazifik bei Germany Trade & Invest.
Mehr zum Thema: ASEAN Economic Community (AEC) 2015. Freizügigkeit nur für einige Wenige
Freihandelsabkommen mit China geplant
Auch mit China finden Verhandlungen über ein Freihandelsabkommen mit der EU statt. Dies dürfte aber frühestens nach Abschluss des in Verhandlungen befindlichen bilateralen Investitionsabkommens in Angriff genommen werden. Trotz einiger Fortschritte beklagen sich europäische Firmen weiterhin über den erschwerten Marktzugang und die rechtlichen Probleme beim Umgang mit geistigem Eigentum. Bisher bestehen nur Abkommen mit einzelnen europäischen Ländern wie der Schweiz oder Island.
Auch innerhalb der asiatisch-pazifischen Region sind Bestrebungen hin zu einer weiteren wirtschaftlichen Integration erkennbar: "Dazu zählen die für Ende 2015 geplante ASEAN Economic Community, Bemühungen um multilaterale Abkommen mit Beteiligung von Staaten der Region oder bilaterale Vereinbarungen", so Robaschik weiter.
Bei Fragen zu Wirtschaftsthemen, Steuern, Buchhaltung und Unternehmensgründungen in Asien kontaktieren Sie bitte:
Fabian Knopf, Sr. Associate, Co-Head of German Desk, Dezan Shira & Associates
Fabian.Knopf@dezshira.com
Silke Neugebohrn, Sr. Associate, Co-Head of German Desk, Dezan Shira & Associates
Silke.Neugebohrn@dezshira.com
Für weitere Information oder um mit Dezan Shira & Associates in Kontakt zu treten, senden bitte Sie eine Email an germandesk@dezshira.com oder besuchen Sie uns auf www.dezshira.com/de, wo Sie unsere Unternehmensbroschüre herunterladen können.
Bleiben Sie auf dem Laufenden über die aktuellsten Wirtschafts- und Investitionstrends in Asien durch unseren Newsletter. Jetzt abonnieren!
Weiterführende Lektüre (Kostenlos zum Download):
Sind Sie bereit für ASEAN 2015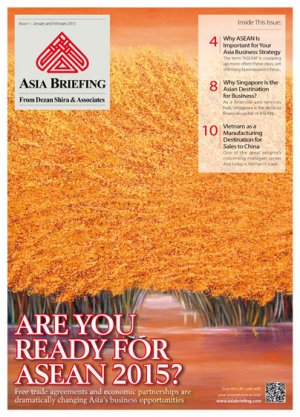 In dieser ersten Ausgabe des zweimonatlichen Asia Briefing Magazins, konzentrieren wir uns auf die Veränderungen, welche das ASEAN Freihandelsabkommen für die gesamte Region bringen wird, sowie auf die tiefgreifenden Auswirkungen von pan-asiatischen Freihandelsabkommen, wie das Regional Comprehensive Economic Partnership.
Das könnte Sie auch interessieren:
Personalverwaltung in Asien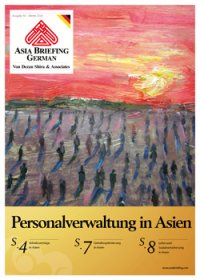 Diese Ausgabe von Asia Briefing hilft Ihnen und Ihrem Unternehmen, sich im Dickicht der erforderlichen Informationen für die Gestaltung eines Arbeitsvertrags in den Ländern Indien, China und Vietnam zurechtzufinden. Wir gehen auf die Sozialversicherungssysteme und deren einzelne Leistungen ein, damit Sie sowohl Ihre Rechte und Pflichten, als auch die Ihrer Angestellten kennen.