Dies ist ein Auszug aus dem Asia Briefing Magazin "Personalverwaltung in Asien", das im Bookstore kostenlos zum Download bereitsteht.
Indiens Sozialsystem besteht aus einer Reihe von Anordnungen, Programmen und Gesetzen. Dabei ist zu beachten, dass das Sozialsystem in Indien nur für einen geringen Teil der Bevölkerung gilt. Das Konzept der sozialen Absicherung besteht nicht nur aus Beitragszahlungen in staatliche Kassen (wie z.B. in China), sondern auch aus einer Anzahl von verpflichtenden Pauschalbeträgen für den Arbeitgeber.
Üblicherweise werden im indischen Sozialversicherungssystem folgende Sozialleistungen abgedeckt:
• Rente
• Krankenversicherung
• Mutterschaft
• Abfindungen (bei Arbeitslosigkeit)
• Arbeitsunfähigkeit
Während ein großer Teil der indischen Bevölkerung im "informellen, unorganisierten Sektor" arbeitet und keine Aussicht auf die Teilhabe an diesen Sozialleistungen hat, sind Bürger im formellen Sektor (dazu gehören auch jene, die in ausländischen Unternehmen arbeiten) und deren Arbeitgeber sozialversicherungspflichtig und haben Anspruch auf oben genannte Leistungen.
Der Geltungsbereich der Pflichtbeiträge zum Sozialversicherungssystem ist variabel: Zu einigen Sozialleistungen muss jeder Arbeitgeber einen Beitrag leisten, zu anderen nur solche Unternehmen mit mehr als zehn Angestellten, bei anderen Sozialleistungen wiederum nur Unternehmen mit 20 oder mehr Arbeitnehmern.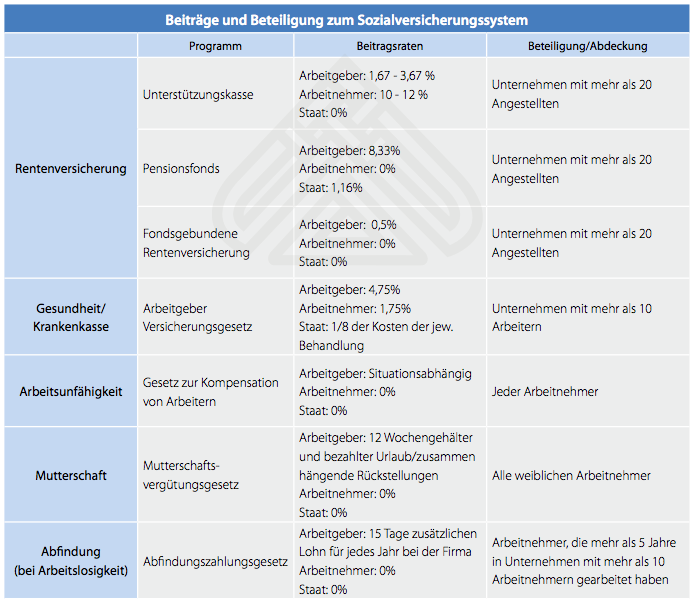 Bei Fragen zu Wirtschaftsthemen, Steuern, Buchhaltung und Unternehmensgründungen in Asien kontaktieren Sie bitte:
Fabian Knopf, Sr. Associate, Co-Head of German Desk, Dezan Shira & Associates
Silke Neugebohrn, Sr. Associate, Co-Head of German Desk, Dezan Shira & Associates
Für weitere Information oder um mit Dezan Shira & Associates in Kontakt zu treten, senden bitte Sie eine Email an germandesk@dezshira.com oder besuchen Sie uns auf www.dezshira.com/de, wo Sie unsere Unternehmensbroschüre herunterladen können.
Bleiben Sie auf dem Laufenden über die aktuellsten Wirtschafts- und Investitionstrends in Asien durch unseren Newsletter. Jetzt abonnieren!
Weiterführende Lektüre (Kostenlos zum Download):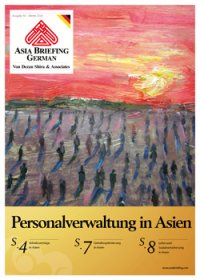 Diese Ausgabe von Asia Briefing hilft Ihnen und Ihrem Unternehmen, sich im Dickicht der erforderlichen Informationen für die Gestaltung eines Arbeitsvertrags in den Ländern Indien, China und Vietnam zurechtzufinden. Wir gehen auf die Sozialversicherungssysteme und deren einzelne Leistungen ein, damit Sie sowohl Ihre Rechte und Pflichten, als auch die Ihrer Angestellten kennen.
Das könnte Sie auch interessieren:
Arbeitsvisa und Zulassungsverfahren in Asien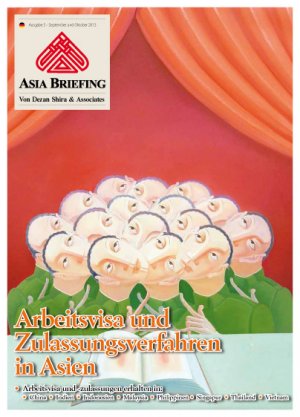 In dieser Ausgabe des Asia Briefing Magazins beschreiben wir die spezifischen Dokumente, die ausländische Staatsbürger, die in China, Indien, Indonesien, Malaysia, Philippinen, Singapur, Thailand und Vietnam arbeiten, benötigen. Außerdem wird das Scheinwerferlicht auf die relevanten Bewerbungsverfahren in jedem dieser Länder geworfen.