Die malaysische Regierung hat bekanntgegeben, dass sie ab dem 01. April 2015 eine Umsatzsteuer (auf Güter und Dienstleistungen) in Höhe von 6 % erheben wird. Diese wird die gegenwärtige Umsatzsteuer (auf Verkauf und Dienstleistungen) ersetzen.
Die neue Steuer gilt für alle Mitglieder der Wertschöpfungskette, inklusive der Produktion und dem Vertrieb und wird im Endeffekt vom Endverbraucher getragen. Die neue Umsatzsteuer ist wesentlich weitreichender als ihr Vorgänger. Dies liegt daran, dass alle Güter steuerpflichtig sind, solange sie nicht explizit ausgeschlossen sind. Da Dienstleistungen, die malaysische Unternehmen von ausländischen Unternehmen empfangen auch unter diese Definition fallen, ist von besonderer Bedeutung. Es wird die Aufgabe des malaysischen Zolls sein die Steuer durchzusetzen. 
Mehr zum Thema: Indonesia Seeks to Clarify Transfer Pricing Practices with PER 22
Mit der Einführung der neuen Steuer steigt auch die Verantwortung der Unternehmen die entsprechenden Bestimmungen einzuhalten. Aus diesem Grund sollten sich ausländische Unternehmen auf das in Krafttreten vorbereiten, in dem sie folgende Schritte ergreifen:
Prüfung von Handelsverträgen
Überprüfung internen Bedarfs
Aktualisieren der Buchführung
Fortbildung der Mitarbeiter bezüglich der neuen Bestimmungen
Sicherstellen, welche Bedingungen zu erfüllen sind, um Steuernachlass zu erhalten
Die neue Steuerpolitik stellt in vielen Gegenden Malaysias ein kontroverses Problem dar. Die Opposition und Teile der Zivilgesellschaft kritisieren, dass die neue Form der Besteuerung zu viel Druck auf jene Schichten der Bevölkerung ausübt, die schon jetzt hochverschuldet sind und kaum bis gar keine Ersparnisse hat.
Die malaiische Regierung hat eingeräumt, dass die neue Steuer zu einem nominalen Anstieg der Preise führen wird. Trotzdem ist sie der Ansicht, dass dies die Verbraucher nicht zu stark belasten wird, da die Steuer nur auf konsumierte Güter und Servicedienstleistungen erhoben wird. Außerdem hofft die Regierung, gegensätzliche Reaktionen mittels einer Senkung der Einkommensteuer und der Erhöhung der finanziellen Unterstützung von einkommensschwachen Haushalten (Bantuan Rakyat 1 Malaysia (BR1M)) um RM 3.000 (ca. EUR 720) vermeiden zu können.
Die Regierung warnt Unternehmen davor im Zuge der Steuerreform ihre Preise zu erhöhen. Unternehmen die dies tun, müssen mit einer Untersuchung auf Grund des Gesetzes für Preiskontrolle und Preistreiberei rechnen (Price Control and Profiteering Act).
Bei Fragen zu Wirtschaftsthemen, Steuern, Buchhaltung und Unternehmensgründungen in Asien kontaktieren Sie bitte:
Fabian Knopf, Sr. Associate, Co-Head of German Desk, Dezan Shira & Associates
Fabian.Knopf@dezshira.com
Silke Neugebohrn, Sr. Associate, Co-Head of German Desk, Dezan Shira & Associates
Silke.Neugebohrn@dezshira.com
Für weitere Information oder um mit Dezan Shira & Associates in Kontakt zu treten, senden bitte Sie eine Email an germandesk@dezshira.com oder besuchen Sie uns auf www.dezshira.com/de, wo Sie unsere Unternehmensbroschüre herunterladen können.
Bleiben Sie auf dem Laufenden über die aktuellsten Wirtschafts- und Investitionstrends in Asien durch unseren Newsletter. Jetzt abonnieren!
Weiterführende Lektüre (Kostenlos zum Download):
Personalverwaltung in Asien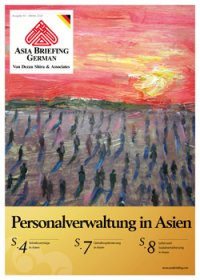 Diese Ausgabe von Asia Briefing hilft Ihnen und Ihrem Unternehmen, sich im Dickicht der erforderlichen Informationen für die Gestaltung eines Arbeitsvertrags in den Ländern Indien, China und Vietnam zurechtzufinden. Wir gehen auf die Sozialversicherungssysteme und deren einzelne Leistungen ein, damit Sie sowohl Ihre Rechte und Pflichten, als auch die Ihrer Angestellten kennen.
Das könnte Sie auch interessieren:
Arbeitsvisa und Zulassungsverfahren in Asien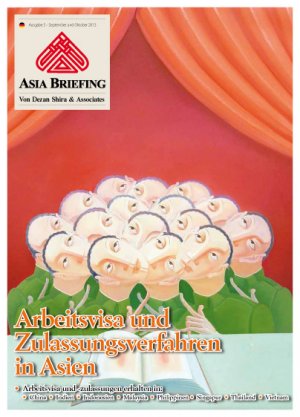 In dieser Ausgabe des Asia Briefing Magazins beschreiben wir die spezifischen Dokumente, die ausländische Staatsbürger, die in China, Indien, Indonesien, Malaysia, Philippinen, Singapur, Thailand und Vietnam arbeiten, benötigen. Außerdem wird das Scheinwerferlicht auf die relevanten Bewerbungsverfahren in jedem dieser Länder geworfen.