Am 09. Dezember hat die zweite ASEAN-OECD Investment Policy Conference in Jakarta/Indonesien stattgefunden. Dort wurde eingehend über die Förderung und Weiterentwicklung von Investitionen innerhalb der ASEAN zur regionalen Integration diskutiert. Auf der Konferenz kamen Politiker der ASEAN, Mitglieder der OECD und Branchenführer der Industrie zusammen, um über die Fortschritte der regionalen Wirtschaftsintegration seit der ersten Konferenz im Jahr 2010 zu berichten. Im Rahmen der Veranstaltung gab es auch den Vortrag OECD´s Investment Policy Review of Myanmar, in dem deutlich gemacht wurde, dass mit dem südostasiatischen Land 2015 zu rechnen sei. 
Die Wirtschaftsgemeinschaft der ASEAN (AEC) ist das letztliche Ziel der gesamten regionalen wirtschaftlichen Integration der beteiligten Staaten. Kernpunkte der AEC sind der freie Fluss von Dienstleistungen und Investitionen sowie die Integration der ASEAN in die Weltwirtschaft. Für das Ziel der Umsetzung der AEC bis zum Dezember 2015 müssen die Mitgliedsstaaten Reformen implementieren und zur Koordination der strukturpolitischen Maßnahmen beitragen.
Die ASEAN-OECD Partnerschaft zur Verbesserung der Rahmenbedingungen für Investitionen ist eine wichtige Initiative im Rahmen der Reformen. Die OECD Untersuchungen des Investitionsumfeldes helfen den ASEAN Staaten bei der Schaffung von neuen Kapazitäten innerhalb ihrer nationalen Administrationen zur Implementierung von Reformen und dem Erreichen der AEC Ziele. Diese Reformen könnten eine wichtige Rolle dabei spielen, regionale Lieferketten zu stärken. So können Investoren ihre Operationen über mehrere Länder hinweg erstrecken und Konzentrationsrisiken mit Diversifizierungsmaßnahmen entgegentreten.
Fallstudie Myanmar
Das Programm der Konferenz beinhaltete ein spezielles Segment mit detaillierten Informationen zu den Ergebnissen der OECD Studie Investment Policy Review of Myanmar. Die Regierung Myanmars, in Partnerschaft mit der OECD und ASEAN, beteiligte sich an der Untersuchung im Rahmen der politischen und wirtschaftlichen Reformen zur Anlockung ausländischen Investitionskapitals.
Myanmar befindet sich in einer Periode rasanter ökonomischer Reformen seit dem Aufbruch aus der wirtschaftlichen Isolation seit 2011. Die Untersuchung ermöglichte der Regierung eine Bestandsaufnahme des gegenwärtigen Investitionsumfelds und die Identifizierung von Prioritätsprojekten für weitere Reformen. Die Regierung hat seitdem eine Reihe von Änderungen gemäß der Ratschläge der OECD und den ASEAN Richtlinien auf den Weg gebracht. Die wichtigsten Neuerungen zum Anreiz von ausländischen Investitionen beinhalten:
Rechtslage Ausländische Investitionen:
Im November 2012 trat das Foreign Investment Law No. 21/2012 (FIL) in Kraft, mit dem Ziel, die restriktive Gesetzgebung von 1998 aufzulösen und neue Investitionsanreize zu setzen. Im August 2014 veröffentliche die Myanmar Investment Commission (MIC) eine Reihe von Änderungen des FIL. Diese Änderungen sind gute Neuigkeiten für Investoren, da sie weitere Liberalisierungen, weniger Restriktionen und positive Änderungen für Investitionen erkennen lassen.
Rundschreiben Nr. 49/2014
Dieses Rundschreiben reduziert die Anzahl verbotener und eingeschränkter Geschäftsfelder für ausländische Investoren. Zum Beispiel wird das Feld des Einzelhandels geöffnet. Allerdings ist die Geschäftstätigkeit an die Bedingung der Form eines Joint Ventures geknüpft. Diese Neuerung gilt nun auch für die industrielle Produktion von chemischen Grundstoffen und Gummi.
Rundschreiben Nr. 50/2014
Mit diesem Rundschreiben wird die Liste von Geschäftsaktivitäten revidiert, die einer Umweltschutzprüfung unterliegen. Myanmar folgt hier den internationalen Standards.
Rundschreiben Nr. 51/2014
Dieses Rundschreiben enthält eine Liste mit Geschäftsfeldern die nicht mehr wie bisher in den Genuss von Ausnahmen bei der Gewerbesteuer und/oder Zollgebühren kommen. Diese beinhalten Alkohol, Zigaretten und ähnliche Güter. Ferner beinhaltet das Rundschreiben Hinweise darauf, dass Steueranreize für große Kapitalinvestitionen im Bereich der Hochtechnologie geplant sind.
Gesetz zur Sonderwirtschaftszone Myanmar 2014
Im Januar 2014 wurde das Gesetz zur Schaffung der Sonderwirtschaftszone Myanmar (MSEZL) in Kraft gesetzt. Die administrative Körperschaft der Sonderwirtschaftszone hat seitdem mehrere weitere Zonen ausgewiesen, die ausländischen Investoren, Steuer- und Grunderwerbsanreize anbieten.
Mehr zum Thema: Niedrigste Umsatzsteuer in ASEAN bald in Malaysia
Was ist zu erwarten
Zu Beginn der Untersuchung hat Myanmars Gewerkschaftsminister Dr. Kan Zaw den Bericht gelobt und gesagt, dass er der Regierung dabei helfen würde, die Investitionsreformen erfolgreich fortzuführen. Die Regierung des Landes hat bereits mehrere Reformen gemäß OECD Richtlinien auf den Weg gebracht. Aufgrund der positiven und offenen Rhetorik von Regierungsvertretern sowie den bisherigen Reformbemühungen, ist zu erwarten, dass der bisherige Kurs zu einer weiteren Annäherung an OECD Standards führen wird. Gemäß des Berichts können Investoren mit folgenden Entwicklungen rechnen:
Andauernde Unterstützung für KMUs
Die MIC ist bemüht, die Entwicklung von lokalen KMUs als unterstützende Kraft für die Ansiedlung von ausländisch investierten Industrien zu fördern. Dies spiegelt sich zum Beispiel in der Aufhebung der Mindestanforderungen zur Höhe von Investitionen für lokale KMUs und der Möglichkeiten zur Kapitalbeschaffung für lokale Startups wieder.
Weitere Aufhebung von Restriktionen
Das MIC hat den Willen ausgedrückt, die administrative Komplexität im Bereich der Bearbeitung von Anträgen sowie die Ausschreibung von Genehmigungen zu beschleunigen.
Das MIC ist gerade dabei die Gesetzgebung von ausländischen und inländischen Investitionen in einem einzigen, gemeinsames Regelwerk zu konsolidieren. Gemäß den Empfehlungen der OECD zur Verbesserung des Investitionsumfeldes werden das Foreign Investment Law und das Myanmar Citizens Investment Law zur Gleichstellung von ausländischen und inländischen zusammengefügt und vereinheitlicht.
Mehr zum Thema: Hong Kong wird OECD Standard zum Austausch von Steuerinformation einführen
Ausblick
Die Untersuchung der OECD wurde als Teil der weiter gefassten wirtschaftlichen Integrationsbemühungen der ASEAN in Auftrag gegeben, um die Zielsetzung der AEC 2015 zu erreichen. Im Rahmen dieser regionalen Integration wird angestrebt, die ökonomischen Disparitäten zwischen den ASEAN 6 und den Staaten Kambodscha, Laos, Myanmar und Vietnam auszugleichen. Myanmar hat in diesem Zusammenhang bereits gewaltige Fortschritte erzielt. Das wirtschaftliche Umfeld wurde innerhalb von nur drei Jahren transformiert. Dennoch bleiben gewisse Unsicherheiten im administrativen und regulatorischen Bereich bestehen, da das Erreichen der AEC Zielvorgaben im Wesentlichen von der praktischen Umsetzung der neuen Gesetzgebung abhängig sein wird.
Bei Fragen zu Wirtschaftsthemen, Steuern, Buchhaltung und Unternehmensgründungen in Asien kontaktieren Sie bitte:

Fabian Knopf, Sr. Associate, Co-Head of German Desk, Dezan Shira & Associates Fabian.Knopf@dezshira.com
Silke Neugebohrn, Sr. Associate, Co-Head of German Desk, Dezan Shira & Associates Silke.Neugebohrn@dezshira.com
Für weitere Information oder um mit Dezan Shira & Associates in Kontakt zu treten, senden bitte Sie eine Email an germandesk@dezshira.com oder besuchen Sie uns auf www.dezshira.com/de, wo Sie unsere Unternehmensbroschüre herunterladen können. Bleiben Sie auf dem Laufenden über die aktuellsten Wirtschafts- und Investitionstrends in Asien durch unseren Newsletter.
Folgen Sie uns auf Twitter!
Weiterführende Lektüre (Kostenlos zum Download): 
Vorbereitung der Jahresabschlussprüfung für Ihr Asiengeschäft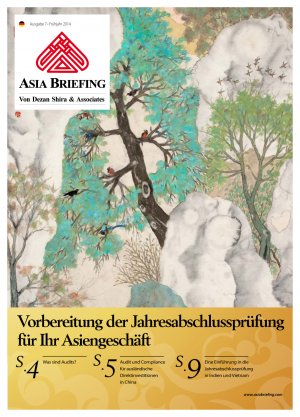 In dieser Ausgabe von Asia Briefing möchten wir Ihnen einen Überblick über die Ziele und Anforderungen der Compliance-Prüfungen in China, Indien und Vietnam bieten, damit Sie vor bösen Überraschungen in Rechts- und Steuerangelegenheiten gefeit sind und einen erfolgreichen Start ins Jahr des Pferdes erleben.