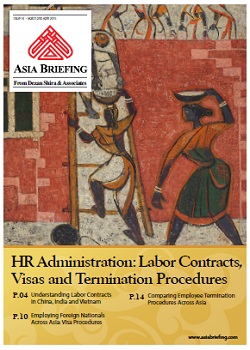 The newest issue of Asia Briefing magazine, titled "Human Resources Across Asia: A Guide for Foreign Businesses", is out now and available as a complimentary download in the Asia Briefing Bookstore.
Contents:
Understanding Labor Contracts in China, India and Vietnam
Employing Foreign Nationals Across Asia: Visa Procedures
Comparing Employee Termination Procedures Across Asia
Within the modern, globalized market, maintaining a competitive edge necessitates identifying new growth opportunities and ways of cutting costs. It is for this reason that entering into the Asian market has become more of an essential, than optional, part of a successful business model.
In our experience at Dezan Shira & Associates, some of the most important parts of an effective Asia market-entry strategy are hiring the right staff and clearly understanding the associated laws for doing so. While a Western business may have a firm grasp of HR procedures in their home country, companies often find that their established practices have almost no bearing in Asia. Without adapting to and understanding the unique HR challenges of individual Asian nations, firms risk incurring substantial yet completely avoidable losses.
In this issue of Asia Briefing, we set out to provide readers with a basic understanding of how to navigate the HR procedures of China, India and Vietnam. We begin by introducing the most common employment contract structures in each of these countries, as well as their laws for employment probation. We then take a look at the three's increasingly complex procedures for obtaining work/business visas, and conclude with a special feature on how to legally terminate an employee across Asia.
Several key Asian destinations for foreign investment have introduced new HR legislation in the last two years alone. With more than 20 years' experience of managing HR in Asia, Dezan Shira & Associates is well equipped to help businesses understand the region's various procedures. We hope readers find this issue helpful and informative.

About Us
Asia Briefing Ltd. is a subsidiary of Dezan Shira & Associates. Dezan Shira is a specialist foreign direct investment practice, providing corporate establishment, business advisory, tax advisory and compliance, accounting, payroll, due diligence and financial review services to multinationals investing in China, Hong Kong, India, Vietnam, Singapore and the rest of ASEAN. For further information, please email asia@dezshira.com or visit www.dezshira.com.
Stay up to date with the latest business and investment trends in Asia by subscribing to our complimentary update service featuring news, commentary and regulatory insight.



The 2015 Asia Tax Comparator


In this issue, we compare and contrast the most relevant tax laws applicable for businesses with a presence in Asia. We analyze the different tax rates of 13 jurisdictions in the region, including India, China, Hong Kong, and the 10 member states of ASEAN. We also take a look at some of the most important compliance issues that businesses should be aware of, and conclude by discussing important tax and finance concerns.

Manufacturing Hubs Across Emerging Asia
In this issue of Asia Briefing Magazine, we explore several of the region's most competitive and promising manufacturing locales including India, Indonesia, Malaysia, Singapore, Thailand and Vietnam. Exploring a wide variety of factors such as key industries, investment regulations, and labor, shipping, and operational costs, we delineate the cost competitiveness and ease of investment in each. 

ASEAN's Investment Horizons: Key Industries for AEC 2015
In this issue of Asia Briefing, we forecast the effects of ASEAN Economic Community on foreign investment into the region in the lead up to 2015. Following this, we highlight what is happening in some of ASEAN's hottest industries for investment, including electronics, information and communications technology, textiles and medical devices. Lastly, we examine the growing potential of bilateral trade between ASEAN and India.