India is keen to restart ferry services with Sri Lanka and will be discussing this when Prime Minister Modi visits the island nation on March 13-14 as part of his visit to Sri Lanka, the Seychelles and Mauritius. The service was suspended indefinitely 30 years ago when hostilities broke out in Sri Lanka over the break-away Tamil Tigers movement. The service used to run between Rameswaram in Tamil Nadu and Talaimannar in Sri Lanka.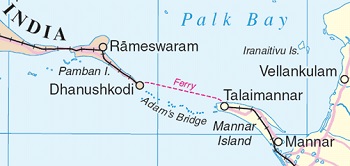 India's shipping ministry will hold meetings on March 12 with Ircon International – an engineering company wholly owned by India's railway ministry – to finish on-going re-construction work in Talaimannar that is required for vessels to dock. Ircon has also had an active role in the rail connectivity project between Jaffna and Kankasanthurai in Sri Lanka. The approximate cost of the project is close to US $800 million and will be provided as aid by India.
According to Sabyasachi Hajara, the former chairman of Shipping Corporation of India: "The Economic community of SAARC should improve. Purely in terms of commercial viability these routes may not be successful but that alone is not required in such strategic decisions".
As a part of its Look East policy, in 2014 the new Modi government also started a shipping service between India and Myanmar.

About Us
Asia Briefing Ltd. is a subsidiary of Dezan Shira & Associates. Dezan Shira is a specialist foreign direct investment practice, providing corporate establishment, business advisory, tax advisory and compliance, accounting, payroll, due diligence and financial review services to multinationals investing in China, Hong Kong, India, Vietnam, Singapore and the rest of ASEAN. For further information, please email asia@dezshira.com or visit www.dezshira.com.
Stay up to date with the latest business and investment trends in Asia by subscribing to our complimentary update service featuring news, commentary and regulatory insight.


The 2015 Asia Tax Comparator


In this issue, we compare and contrast the most relevant tax laws applicable for businesses with a presence in Asia. We analyze the different tax rates of 13 jurisdictions in the region, including India, China, Hong Kong, and the 10 member states of ASEAN. We also take a look at some of the most important compliance issues that businesses should be aware of, and conclude by discussing tax and finance concerns companies will face when entering Asia.

The Asia Sourcing Guide 2015
In this issue of Asia Briefing, we explain how and why the Asian sourcing market is changing, compare wage overheads, and look at where certain types of products are being manufactured and exported. We discuss the impact of ASEAN's FTAs with China and India, and highlight the options available for establishing a sourcing model in three locations: Vietnam, China, and India. Finally, we examine quality control in each of these markets.

Manufacturing Hubs Across Emerging Asia
In this issue of Asia Briefing Magazine, we explore several of the region's most competitive and promising manufacturing locales including India, Indonesia, Malaysia, Singapore, Thailand and Vietnam. Exploring a wide variety of factors such as key industries, investment regulations, and labor, shipping, and operational costs, we delineate the cost competitiveness and ease of investment in each.