By Dezan Shira & Associates
Shanghai, Delhi and HCMC Offices
According to a survey conducted by HSBC, Asia is the world's most popular destination for expats seeking a new challenge, particularly from Western countries such as the U.S. and U.K. Combined with its surging economies and plentiful opportunities, Asia is understandably an appealing destination for Western workers seeking employment.
Having the right mix of domestic employees with an understanding of local customs and expats with international experience is essential for foreign companies. However, obtaining employment visas for foreign talent can be a complicated procedure in many of the most popular destinations for foreign investment. Added to this, the relevant regulations undergo change at a rate faster than many companies are prepared to handle: China, India and Vietnam, for example, have all amended their work visa regulations in recent years. For China and Vietnam, these changes have served to increase the overall number of visa categories available to foreigners, while in India, new procedures have been introduced that add more eligibility requirements for the employment visa. In all instances, the process for obtaining a work visa has become more stringent.
The types of work visas available to foreigners can broadly be separated into two categories: short-term business visas, and long-term employment visas. Their suitability depends firstly on how long the foreign worker wishes to spend in the country, and secondly on how much time the employee is able to devote to preparing the relevant application. Short-term work visits can typically be prepared in under a week or two, while long-term work visas can take up to four months to obtain. China, India and Vietnam are mostly comparable in this regard. Within all three, the process for obtaining a short-term visa is fairly straightforward, but it is not uncommon for long-term visas to be rejected even if the individual meets all eligibility requirements.
This can prove costly for foreign companies, as failure to bring the employee in on schedule will invariably impact operations. Visa consultants are well acquainted with the application process and can provide form letters and useful advice to mitigate any potential problems.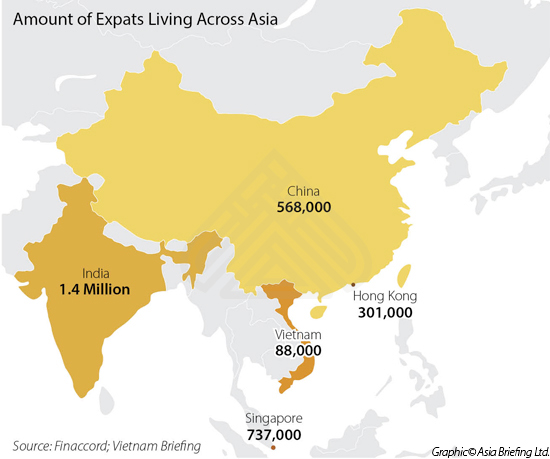 Short-term Business Visas
Short-term business visas are appropriate for foreigners who do not work full time in Asia, but need to make occasional visits for work purposes. While in practice, foreign employees or interns in China, India and Vietnam often overstay these types of visas, the governments of each have increasingly been attempting to stop this practice. If caught, the foreign worker is likely to be immediately deported back to their home country. 
Here, we list out the applicable short-term business visas for China, India and Vietnam.
China – M Visa
The M visa was introduced as part of new Chinese visa regulations released in 2013. In order to receive an M visa, a foreigner must supply an invitation letter from a company registered in China. M visas can be issued for one month to one year and become valid from the date of entry into China. The length granted will depend largely on the individual's situation and the government agency granting it, but M visas exceeding six months are increasingly rare.
India – Business Visa
Business visas are granted in India for a maximum period of six months. Unlike China's M visa, this type of visa's validity begins from the date of issuance from the High Commission of India and not from the individual's entry date. In order to receive a business visa, a foreigner must supply an original signed letter from their company detailing the nature of their business trip. A signed letter of invitation from either a domestic Indian company or a registered entity in India is also required.
Vietnam – Business Visa
Vietnam's business visas can be granted for either a one or three month period and for either single or multiple entries. As with China, applicants must provide an invitation letter from either a Vietnamese business partner or a foreign invested company in Vietnam. The visa will be valid from the date of entry, which must be specified and agreed on in the original application.
Long-term Employment Visas
China – Z and R Visas
With its investor-friendly policies and massive consumer class, China has long been a magnet for foreign workers eager to ply their trade in the world's second largest economy. That being said, according to a study conducted by UniGroup Relocation, twice as many foreigners moved out of China in 2014 than moved in. The study points out that this may be attributed to expiring work contracts (as noted previously, China's private sector tends to employee staff on a fixed-term basis). However, the drop may also be due to stricter Chinese employment visa regulations, which have made it far more difficult for foreign workers to actually reach the country.
Like the M visa, the R visa is one of the new visa categories introduced in September 2013. These are typically only issued to a firm's senior management or to foreigners that are filling a vacancy where there currently exists a domestic skills shortage. The R visa's requirements are stricter than those of the Z visa, China's other official work visa. Consequently, the Z visa is still the most common type of employment visa used by foreigners and will likely remain so for the foreseeable future.
The Z visa is used by foreigners who are employed by either a domestic company in China or a foreign-invested enterprise that has been incorporated there. It is intended for employees who work and live in China. After a Chinese embassy has granted the Z visa, the employee has three months in which to enter China. Upon arrival, the foreigner needs to apply for a residence permit.
The residence permit allows the foreigner an unlimited number of trips into and out of China during the contract term, usually for one year. The procedure for obtaining a Z visa often differs per city or region. The required steps, documents, relevant government departments and even the overall procedure can vary per jurisdiction. For example, in three neighboring cities, the first may require a copy of a criminal background check, the second will want a notarized original and the third may not require one at all.
India – Employment Visas
Indian authorities typically issue one-year multiple entry visas that can be renewed for up to five years, but the application protocols are very stringent. Following the global financial crisis of 2007-8, many fresh college graduates from Europe and North America relocated to gain job experience in India's vibrant economy. In order to protect its growing white-collar workforce and stem the flow of these foreign workers, the Indian government introduced stricter eligibility requirements for the employment visa. The effects of these reforms are reflected in the sharp decrease of Western workers in India over the past few years. While the country has a relatively large expat community, the vast majority of its foreign workforce is from neighboring countries such as Pakistan, Bangladesh and Nepal. In 2014, the number of international workers in fact declined by more than one-fourth to 30,000.
Indian authorities require documentation from both the applicant and their employer. While the necessary documents depend on the applicant's nationality, these are largely identical for citizens of developed economies in Europe and North America. Nevertheless, applicants and their employers should verify all required documentation with the Indian consulate in the applicant's home country.
On the employee side, preparing an application is relatively straightforward and should not take more than a day to complete. Conversely, the documents needed from the employer can take up to one business week to gather and complete. With exceptions for the Incorporation Certificate and PAN card, which can be scanned or photocopied, every other document provided by the employer needs to be an original. Each of these original copies needs to be drafted on company letterhead, signed by a senior manager, and marked with the company's official stamp. Due to these stipulations, overseas applicants must receive the original copies from their employer by mail.
Vietnam – Work Permits
Vietnam's work permit process is notoriously complex and inconsistent. Similar to China, the criteria for attaining an employment visa vary significantly from city to city, but highly qualified applicants can still encounter difficulty. Late last year, director of Baker McKenzie law firm Fred Burke told the Vietnam Business Forum that even Bill Gates and Steve Jobs wouldn't be able to obtain a Vietnamese work permit, and argued that "a radical revisit of the current rules" was needed. 
Shortly after Burke's comments, on January 1, 2015, Vietnam's Law on Entry, Exit, Transit, and Residence of Foreigners came into effect and doubled the number of visa types available to foreigners from 10 to 20. Under the current system, the visa type applicable for a foreign worker is determined by his/her occupation. For instance, foreign investors and lawyers must obtain the new ĐT visa, whereas foreign employees in representative (RO) offices, project offices (PO) or non-governmental organizations (NGO) will need a type NN1, 2 or 3 visa. Regardless of the visa type needed, however, an applicant's eligibility and the necessary procedures are still broadly outlined under Vietnam's work permit laws.
In most cases, a work permit is required when working in Vietnam for more than three months. Where a work permit is not compulsory, a notice must be submitted seven days in advance to the provincial Department of Labor, Invalids and Social Affairs (DoLISA) prior to working in Vietnam.
Currently, work permits for foreigners are valid for a maximum of three years. As part of the Law on Entry, Exit, Transit, and Residence of Foreigners, expats are no longer permitted to change their visa category once inside Vietnam. Therefore, the option of arriving on a tourist visa, applying for a work permit and changing visa categories is no longer available.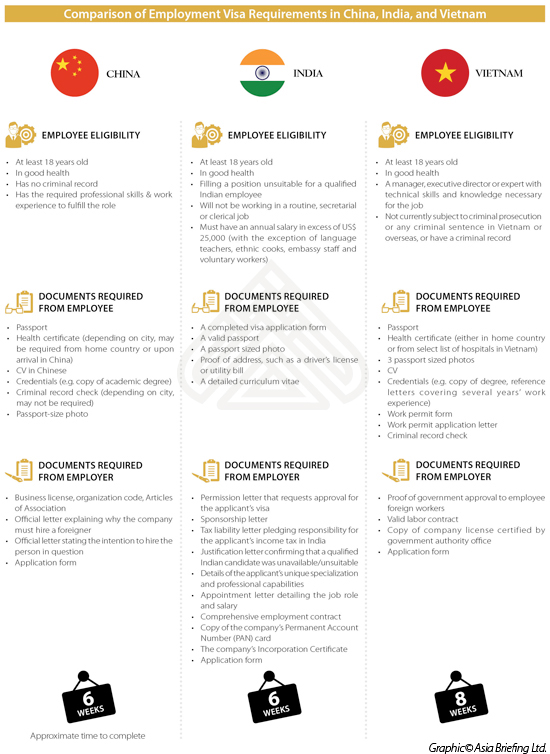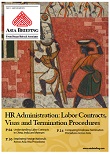 This article is an excerpt from the March issue of Asia Briefing Magazine, titled "HR Administration: Labor Contracts, Visas and Termination Procedures". In this issue, we set out to provide readers with a basic understanding of how to navigate the HR procedures of China, India and Vietnam. We begin by introducing the most common employment contract structures in each of these countries, as well as their laws for employment probation. We then take a look at the three's increasingly complex procedures for obtaining work/business visas, and conclude with a special feature on how to legally terminate an employee across Asia.


Manufacturing Hubs Across Emerging Asia
In this issue of Asia Briefing Magazine, we explore several of the region's most competitive and promising manufacturing locales including India, Indonesia, Malaysia, Singapore, Thailand and Vietnam. Exploring a wide variety of factors such as key industries, investment regulations, and labor, shipping, and operational costs, we delineate the cost competitiveness and ease of investment in each.

The Gateway to ASEAN: Singapore Holding Companies
In this issue of Asia Briefing Magazine, we highlight and explore Singapore's position as a holding company location for outbound investment, most notably for companies seeking to enter ASEAN and other emerging markets in Asia. We explore the numerous FTAs, DTAs and tax incentive programs that make Singapore the preeminent destination for holding companies in Southeast Asia.

An Introduction to Tax Treaties Throughout Asia
In this issue of Asia Briefing Magazine, we take a look at the various types of trade and tax treaties that exist between Asian nations. These include bilateral investment treaties, double tax treaties and free trade agreements – all of which directly affect businesses operating in Asia.