The global property company Knight Frank have released their 2016 India residential investment advisory report for 2016, which can be used as a useful barometer for how well the Indian economy is doing overall. This is especially true of consumer trends – of vital note to foreign investors hoping to sell products to India's massive middle class consumer base.
Unlike China, where worrying signs are that property prices are set to retrench, India's residential property market looks healthy. The report, which specifically features the main India cities of Mumbai, Delhi, Bengaluru, Chennai, Hyderabad and Pune, also covers areas of prime infrastructure interest, such as the New Gurgaon area in Delhi, and the airport development project in Pune. That means some welcome and detailed on the ground research has been put into this survey. 
In terms of expected growth, there are some spectacular numbers within. Knight Frank view the Madh-Marve area of Mumbai to appreciate as much as 94 percent, and nearby Ulwe and the Majiwada – Kasarvadavali corridor to show appreciation of 70 and 59 percent respectively. Mumbai, it seems, is set to boom as India's financial and services center, with a young, emerging and dynamic professional Indian class all wanting to get onto the local property market. This represents a huge pointer for foreign investors looking at India in terms of both sourcing and attracting key Indian personnel. The Delhi market and especially the NCR region – with the exception of Gurgaon – appears sluggish at best. Other hot spots include Pune and Hyderabad, while the south-east cities of Bengaluru and Chennai can be expected to perform well now, and boom perhaps later. Discussions with the government of Sri Lanka over restoring ferry and transport services, if successful, between Jaffna and Colombo and Chennai would have a major impact on these cities.   
Overall however, Knight Franks observations fit in with the recent Indian budget, which has promised incentives for affordable housing within its aims. It remains as true in India as elsewhere for foreign investors – following government policy will provide you with a detailed source of where the opportunities lie.
While these are trends for the Indian consumer, it should be noted that a consumer society that has access to cash supported by a favorable Government policy towards housing typically indicates a consumer boom will occur. In this regard it is important to note that India's current middle class consumer base is about 250 million people. It is expected to grow significantly, borne out by the India Brand Equity Foundation's overview suggesting India's FMCG market is expected to grow at 12% in 2016 alone.  
This development of India's consumer market has also been underpinned by government strategy to upgrade tens of millions of Indians to middle class consumer status. One step in ensuring that, like China before it, India's middle class continues to grow, is the introduction of India's "Payment Banks" – designed to gradually move lower class Indians used to dealing with a cash economy onto a banking platform, and incentivizing them to do so. We illustrated how this will come about in our article "New Payment Banks to Change Indian Consumer Behaviour".
These initiatives, and the expected demand and ability to profit from India's encouraging residential market expectations, are encouraging news for foreign investors looking to sell products to India. 
With several years of our own experience in the Indian market behind us, I can say that the country remains an awkward place to do business, at least from the administration and bureaucratic perspective. However, things are slowly changing for the better, and another truism is beginning to emerge: getting into a consumer market growing at rates of ten percent plus, with India's middle class able to make serious money on investments in their residential property market, means only one thing – India is a consumer market to explore.  
Knight Frank's 2016 Residential Investment Advisory Report for India can be downloaded for free here.

Chris Devonshire-Ellis is the Chairman of Dezan Shira & Associates, a full service foreign direct investment practice with 28 offices across ASEAN, China and India. The practice advises foreign investors in these markets with research, legal advisory, tax advisory and related business services, including due diligence, compliance, accounting, payroll and related assistance. Please email to asia@dezshira.com  or visit our website at www.dezshira.com .
To obtain a complimentary subscription to Asia Briefing and Chris's updates, please click here.


Passage to India: Selling to India's Consumer Market In this issue of India Briefing Magazine, we outline the fundamentals of India's import policies and procedures, as well as provide an introduction to the essentials of engaging in direct and indirect export, acquiring an Indian company, selling to the government and establishing a local presence in the form of a liaison office, branch office, or wholly owned subsidiary. We conclude by taking a closer look at the strategic potential of joint ventures and the advantages they can provide companies at all stages of market entry and expansion.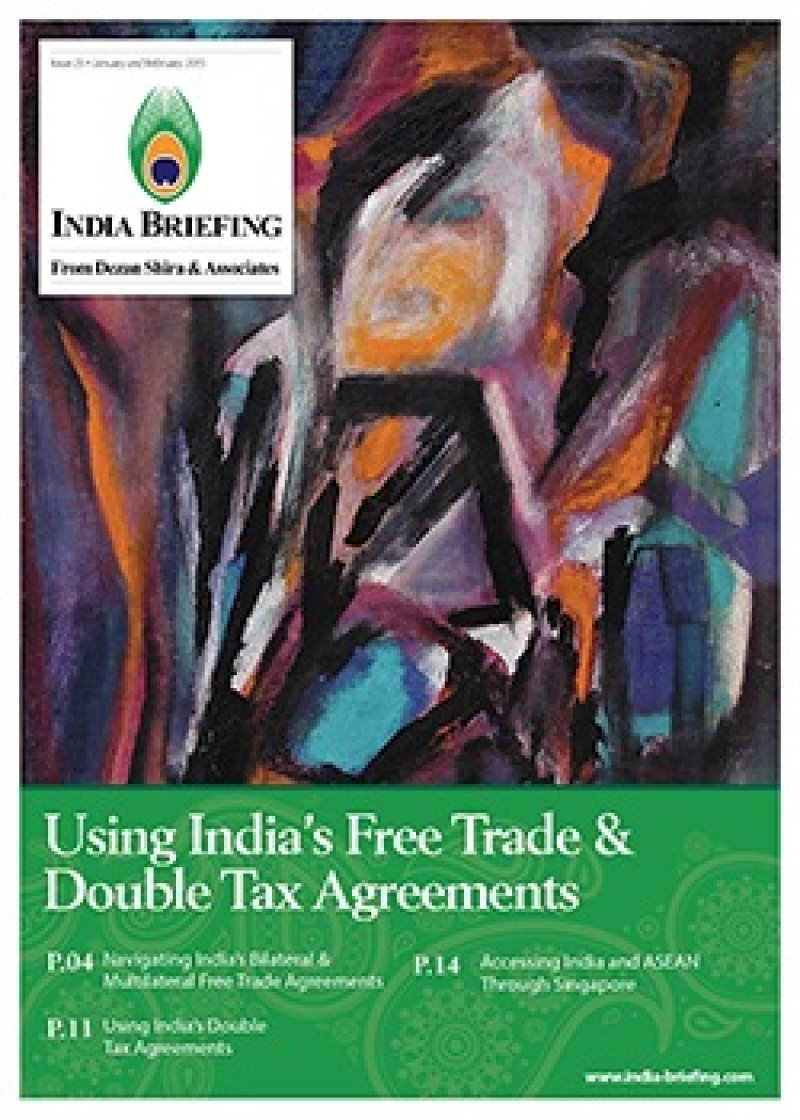 Using India's Free Trade & Double Tax Agreements
In this issue of India Briefing magazine, we take a look at the bilateral and multilateral trade agreements that India currently has in place and highlight the deals that are still in negotiation. We analyze the country's double tax agreements, and conclude by discussing how foreign businesses can establish a presence in Singapore to access both the Indian and ASEAN markets.

Importing and Exporting in India
In this issue of India Briefing Magazine, we examine India's import and export landscape, basic import and export procedures, and customs duties. We note that India's import-export figures have remained stable despite significant economic changes, summarize the steps that importers and exporters must follow in India, and provide an illustration that financial administration teams may examine to gain a rough estimate of potential duties calculations.