An overview of regional updates and the areas foreign investors should be looking at right now.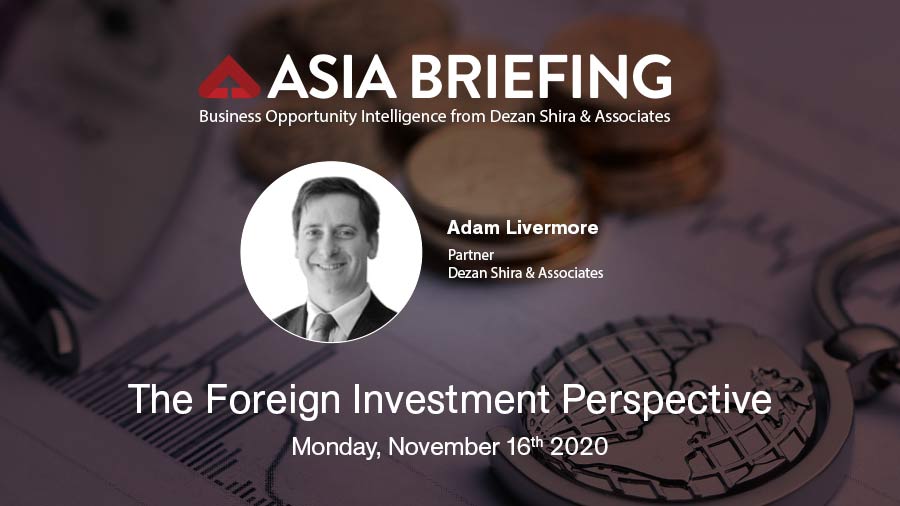 We have just completed the US election, and the results of that contest will be a significant factor in how 2021 develops for foreign investors as they expand in Asia. But there will be a number of other important aspects which need to be understood and considered. There will be a lot of big opportunities for companies that have the capability to devote resources towards FDI in the current economic climate, but I suspect the best destinations for those investments may well differ depending on where in the world your organization is based. Geopolitical factors are likely to be more of a determining factor for selection of investment destination in 2021 and beyond.
COVID, of course, cannot be ignored when we look at the current economic climate. In China, business seems to be booming again as only isolated incidents of COVID are flaring up from time to time. Mainly because of the effective control of the virus in the second half of the year, China is one of the few countries around the world that will manage to post GDP growth in 2020. Estimates for growth in 2021 are as high as 8%, suggesting that the slowdown in 2020 will be only a temporary phenomenon.
One major driver of this growth comes from the fact that factories in China are able to produce at capacity again, and domestic logistics is also functioning normally. More product may be diverted to the domestic market due to anticipated ongoing weak demand in export markets while the pandemic holds its grip on large areas of the globe. E-commerce is flourishing in the consumer sector, and the heightened levels of consumption are exactly what Chinese leaders want to see right now.
However even export markets may prove more receptive to imported Chinese products in the coming months, since alternative supply chains may be more disrupted by COVID restrictions. So for foreign investors with production facilities in China, this may be a good time to look at ramping up operations, especially if you are able to sell into the domestic market. In the absence of growth opportunities across most the rest of the world, China looks like being a rare bright spot in 2021.
The other large market in Asia is of course India. The pandemic has wreaked havoc there, but new cases do seem to be tailing off now and there is more optimism for the coming months. The more interesting angle for India is the geopolitical situation that has developed along with the pandemic during 2021. The relationship with China has worsened considerably since the military tensions on the border around the Galwan Valley in May, and looks unlikely to improve in 2021. Imports from China are facing more regulatory hurdles, compared with those from other countries. Investment from China into India can also be expected to fall dramatically in the current political climate.
This provides a window of opportunity for foreign investors from the rest of the world, particularly because India's domestic capital and credit markets have been weakened over the past months. In fact, India was not in a healthy financial position even going into the COVID crisis, with a number of key sectors struggling with high levels of debt. Compared with other economies, the Indian government has not been in a position to extend tangible support to businesses across the economy, so many domestic Indian companies will be in a weakened position which is likely to worsen in the coming months. As the rupee continues to lose value, M&A deals should be looking more and more attractive to companies looking to get a foothold in the market.
So if you are a European company that can maintain a forward-looking investment perspective even in the midst of the current COVID crisis, both China and India present big opportunities for 2021 and beyond. If you are a US-based company, China is probably not going to look quite so attractive to you irrespective of Joe Biden's election win – both political parties in the States are committed to shrinking the US's perceived over-reliance on China in the coming years. Logically speaking, that should drive US companies into the arms of India, as the world's only other "mega-market" in terms of population size, GDP, and growth prospects in the coming 20 years. The prominent US tech firms have already led the charge into India this year. I expect to see other sectors of American industry following that initial wave during 2021.
In comparison, for all those investors based elsewhere in the world, China is probably going to look like the more attractive of the two markets. In particular, exporters from South America are in a great position both geopolitically and because of the strengthening of the RMB over the course of this year. Products from these economies will be getting cheaper in China, just as domestic demand flourishes. As the US reduces its imports from China, we can assume China will also look to source what it wants from outside of the US whenever possible.
Adam Livermore
Equity Partner, Dezan Shira & Associates
Back to News