Monday, November 23, 2020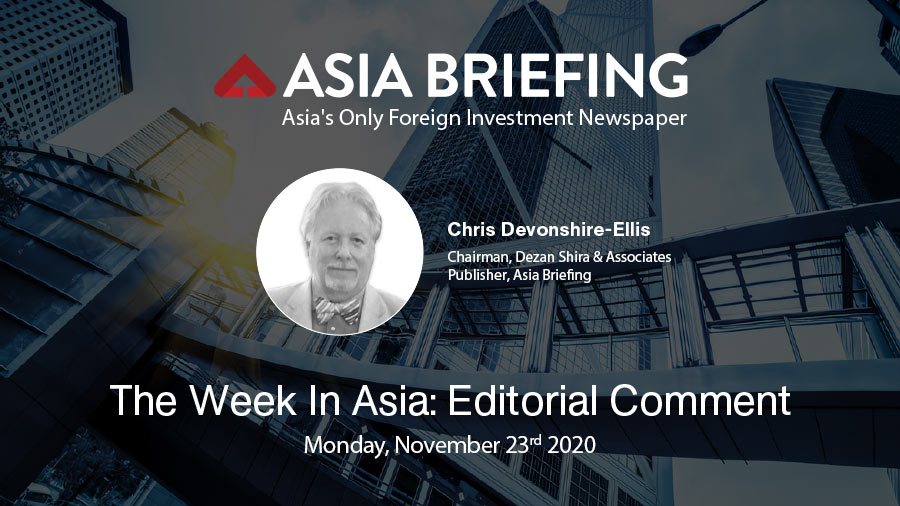 Chris Devonshire-Ellis is the Founding Partner and Chairman of the tax law practice Dezan Shira & Associates, which he established in 1992. He set up the Asia Briefing publishing house in 1999 and is both Publisher and a frequent contributor. With over 30 years China and Asia on-the-ground experience, he is regularly quoted in international media and is a Visiting Professor at the Higher School of Economics at the Moscow State University. During Covid-19 he is residing in Sri Lanka.
Return to the Asia Briefing homepage
This past week in Asia has been pretty momentous with the long awaited signing of the Regional Comprehensive Economic Partnership (RCEP). This Free Trade Agreement unites the ten South-East ASEAN nations, the three East Asian powerhouses of China, Japan, South Korea with the Pacific nations of Australia and New Zealand. It's a deal that will impact on 2.2 billion people and add an estimated US$186 billion per annum to the global economy – a major fillip as a Post-Covid world emerges trying to kick-start global trade. There are regional implications as well in supply chains and production cost savings – a mutually binding and far simpler Rules of Origin structure will mean investment into finishing products in lower cost RCEP countries such as Cambodia, Laos and Myanmar, which will be of great interest to the higher value RCEP members. There are numerous other benefits too – and we examine these in three different articles all available now on Asia Briefing. We have also examined why India did not join and its Free Trade options and why Russia is not part of RCEP when it's regional rivals, China, Japan and South Korea are. Regardless, what is happening in Asia and to some extent Eurasia is an opening up of markets, and this is good news for both global businesses, obtaining more manufacturing and new emerging market opportunities, and for businesses in these respective domestic markets. Opportunities in Asia are more numerous, and the foreign investment potential more significant, than ever before.
Also these past few days we've seen a flurry of important Asian regional meetings of Heads of State and other Ministers. These have included the annual BRICS and East Asia Summits as well as the Shanghai Cooperation Annual Forum. Participants have included China, India, Russia, all the ASEAN nations, Japan, South Korea, Australia, New Zealand, Pakistan, Iran, Brazil, South Africa and the heads of the United Nations and World Bank. That's an impressive and important group, yet as these meetings do not include the United States or Europe to any large degree, tend to be ignored by the Western media – one of the reasons there remains a lack of political and policy understanding, – sometimes complete ignorance – of what is going on in Asia from the West.
At Asia Briefing we review each and provide the post-summit analysis and copies of the declarations of intent signed off afterwards. Future Asian trade and development policy and direction are contained within. Important issues contained within these overviews are Covid vaccine distribution,  the establishment of a global epidemiological safety network, obvious and problematic differences of opinion over South China Sea arbitration, the regional Asian focus on the development of Smart Cities, Digital Tech Cooperation, and important declarations on Marine Sustainability, Epidemics Prevention, Women Peace & Security, and Regional Growth. These meetings dictate future policy, providing valuable insights. They are available for the next few days under our 'Politics & Policy' section.
This week's Dezan Shira & Associates commentary is provided by my colleague Dustin Daughtery, based in our Liaison Offices in the United States. Dustin was based in Asia for many years and headed up our Vietnam practice for awhile before returning back home to the US. His comments and experience provide a great insight for our American readers in particular and especially the aftermath of the US election and what this means for Asia. Again, these are valuable insights and I am grateful for his time in providing them.
Elsewhere on Asia Briefing we look at Investment Opportunities for 2021 in China, India, ASEAN, Vietnam, Singapore and Indonesia. Budgets are being prepared now and we make extensive examinations of where is hot and where's not. These reports are written from our staff on the ground – so carry some weight. If you need clarification on costs and infrastructure, just contact us; we'll be happy to help. There is an additional summary for 2021 planning and developments to look out for in the article Budget Planning 2021: Disruptions, China's Consumer Market, Emerging ASEAN, the Digital Yuan and Belt & Road Initiative Hot Spots.
We also feature a new weekly series in which we look at the farther flung aspects of China's Belt & Road Initiative build and what this means. Many of these projects are now coming to fruition which means opportunities are arriving to exploit the infrastructure. This week we look at the African Silk Road.
Finally, Asia Briefing is updated daily, so do check in. As always, a complimentary subscription is available to receive our weekly overview, and is mandatory to download any of our guides and reports. Subscription can be obtained here Our readership is running at over 8 million views a year – so we must be doing something right!
I thank you for your support.
Stay safe
Best wishes
Chris Devonshire-Ellis
Publisher, Asia Briefing
editor@asiabriefing.com
Dezan Shira & Associates
Back to News