Op/Ed by Chris Devonshire-Ellis
This part week, numerous countries have been discussing their plans concerning the implementation of their Covid-19 vaccination plans. What has become apparent is that vaccine roll out will not be even. It is also apparent that most vaccines developed in the West, which genetically engineer harmless viral material to include a Covid-19 gene, differ fundamentally from most (but not all) of the vaccines being developed in Asia which are mostly derived from dead Covid-19 genetic material. The former is marginally safer than the latter in terms of instigating an immune response, yet requires storage at sub-zero temperatures. The Asian vaccines require two doses to be effective, yet can be delivered at cool room temperatures, easier to get into supply chains in Southeast Asia, the Middle East, Africa and South America.
It is also obvious that there will simply not be enough of either of them to go around. The Gavi and Covax programs cater for supplies to less-well off countries, who will receive doses equivalent to only 20% of their respective populations. These will inevitably find their way to 'front line personnel' – namely government officials, the military, police forces and the medical professions. Much of the general population throughout the Asian landmass will not receive vaccines until well into 2021 and into 2022. With Dr. Anthony Fauci, the Chief Medical Advisor to the United States Government stating that ending the pandemic requires at least 75% and preferably 85% of populations to receive treatment, it is clear that Covid-19 will be around for much of 2021 as well.
In the map below we provide, as best we can, an Asian overview of which countries have stated they will be able to roll out vaccines from January and which take a little longer. Data has been collated from each specific countries national media sources – which may or may not be fully reliable. Accordingly we take no responsibility for any information within this and provide this data as a reference point only. Specific country data should be procured from on-the-ground resources.
We will update this map as more specific information becomes available.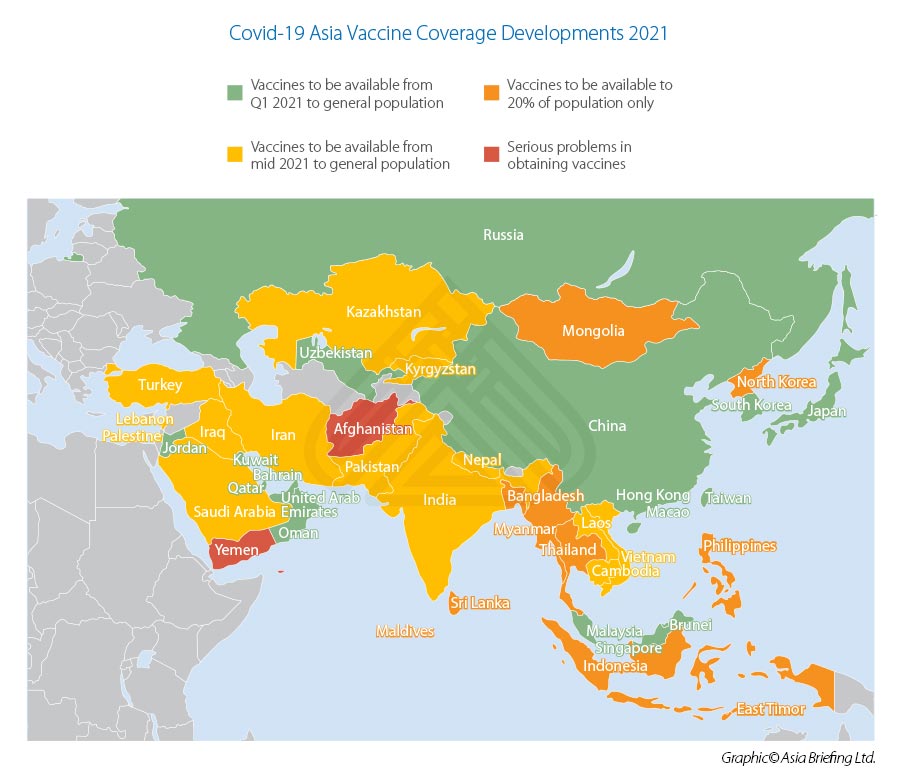 Regularly Updated Covid-19 News Feeds: