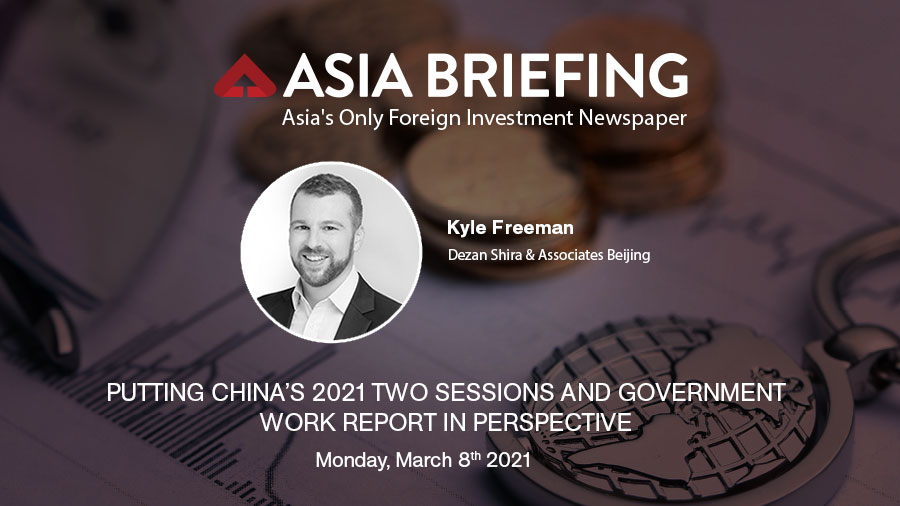 Kyle Freeman is a Partner based in Dezan Shira & Associates' Beijing office, where he leads the firm's International Business Advisory team and North American Client Services Desk in Asia. Prior to joining Dezan Shira & Associates, Kyle worked in government relations and China trade policy for various public and private organizations. His work included assisting in high-level, U.S.-China bilateral trade dialogues and organizing public-private cooperation programs to promote U.S. and foreign investment in China. Kyle holds a master's degree in economics and international trade from the University of International Business and Economics in Beijing, dual bachelor's degrees in economics and global affairs from George Mason University in Washington D.C., and has also been a visiting fellow at the University of Oxford.
On Thursday, China's top leaders convened for its largest and most important political meetings of the year – the Two Sessions.
The Two Sessions refer to the annual meetings of the Chinese People's Political Consultative Conference (CPPCC) and the National People's Congress (NPC). The CPPCC is an advisory body comprised of over 2,000 members, while the roughly 3,000 member NPC is China's highest organ of state power and its top legislative body.
This year's Two Sessions carry particular importance for several reasons.
Symbolically, the 2021 meetings are occurring during the centenary year of the Communist Party of China (CPC) and will see China release its 14th Five Year Plan (FYP), one more than the 13th, and final, FYP released by the Soviet Union in 1991.
More substantively, this year's meetings will see near- and longer-term policy priorities detailed in the release of the 14th FYP as well as China's 2035 Vision.
The more near-term focused 14th FYP will outline policy priorities and targets for the 2021-2025 period and set the backdrop for all policy decisions over the next five years. The FYP comes at a significant time. Having achieved its goal of becoming a moderately prosperous society by 2021, China will now look to build a more well-rounded, well-off society under Xi's New Development Concept, while pursuing a new economic growth model through reforms.
The longer-term 2035 Vision will set a policy framework for the next 15 years. Reflecting the start of the era of reforms under Deng Xiaoping four decades ago, it is only the second 15-year plan of this type to ever be released by China. It signposts the midway point of the centenary anniversary of the People's Republic of China and is a key marker of Xi's national rejuvenation project to build a modern socialist country by 2049.
As is customary, the Premier, Premier Li Keqiang, kicked-off the NPC meeting on Friday by delivering the annual Government Work Report, where he provided an overview of the government's accomplishments in 2020 and laid out general guidelines for government policies in the coming year.
The speech by the Premier was accompanied by the release of the draft 14th Five-Year Plan (2021-2025) for National Economic and Social Development and the Long-range Objectives Through the Year 2035 for the People's Republic of China, which will be reviewed and debated in the coming days, before being finalized and approved at the close of the Two Sessions.
Until that time, the Government Work Report will serve as the clearest statement on China's near-term trajectory. Some of its key points for investors and business are as follows:
Growth Target
The Government Work Report set a GDP growth target of above six percent for 2021.
During the delayed 2020 Two Sessions, the government decided for the first time not to set a growth target due to the economic uncertainty surrounding the pandemic. Reinstating the growth target this year signals the government is confident in its post-pandemic recovery and the trajectory of the economy.
However, the growth target is low and not as ambitious as in previous years. China will be growing from a low base in 2020 and the IMF projects the Chinese economy to grow by 8.1 percent in 2021. This comparatively lower growth target suggests the government has some lingering concerns over a still uncertain external environment.
Nevertheless, the government would be well served in focusing less on headline growth in the coming years. As China looks to rebalance its economy through reforms under a new growth model, overall headline growth will slow. Placing less emphasis on meeting strict annual growth targets, will allow officials more flexibility to pursue initiatives geared towards the longer-term sustainability of the economy, rather than inefficient projects that may boost short-term growth.
Technology and Innovation
Given recent disruptions in supply chains that have arisen from frictions in China's external relations over the past year, China now views self-sufficiency in technology as an industrial and national security priority, with strategic emerging industries such as semiconductors, 5G, AI, and biotech being of vital importance. October's Fifth Plenum designated innovation as a core pillar of the country's national development strategy and technology will have its own section in the FYP for the first time this year.
This focus on technology and innovation was reflected in the Government Work Report.
The government vowed to promote R&D by increasing national R&D spending, facilitating funding from banks for projects, revising rules for venture capital, and continuing and expanding tax credits for R&D expenses.
The Government Work Report also pledged to develop a stronger digital ecosystem and infrastructure by investing RMB 3.65 trillion in traditional infrastructure and logistics systems, upgrading industrial supply chains, and building new infrastructure, such as 5G networks and industrial internet systems.
The initiatives outlined in the Government Work Report clearly signal funding and policy priority will be given to this sector. However, it is unclear if this will create the technological improvements and the elite, standard-setting enterprises China requires for technology self-sufficiency. For example, China has initiated at least three similar initiatives targeting improvements in the domestic semiconductor industry in the 1990s, 2010, and 2015. Yet, only about 16 percent of the semiconductors used in China are produced in-country and only half of those are made by Chinese firms, with little change in these numbers over the past decade.
Environmental Protection and Energy
In an address to the United Nations General Assembly in September, President Xi Jinping vowed China would peak carbon emissions before 2030 and become carbon neutral by 2060.
These environmental and energy priorities were featured prominently in the Government Work Report.
Notably, the Government Work Report pledged to reduce energy consumption by 3 percent per unit of GDP. The government also promised to draft an "action plan" to meet the 2030 targets as well as improve the country's energy mix and ease its dependence on fossil fuels.
Other aspects of the Government Work Report broadly reaffirmed previous policies, such as expanding the catalog of corporate tax credits for environmental protection and resource conservation, providing financial support for green and low-carbon development, and formulating instruments for reducing carbon emissions.
The energy consumption target set in the Government Work Report improves upon 2020, which did not set such a specific target. However, this target stops short of putting a cap on overall energy consumption. The soon to be finalized 14th FYP will likely set further targets for cutting energy and carbon intensity.
There is some concern that China's energy trilemma – energy security, sustainability, and affordability – may hinder aspects of these energy and environmental goals. The National Development and Reform Commission's (NDRC) plan for social and economic development for 2021, also released on Friday, still heavily favors coal, which may signal China will not improve its energy mix and pivot away from fossil fuels as quickly as expected. Further details of energy and environmental plans and policies referenced in the Government Work Report, should come from the FYP and subsequent policies from related authorities. These will critical in gauging the speed and effectiveness for China's reforms.
Business Environment
The Government Work Report also highlighted the role business will play in contributing to China's "national modernization" goals.
The government once again promised to further reduce the negative list for foreign investment and encouraged foreign investment in new and high technologies, advanced manufacturing, and environmental protection and energy conservation. The Government Work Report also pledged to continue improving the overall business environment by further reducing the time, documents, and procedures required for approvals. Business costs will also be further reduced by lowering the mandatory unemployment insurance contribution from employers and lowering of energy, transportation, and telecom charges, where state-owned enterprises (SOEs) are generally service providers.
In particular, the government highlighted planned reforms in the financial sector, noting among other areas, continued liberalization of the financial sector as well as the need to continue and expand oversight.
Regarding employment, the Government Work Report set an urban unemployment rate of 5.5 percent and pledged to create 11 million new urban jobs in 2021, the same as in 2019 and up from the COVID-reduced target of 9 million in 2020.
China has made tremendous progress in improving the business environment, improving from 78th to 31st in the World Bank's global ease of doing business rankings from 2018 to 2020 and ranking among the world's top ten most improved economies for ease of doing business in each of these two years. Further reforms in this area will obviously be welcomed by investors. However, the foreign investment liberalization mentioned in the Government Work Report has long been discussed and investors will likely want to see more concrete actions moving forward.
The discussed financial sector reforms will largely build off of 2020 reforms while continuing derisking and creating oversight, especially in fintech. Optimizing the efficiency of the financial system within a defined policy framework will continue to be a key pillar of China's broader efforts to develop its economy.
Lastly, the employment targets for 2021 are less ambitious than the return to 2019 target rates would indicate. From 2016 to 2019 China annually created 13 million new jobs and averaged an unemployment rate of 3.5-4 percent from 2016 to 2019. This may signal some lingering employment concerns during China's post-pandemic recovery.
The Government Work Report also detailed several other important target and initiatives that will be pursued, including in trade, education, and healthcare as well as rural development, which is a core component of China's New Development Concept and looks to continue the successes of China's recently completed poverty alleviation campaign.
Further announcements during the Two Sessions and the final version of the 14th FYP should provide more clarity on both the near-term priorities outlined in the Government Work Report as well as the longer-term policy outlook of the government.
Best regards;
Kyle Freeman
Dezan Shira & Associates
Beijing Office
E: kyle.freeman@dezshira.com
W: www.dezshira.com