By Alex Tangkilisan
Feb. 20 – In the second part of our ASEAN-India Free Trade Area analysis, we will examine trade trends and statistics from India to Indonesia, Vietnam and Myanmar.
Indonesia and Vietnam make up two of the major six economies in ASEAN, while Myanmar is one of the four smallest economies in the region (alongside Cambodia, Brunei and Laos). Together, these three countries combine for a total GDP of US$1.07 trillion, a population of 378.5 million, and exports to India amounting to US$13.37 billion (or, about 2.7 percent of India's total imports).
In conjunction with ASEAN's continued emergence as a regional economic powerhouse, these figures, although still somewhat small, are poised to grow thanks to the free trade agreements (FTAs) signed between India and ASEAN.
Indonesia-India Trade
As early as 1950, the first President of Indonesia, Sukarno, recognized the importance of the Indonesian-Indian relationship, and called for greater trade ties. In November 2005, Indonesia and India signed a bilateral strategic partnership agreement in which the two countries agreed to increase bilateral trade to $10 billion by 2010. This target was actually exceeded that year with total trade amounting to roughly $12 billion, tripling the $4 billion amount set in 2005. Bilateral trade between India and Indonesia topped out at $20 billion in 2012, and is expected to grow to $25 billion by 2015.
In addition, in 2005, Indonesia and India signed a memorandum of understanding (MoU) to establish a joint study group (JSG) to examine the positive aspects that would arise from signing a Comprehensive Economic Cooperation Agreement (CECA). The CECA is to be an agreement that covers economic cooperation and trade in goods and services and investments, which would lead to a higher-level of mutually beneficial economic cooperation between the two countries. The JSG projected that CECA would raise total exports between India and Indonesia to $17.5 billion in 2020, with exports from India raising to $7.8 billion and exports from Indonesia reaching $9.7 billion.
Over the years, CECA talks have progressed with discussions covering tariff reductions and the lifting of non-trade barriers on various goods of interest, including palm oil products from Indonesia and pharmaceuticals and buffalo meat from India. The CECA, however, has yet to be executed.
In 2010, India implemented a FTA with Indonesia which cut import duties on products such as seafood, chemicals and apparel. In return Indonesia slashed import duties on Indian goods. By 2011, India and Indonesia had signed a total of 18 agreements in the mining, infrastructure and manufacturing sectors worth a total of $15.1 billion, in addition to a FTA on goods.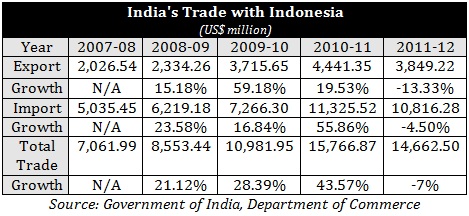 Vietnam-India Trade
Since India granted Vietnam "Most Favored Nation" status in 1975, trade relations have been robust. In 1978 the two countries signed a bilateral trade agreement, followed by the Bilateral Investment Promotion and Protection Agreement (BIPPA) on March 8, 1997. Then, in 2003, both nations promulgated a Joint Declaration on Comprehensive Cooperation in addition to negotiating a free trade agreement.
Bilateral trade has increased since then, and India has taken a place among the ten largest exporters to Vietnam. Two-way trade reached $4 billion in 2012, with Indian exports accounting for $2.34 billion while Vietnam's exports accounted for $1.56 billion (up from $178 million in 2002). The two sides have set a target of $7 billion for bilateral trade by 2015, and, with the signing of the India-ASEAN FTA on trade in goods in 2010, bilateral trade is poised to grow at an even faster rate.
Vietnam continues to be an attractive investment destination for Indian companies in sectors ranging from oil and gas, steel, minerals, tea, coffee, sugar and food processing. India and Vietnam have also expanded cooperation in information technology and education, and are collaborating on their respective national space programs.
In 2010, India implemented a FTA with Vietnam to cut import duties on products such as seafood, chemicals and apparel and, in return, Vietnam slashed import duties on Indian goods.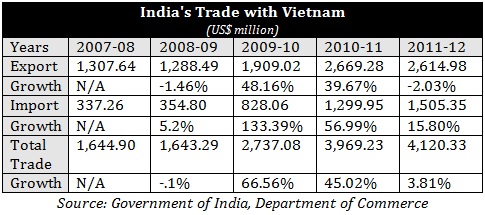 Myanmar-India Trade
The Indian government has been cultivating ties with Myanmar since 1993 as part of a wider foreign policy to increase India's participation and influence in Southeast Asia. Since then, India has grown to become one of the largest market for Burmese exports. India is Burma's fourth largest trading partner, and is also its second largest export market taking in 25 percent of total exports.
The Indian government has further worked to extend air, land and sea routes to strengthen trade links with Myanmar, in addition to establishing a gas pipeline. The countries also signed a bilateral border trade agreement in 1994 for border trade to be carried out from designated points in Manipur, Mizoram and Nagaland. The two countries have primarily cooperated in agriculture, health, education, pharmaceuticals, telecommunications, information technology, steel, oil, natural gas, hydrocarbons and food processing.
In 2001, India and Burma co-constructed a 160-kilometer highway called the Indo-Myanmar Friendship Road to open up a commercial transport route connecting Northeast India and South Asia to Southeast Asia. Based on the success of this trade route, India and Myanmar have agreed to construct a new triangular 4-lane highway running 3200 kilometer through India, Myanmar and Thailand. This project, including a number of road condition improvements, is expected to be completed by 2016.
In 2012, India and Myanmar signed 12 MoUs extending cooperation on border development, defense and analysis and joint trade and investment. Bilateral trade between India and Burma is expected to more than double by 2015, growing from $1.28 billion in 2011 to $3 billion.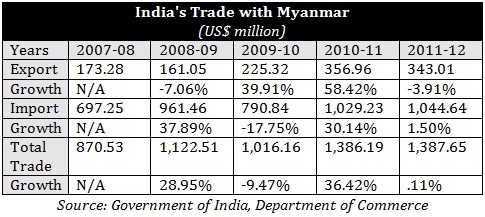 Part III of this series will explore the impact of the ASEAN-India Free Trade Area on Brunei, Cambodia, Laos and the Philippines. Part I can be found here.