By Alex Tangkilisan
Feb. 27 – In the third part of our ASEAN-India Free Trade Area analysis, we will examine trade trends and statistics from India to Cambodia, Brunei, Laos and the Philippines.
While the Philippines is part of the ASEAN six majors, Cambodia, Brunei and Laos are the three smallest economies in the region. Together, these four countries combine for a GDP of US$258.30 billion, a population of 115.85 million and exports to India amounting to US$1.33 billion (or, about 0.27 percent of India's total imports).
Cambodia–India Trade
India-Cambodia relations picked up in 1981 when India officially recognized Cambodia's new government and opened up an embassy in Phnom Penh. In contemporary times, there has been an effort to expand their cooperation through institutional capacity building, human resource development, infrastructure development and security and defense. Furthermore, India and Cambodia have enhanced bilateral cooperation through increased interactions at regional and international forums.
Positive relations were built upon during the first India-Cambodia Trade and Investment Business Forum, Exhibition and Buyer/Seller Meet in 2009, which sought to enhance economic engagement between the two countries. India extended duty free tariff preference schemes to Cambodia that same year. Indian businesspeople in Cambodia have also established an Indian Chamber of Commerce to promote bilateral trade and investment ties.
India and Cambodia ties were further bolstered in 2011 when they held the first round of Foreign Office Consultations (FOC). These consultation were in regard to trade and bilateral cooperation, with a focus on policy, economy, security, education and vocational training, culture, IT and agriculture.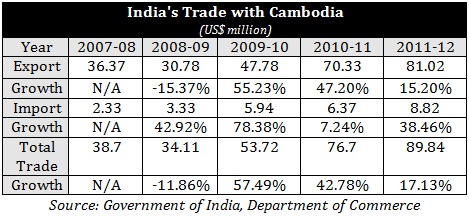 Brunei-India Trade
The discovery of oil in 1929 brought a substantial number of Indians seeking their fortune to Brunei. Bilateral diplomatic relations between India and Brunei, however, were not formally established until 1984.
In 2008, India-Brunei relations were enhanced in sectors ranging from agriculture and defense during the Sultan of Brunei's visit to India. During his visit, five agreements were signed, such as the Bilateral Investment and Protection Agreement (BIPA) and the memorandum of understanding (MoU) on Cooperation in Information and Communication Technology.
India also signed a free trade agreement (FTA) on goods with Brunei in 2010, which effectively slashed import duties on products ranging from seafood to chemicals and apparel. In return, Brunei also reduced import duties on various Indian goods.
The main export from Brunei to India has been crude oil, while Brunei predominately imports textile products and vehicle parts from India. However, with relatively high shipping costs between the two countries and limited connections between Indian and Brunei business communities, coupled with the limited needs of Brunei's smaller population, bilateral trade has been somewhat inhibited.
Plans to further strengthen bilateral and economic ties have lead India and Brunei to explore the possibilities of joint ventures in hospitality and infrastructural development in addition to joint ventures in the energy sector.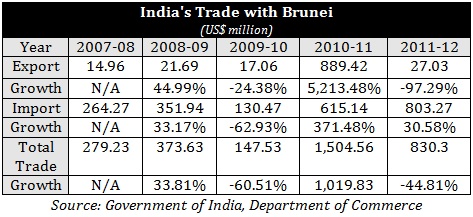 Laos-India Trade
Due to having many common views on major international issues, a mutually beneficial bilateral trade relationship has developed between India and the Lao People's Democratic Republic.
In recognition of the close ties between the two countries, the Lao Government established the Lao-India Friendship Association in 1997. An FTA has also been implemented, which has seen both nations slash import duties on thousands of products.
In 2010, trade relations were further bolstered as the Indian Chamber of Commerce in Laos signed multiple agreements and MoUs with organizations such as the Lao Chamber of Commerce, the Confederation of Indian Industry and the Federation of Indian Chambers of Commerce and Industry.
Metals, ores, machinery and electronic equipment account for most of the products imported and exported between India and Laos. In 2011, Indian entrepreneurs committed a combined US$950 million in a plantation, iron ore and agarwood project, which skyrocketed India from 22nd to 6th in terms of foreign direct investment in Laos. India has previously invested in Laos' hydro-power, IT, human resource development and mining sectors.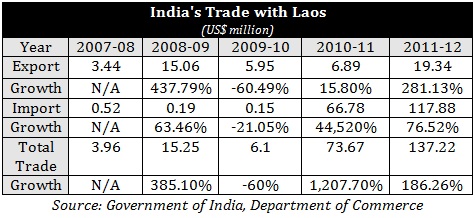 The Philippines-India Trade
Business relations between India and the Philippines began to prosper when a trade agreement was signed on May 29, 1979. Adding to this, in 1995, following the first Philippine Trade Mission to India, a Joint Working Group and a Joint Business Council were set up to assess and identify potential avenues for trade, and to identify new areas for collaboration.
The agreement to establish a Joint Commission on Bilateral Cooperation was signed during President Gloria Macapagal Arroyo's state visit to India on October 5, 2007, with an aim to further strengthen and develop cooperation in the fields of trade, economic, science and technology. Its inaugural session was held on March 15, 2011, in New Delhi, during which both sides agreed to continue with and expand on cooperative initiatives in various sectors such as trade, agriculture and defense.
India and the Philippines have also been negotiating to revise and clarify certain aspects of their double taxation avoidance agreement (DTAA), with regard to the taxation of income derived from professional services. The newly revised DTAA is set to be signed sometime this year.
Indian business interest in the Philippines primarily lies in the mining, information and communication technology, and business process outsourcing sectors.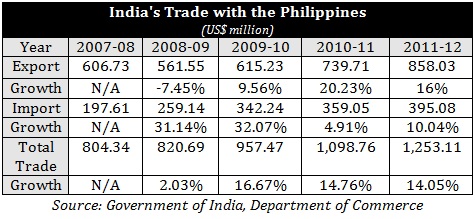 Part IV of this series will explore the impact of the ASEAN-India Free Trade Area on Thailand, Singapore and Malaysia. Part II can be found here.