Sept. 11 – Asian countries remain among the most competitive economies in the world, according to the recently released 2013-14 Global Competitiveness Index. The report, released by the World Economic Forum, is the most comprehensive survey of international competitiveness, and ranks over 140 countries on 12 measures of economic and social progress. These measures include infrastructure, macroeconomic conditions, health, education, market efficiency, technology, innovation and market size.
Global Competitiveness Index Highlights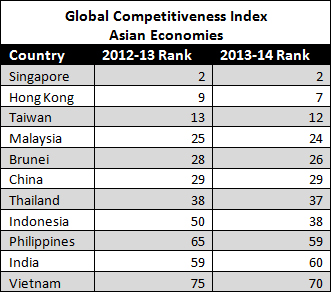 Singapore remains the most competitive Asian nation and ranks 2nd on the index. The efficiency of both its labor and goods market helped Singapore maintain its top position among Asian countries. The infrastructure in Singapore was also ranked among the best in the world.
Both Hong Kong and Taiwan ranked in the top fifteen, with Hong Kong advancing two positions to seventh place. Hong Kong benefitted from its developed financial markets, which are high on "efficiency, trustworthiness and stability."
Taiwan moved up one position to 12th place, receiving its highest rank thanks to a developed primary and higher education system and innovative business practices.
Maintaining its position on the index, China ranked 29th and is the most competitive BRICS nation. According to the study China has benefitted from a stable macroeconomic outlook and decreasing inflation. Several other economic factors have helped China, including its low public debt-to-GDP ratio (22.9 percent) and high gross savings rate, which is around 50 percent.
India lost ground on this year's index, falling from 59th to 60th place, and is now below all other BRICS nations with the exception of Russia, which is ranked 64th. Among the largest concerns for India are its underdeveloped energy and transportation infrastructure, as well as corrupt business practices and bribery.
The outlook for competitiveness among ASEAN nations continues to strengthen, with Thailand, Indonesia, the Philippines, and Vietnam all climbing in the index's rankings.
Thailand is now ranked 37th, up from 38th last year, thanks to a high macroeconomic rating and improved market efficiency and financial development.
Indonesia saw the greatest advance of any ASEAN country this year, climbing 12 spots to 38th. A strong GDP growth rate of 5.2 percent plus improving infrastructure capabilities fueled Indonesia's climb on the competitiveness index. The efficiency of its labor market and participation of women in the labor force also saw improvements this year.
The Philippines climbed 6 places to rank 59th on the index. This advance was led by the current government's fight against corruption, leading to greater stability and confidence in the country. While infrastructure has improved in the Philippines, more progress is needed, especially in regards to air and sea ports.
Climbing five places, Vietnam now ranks number 70 on this year's index. Restrained inflation and improving macroeconomic conditions helped Vietnam improve its competitiveness this year, but progress was hampered by slow incorporation of new technologies and decreasing labor market efficiency.
Taken as a whole, Asia has seen a boost in global competitiveness and is positioned to see continued growth thanks to improving economic conditions and strengthened domestic policies.
You can stay up to date with the latest business and investment trends across Asia by subscribing to Asia Briefing's complimentary update service featuring news, commentary, guides, and multimedia resources.
Related Reading
Survey: Pharmaceutical Companies Leaving India to Enter ASEAN
Report: China & India to Be Largest Investors in Developing World
Report: Indian Managers More Confident Than Chinese
Asia's High Net Worth Individuals Concentrated in China & India