Op-Ed Commentary: Chris Devonshire-Ellis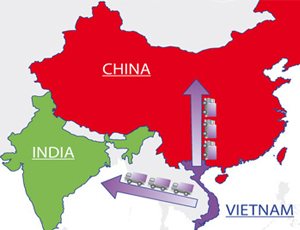 Sept. 30 – China is no longer the powerhouse of manufacturing that it once was. The reasons for this shift and the growing importance of Vietnam and India are fairly simple:
Increasing competition to China's manufacturing powerhouse;
The emergence of an increasingly wealthy, and aging, Chinese middle class;
The maintaining of an existing, and very wealthy, Indian middle class; and
Improvements in Vietnam's supply chain infrastructure.
But it gets even better when one considers the role of ASEAN and its relationship with China and India, as well as the tax and free trade agreements that are starting to come into play.
It has long been apparent that China has become a more expensive manufacturing destination; especially in the cheap, low-end, labor-intensive industries. A national policy to raise the minimum wage by 20 percent annually (set to reach 40 percent of average urban salaries by 2015), coupled with an increasingly expensive social insurance scheme and tougher labor laws has seen a host of manufacturing industries move out of China. Much of China's textiles industry, and especially that percentage of it concentrating on selling to overseas markets, has now relocated to India and Bangladesh.
China's labor force has become more expensive because it is aging. The average age of a worker in China now is 37, and such individuals now have responsibilities – a spouse, children, elderly dependents, a mortgage – and these life acquisitions are not affordable on the levels of wages commanded 20 years ago when the average age of a Chinese worker was just 23. China's population demographic dividend is coming to a natural close. The question is, what comes next?
While rising labor costs may make many grumble in China about the costs of staff, another benefit occurs. That increasingly wealthy and prosperous worker can now afford to buy more goods. According to a report from McKinsey & Co. the Chinese consumer is becoming increasingly affluent, with 51 percent of China's middle class population living in cities within the next eight years (McKinsey define Chinese middle class as earning US$34,000 per year) while contributing a huge 38 percent towards national GDP in consumption expenditures. This is a market of some 250 million people, and growing as wealth increasingly moves into the third, fourth and even fifth-tier cities. Clearly, China is a market that international companies should be selling too.
India, meanwhile, has a middle class population of about the same number (250 million) and again, that sector is expected to grow from 20 percent of India's population to 40 percent by 2025, according to McKinsey. By then, India will have the world's fifth largest consumer market.
Today, in fact, India's private spending by its middle class is currently even higher than China's. That Indian explosion of wealth is another reason why the government has been under pressure to make reforms to the economy and open up their market more to foreign investors. It's been happening – 100 percent FDI was permitted in single brand retail just at the end of last year, and foreign brands are pouring in. That consumer boom is already taking shape – India will overtake Japan in auto sales by 2016.
India's advantage doesn't just lie in its middle class consumer opportunities. It is also inheriting China's population demographic dividend. As the average age of a Chinese worker is now 37, the average age of an Indian worker is now 23 (the same as China 20 years ago), and that demographic dividend is partly the statistic that will drive India forward – just as it did in China. This is referred to in economics as "The Lewisian Turning Point" – the point at which there is no more surplus labor, which, in turn, causes inflation, wages, and consumption to rise.
But where best to locate your manufacturing operations? While not discounting the fact that for logistics purposes mass production facilities will be required in both nations, an interesting candidate for servicing both China and India is Vietnam. The reason for this manufacturing suggestion is because Vietnam is a member of ASEAN – the huge Southeast Asian trade bloc that also comprises Brunei, Cambodia, Indonesia, Laos, Malaysia, Myanmar, Philippines, Singapore and Thailand. This is important because both China and India have free trade agreements with ASEAN.
These agreements, which have been in place for some time, are also expanding their scope. India's FTA includes a deal on commodities. Furthermore, at the 10th ASEAN-India Summit, India and ASEAN settled on FTAs in the areas of services and investments. Bilateral trade is expected to increase to $100 billion by 2015.
China, on the other hand, has been wooing ASEAN by negotiating RMB trade deals, suggesting the creation of an ASEAN bank, and pushing for a further FTA throughout East Asia. It also has its own agreements with ASEAN. For example, China's central bank deputy governor, Yi Gang, has stated that China has signed US$229 billion (1.4 trillion RMB) of bilateral local currency swap agreements with countries in Asia.
This means that with Vietnam being a member of ASEAN, and ideally placed close to both China and India, free trade developments dictate that cross-border transfers of products, goods and services between Vietnam and China and Vietnam and India are getting closer to becoming fully liberalized. No customs duties is the way this is heading, and Vietnam makes sense as a regional hub to establish a manufacturing operation to service both of these gigantic consumer markets.
In other words, as labor costs increase in China and global demand picks up, those jobs are going to Vietnam factories to meet orders. Much of the current demand for Vietnamese manufactured productions is already in Asia. An example being that the United States, which has provided Vietnam with "most favored nation" status, is still only the seventh largest foreign investor in the country. Asian growth is the major factor fuelling manufacturing demand in Vietnam, with the country the third most preferred destination for FDI into the region after China and India.
The signs that this is already the case, and that ASEAN is now strategically important are already there. Singapore, the de facto financial hub of ASEAN has become the second largest RMB trading center after Hong Kong, and is also an excellent regional base from which to run Asian regional operations – especially if your business is across Asia.
Vietnam, then, is starting to stand up as an important regional player when it comes to servicing markets in Asia, especially so for those wishing to take advantage of new opportunities in selling to the growing Chinese and Indian middle class markets. The role of ASEAN, and the free trade and double tax agreements it holds with China, India and other nations now need to be evaluated as the global race to sell to Asia begins in earnest. Establishing a manufacturing operation in Vietnam may well be a strategy that will hold up well in order to consecutively sell to China and India – and ASEAN.
Chris Devonshire-Ellis is the founding partner and principal of Dezan Shira & Associates – a specialist foreign direct investment practice, providing corporate establishment, business advisory, tax advisory and compliance, accounting, payroll, due diligence and financial review services to multinationals investing in emerging Asia. Since its establishment in 1992, the firm has grown into one of Asia's most versatile full-service consultancies with operational offices across China, Hong Kong, India, Singapore and Vietnam as well as liaison offices in Italy and the United States. Chris managed the firm's China practice from 1992-2009 and is now the Managing Partner for India and ASEAN, in addition to being International Group Chairman of the firm. He is based in Singapore.

For further details or to contact the firm, please email asia@dezshira.com, visit www.dezshira.com, or download the company brochure.
You can stay up to date with the latest business and investment trends across Asia by subscribing to Asia Briefing's complimentary update service featuring news, commentary, guides, and multimedia resources.

Related Reading
Expanding Your China Business to India and Vietnam
This issue of Asia Briefing Magazine discusses why China is no longer the only solution for export driven businesses, and how the evolution of trade in Asia is determining that locations such as Vietnam and India represent competitive alternatives. With that in mind, we examine the common purposes as well as the pros and cons of the various market entry vehicles available for foreign investors interested in Vietnam and India.
Comparison: Minimum Wages in China and India
Is Doing Business in India More Difficult than China?
China's Demographics Point to India as the Next Global Manufacturing Hub