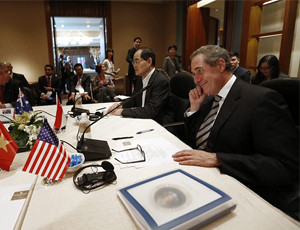 Dec. 12 – The latest round of Trans-Pacific Partnership (TPP) negotiations have concluded in Singapore this week with no deal in sight.
While participating countries insisted they had made "substantial progress," the United States' long-hoped for breakthrough in getting some type of concise deal off the ground has failed to materialize.
Following a four-day meeting in Singapore this week, however, delegates estimated that if everything goes smoothly at future talks, there may be a TPP deal by April of next year.
The TPP, a trade pact currently under negotiation between Australia, Brunei, Canada, Chile, Japan, Malaysia, Mexico, New Zealand, Peru, Singapore, the United States and Vietnam, is expected to significantly reduce tariffs on goods and services between the mostly Asia-Pacific Economic Cooperation (APEC) member nations involved in negotiations.
China, which is not a proposed member of the trade pact, views the TPP as an attempt to leverage low-cost manufacturing in competing nations such as Vietnam. Under the TPP, nations such as the United States would likely seek to enhance less-developed countries' productive capacity through FDI, and transform them into key suppliers able to compete with China in the global marketplace.
In response to the TPP, China has chosen to instead back the Regional Comprehensive Economic Partnership (RCEP), which includes heavyweights such as the ASEAN bloc, Japan and India, but notably excludes the United States.
Chris Devonshire-Ellis, founding partner of DezanShira& Associates, views inaction from the U.S. as partially responsible for the failure to conclude TPP negotiations in 2013.
"President Obama's Failure to attend APEC meant the TPP agreement was never going to have had enough political energy behind it this year to get the deal done. With the United States Congress continuing to disagree on just about everything, the TPP has also at this stage failed to gain huge political traction in Washington. It remains in the balance whether or not anything can be concluded at all. There is intent, but American domestic politics is now interfering with US trade with Asia and we'll have to see whether these barriers can be overcome," he stated.
Along similar lines, Secretary of State John Kerry's recent visit to the Asia-Pacific focused primarily upon territorial disputes between China, Japan and South Korea rather than upon the active promotion of TPP negotiations. China's recent establishment of an "air defense identification zone" in the disputed East China Sea, and South Korea's establishment of a similar overlapping zone two days ago, has ultimately drawn diplomatic attention away from TPP negotiations.
After the release of more TPP documents by WikiLeaks earlier this week, and the leaking of a draft of the TPP's intellectual property rights chapter last month, many international media outlets have adopted a critical stance on TPP negotiations and cast doubt upon the level of agreement between states involved in the negotiating process.
Despite recent setbacks, however, the United States remains optimistic about the TPP's ultimate prospects.
U.S. Trade Representative Michael Froman expressed optimism for the next round of talks in January 2014 by stating, "Over the course of this meeting, we identified potential landing zones for the majority of key outstanding issues in the text. We will continue to work with flexibility to finalize these text issues as well as market access issues."
Despite this optimism, significant barriers remain. Gary Haufbauer, an analyst with the Washington-based Peterson Institute for International Economics, observed "these are all pretty difficult issues, so I think objectively it was not possible to conclude at Singapore here in December. But I think we could get very close to a conclusion in January, if by then the U.S. has enacted this trade promotion authority."
The trade promotion authority referred to is legislation currently under consideration that would grant the White House "fast-track" authority to negotiate trade agreements without submitting the deal to the U.S. Congress for approval.
If American domestic politics continue to interfere with US trade in Asia, however, the chances of fast-track authority approval appears to be waning.
You can stay up to date with the latest business and investment trends across Asia by subscribing to Asia Briefing's complimentary update service featuring news, commentary, guides, and multimedia resources.