HANOI – Vietnams neues Onlineverfahren für die Beantragung eines Visums ist am 14. März eingeführt worden. Dieses ermöglicht einem ausländischen Antragsteller die Ausfüllung und Einreichung aller für die Beantragung notwendigen Formulare auf Web-Basis
Zuvor war die Beantragung eines Visums nur möglich, wenn der Antragsteller den Antrag persönlich bei der zuständigen Behörde einreichte.
Die Website bietet dem Antragsteller zudem den Dienst, sich über den aktuellen Bearbeitungsstatus des Visums zu informieren.
Im Zusammenhang: Vietnams Verfahren für Visum und Arbeitserlaubnis
Mit der Einführung des neuen Onlinesystems verspricht sich das Ministerium für ausländische Angelegenheiten (MOFA – The Ministry of Foreign Affairs) eine Verbesserung der automatisierten, Arbeitsprozesse. Diese Reformmaßnahme soll durch die enge Verknüpfung der einzelnen Verwaltungsbereiche, eine einheitliche Behördenstruktur schaffen. Hieraus ergäbe sich zusätzlich eine Vernetzung sämtlicher Datenbanken.
Die Verantwortung über die Systemadministration liegt beim MOFA. Dieses verspricht sich mit Einführung des Systems eine erhöhte Zuwanderung von ausländischen Personen und Unternehmen. Des Weiteren erhofft sich das Ministerium, durch die Vereinfachung des Visumverfahrens, eine Förderung des Tourismussektors. Das Onlinesystem würde somit einen Beitrag zum interkulturellen Austausch und zur sozioökonomischen Entwicklung Vietnams leisten.
Vietnams Behörde für Tourismus (VNAT – Vietnam National Administration of Tourism) veröffentlichte aktuelle Zahlen. Mit 7,57 Millionen Besuchern übertraf Vietnam sein ursprüngliches Ziel von 7,2 Millionen Besuchern für 2013. Dies stellt einen prozentualen Anstieg von 10,6 zum Vorjahr dar (6,85 Prozent). In 2013 erzielte Vietnam zwar einen Gewinn von US$ 9,4 Millionen, liegt damit jedoch noch immer hinter seinen Nachbarländern.
In Zusammenhang: Vietnams blühender Tourismus
Der Übergang zum Onlineverfahren ist Teil eines größeren Unterfangens, mit Unterstützung der Weltbank. Das Ziel ist die Verbesserung von Vietnams IT- und Kommunikationssystemen.

Bei Fragen zu Wirtschaftsthemen, Steuern, Buchhaltung und Unternehmensgründungen in Asien kontaktieren Sie bitte:
Fabian Knopf, Sr. Associate, Co-Head of German Desk, Dezan Shira & Associates
Fabian.Knopf@dezshira.com
Silke Neugebohrn, Sr. Associate, Co-Head of German Desk, Dezan Shira & Associates
Silke.Neugebohrn@dezshira.com
Für weitere Information oder mit Dezan Shira & Associates in Kontakt zu treten, bitte senden Sie eine Email an germandesk@dezshira.com, besuchen Sie uns auf www.dezshira.com wo sie unsere Unternehmensbroschüre kostenlos herunterladen können.
Bleiben Sie uptodate über die aktuellsten Wirtschafts- und Investitionstrends in Asien durch unseren Newsletter. Jetzt abonnieren!
Weiterführende Lektüre:
Arbeitsvisa und Zulassungsverfahren in Asien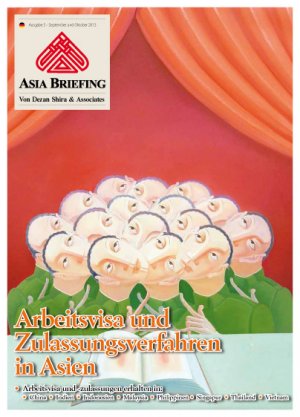 In dieser Ausgabe des Asia Briefing Magazins werden die spezifischen Dokumente sowie die relevanten Beantragungsprozeduren, welche für in China, Indien, Indonesien, Malaysia, Philippinen, Singapur, Thailand und Vietnam arbeitende ausländische Staatsangehörige erforderlich sind, erläutert.