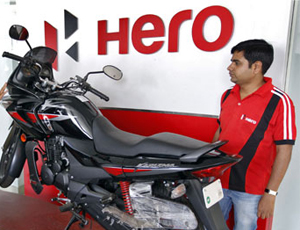 Further signaling the diversification of manufacturing across Asia, Hero MotoCorp, India's largest motorcycle manufacturer, announced plans on Monday to build its first overseas manufacturing facility in Bangladesh.
The announcement by Hero MotoCorp, which ended its more than two-decades-old alliance with Honda in 2011, closely follows Honda's opening of a new factory and assembly plant in Gazipur, Bangladesh, last December.
Honda's 70 percent investment in its Gazipur plant last year totaled US$7.8 million, with the remaining 30 percent paid for by the Bangladesh Steel and Engineering Corporation (BSEC).
Last month, Bangladesh Honda Private Ltd. (BHL) announced plans to upgrade the Gazipur plant's capabilities to manufacture full motorcycles, and distribute and market them across the country.
"Our aim is to produce cheaper, efficient motorcycles and make it affordable to a large segment of the population. It's a huge market," Yoichi Mizutani, BHL's managing director, said.
"This [plant in Gazipur] is also going to create new job opportunities to help ease the prevailing chronic unemployment situation," BSEC director Mobarak Ali added.
BHL's Gazipur plant will aim to assemble 10,000 CD-80 motorcycles in its first year of operation and gradually increase production towards its projected annual capacity of 80,000 motorcycles as more local workers are trained for the plant.
Honda's domestically-produced CD-80 model is expected to cost significantly less than most imported motorcycles in Bangladesh at 11,000 Taka (around US$140) per bike.
While BHL only currently has distributors in two cities, Jamalpur and Tangail, the company plans to expand distribution and marketing nationwide as production at its Gazipur plant increases.
"The demand for motorcycles is growing substantially every year and the reputation of Honda as being durable, fuel-efficient and sturdy is a big plus for us to market the product," said Golam Rabbani, the owner of Rupali Motors, BHL's new designated dealer in Jamalpur.
According to the Bangladesh Road Transport Authority (BRTA), 200,000 motorcycles were sold in 2012, with demand growing at an average of 22 percent each year alongside wage increases.
"It's a matter of great hope and I'm sure Bangladesh's image as a prospective destination for foreign investment will be further improved with Honda's entry. That's how countries like India and China have developed their manufacturing bases," commented Mohammad Taslim, an economics professor at Dhaka University.
Hero in Hot Pursuit
Following Honda's entry into Bangladesh, Hero MotoCorp announced plans this week to construct its own manufacturing facility in the country as the firm seeks to establish a more global presence by tapping into the rapidly growing Bangladeshi market.
While Hero MotoCorp, controlled by New Delhi-based Hero Group, was previously restricted from expanding its export base while engaged in a joint venture with Honda, the termination of that alliance in 2011has enabled the firm to explore options for expansion across Asia, Africa and South America where the demand for inexpensive motorcycles remains high.
Hero MotoCorp will hold a majority 55 percent stake in the joint venture company it is establishing with Nitol Niloy Group of Bangladesh and Hero's initial capital expenditure will be US$23.2 million in the current fiscal year and total US$40 million over the next five years.
The new factory is expected to be operational by July 2015 and produce an initial 150,000 units. The company also plans to open two new factories in India – in Rajasthan and Gujarat – to add to its existing three factories in Haryana and Uttararkhand.
As Hero MotoCorp expands its manufacturing operations to Bangladesh, the company appears well placed to give Honda and other motorcycle manufacturers a run for their money on the global market. The company's recent purchase of a controlling stake in Erik Buell Racing (a U.S.-based producer of premium street motorcycles) and new partnerships and joint ventures with Australia-based AVL, Italian-based Engines Engineering and Magneti Marelli will enable the firm to increase its global reach beyond the 18 countries it currently exports to outside India.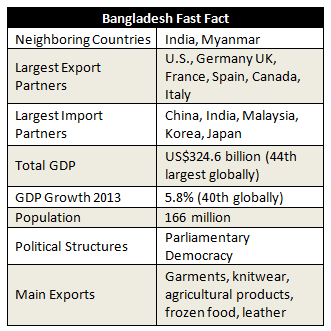 Asia Briefing Ltd. is a subsidiary of Dezan Shira & Associates. Dezan Shira is a specialist foreign direct investment practice, providing corporate establishment, business advisory, tax advisory and compliance, accounting, payroll, due diligence and financial review services to multinationals investing in China, Hong Kong, India, Vietnam, Singapore and the rest of ASEAN. For further information, please email asia@dezshira.com or visit www.dezshira.com.
Stay up to date with the latest business and investment trends in Asia by subscribing to our complimentary update service featuring news, commentary and regulatory insight.
Related Reading
Bangladesh-China-India-Myanmar Economic Corridor Builds Steam
Ford to Make India a Global Auto Manufacturing Hub
Mercedes Sales Highlight India's Accelerating Demand for Luxury Goods